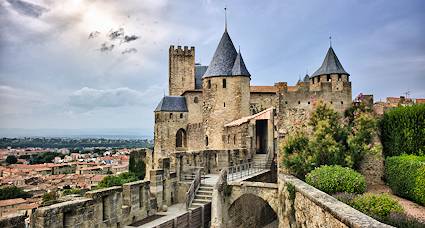 Carcassonne is a good spot to choose for long term rentals in France. Not only do you have one of France's most prominent tourist sites on your doorstep, but you are also blessed with beautiful countryside, a good road and rail network, a local airport, as well as proximity to the the Minervois wine region (one of the best in the South of france) and the shaded towpaths of the Canal du Midi. Also with the large city of Toulouse just 45 minutes down the road, with its international airport and big city facilities, then Carcassonne has all that you need for long term rentals, France. The area can get a bit windy in the winter months (check out the number of windmills!!), but you soon get used to this.
Carcassonne long term rentals France
We have quite a number of long terms rentals in and around Carcassonne and it has proved to be a popular place to rent in the last couple of years. Here is a selection of the Carcassonne long term rentals, France, on Go Languedoc. Please check the availability calendars as we can not guarantee that the houses will always be vacant for the entire period of your long term let:
This long term rentals property, France, is in Capestang. The house is stone built and terraced, and is comparatively cool in the sumer and warm in winter. All the main rooms have electric convector heaters. It is fully furnished and equipped to a high standard. Whether house hunting or having an extended holiday this property is ideal.
>> more info Long term rentals France.
This property for long term rentals, France, near Limoux is a charming stone house that dates from 1846 and has been tastefully renovated. The property retains many of its original period features, but has been updated to provide modern facilities. The property is semi-detached and is in a small village about 7 miles south of the town of Limoux. This South France long term rental near Limoux is ideal for people seeking tranquillity, as the village has less than 200 inhabitants. The town of Couiza is only minutes away. Whether house hunting or having an extended holiday, this long term rental property in South France is ideal..
>> more info Limoux, long term rentals France.
This Carcassonne house for long term rentals, France, is a beautiful rustic farmhouse in the heart of the Montagne Noire and Cathar country in-between Carcassonne and Mazamet. Relax completely in an extravagantly but sensitively restored farmhouse, set in 2 acres of your own private gardens and woodland. 3 double bedrooms sleeps 6-8..
>> more info Carcassonne long term rentals France.
This house to rent in France long term is a large independent gite with gardens, ideal for those looking for outdoor activities and adventure for both adults and children. Apart from a wide range of local sports, the house comes with a large games room, including a full size pool table and an option to hire mountain bikes to explore the local mountain trails. The house is situated in a quiet village, surrounded by mountains, vineyards and fields of sunflowers. The area is full of historical and cultural interest being at the heart of the Cathar region with its magnificent castles. White water rafting, canyoning, kayaking, cycling, caving, horse riding, wild swimming, walking, mountain biking and skiing are just some of the popular activities available locally. There is a swimming lake just 15 minutes' drive away from the house with a sandy beach, small bar and restaurant. There are also opportunities for wild swimming in high mountain lakes and rivers. The nearest shops and restaurants are just 5 minutes away..
>> more info Quillan house to rent in France long term.