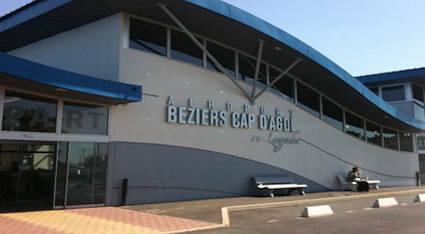 Beziers airport in South of France, serves the holiday region of Languedoc. Beziers airport, or Beziers Cap d'Agde Airport to give it its full name, began serious operations in 2009. Prior to this, Beziers was primarily a local charter and freight airport. In 2007, the local Languedoc-Roussillon regional government helped to fund an extension of the runway to over 2km; which enabled Beziers airport to handle the Boeing 737s used by Ryanair and Easyjet. Flight routes then opened up between Beziers and Paris Orly and seasonal flights to Bastia in Corsica. In 2009, Ryanair saw the opportunity to develop a low cost airport in a prime holiday location and it switched a number of its services from Perpignan airport. Ryanair began running a regular flights from Bristol to Beziers and then later added seasonal services from Manchester, London Stansted, London Luton and Edinburgh.
Bezier airport in South of France
The terminal building at Beziers airport (which still resembles a High School it has to be said!) was further expanded during 2013 with the addition of further registration desks and baggage handling facilities. But therein lies the beauty of Beziers airport. It is a small airport that you can pitch up at 1 hour before your flight and still have time to grab a beer and read the paper. Beziers airport has grown from handling 30,000 passengers and 23,000 flights in 2007 to over 250,00 passengers and 28,000 flights in 2017. Beziers-Cap d'Agde airport has certainly helped to open up the local area in terms of holiday rentals and property buyers. Beziers airport also has some good local transport connections to Beziers SNCF train station (with TGV services to Perpignan, Carcassonne, Toulouse, Montpellier, Nimes, Agde and Avignon), Beziers bus station, Marseillan, Agde and Vias. But please, please, please, do not use the taxis at Beziers airport. They are such a rip-off. You will be looking at paying €75 for the 15 min trip from Beziers airport to Pezenas. It is OK if there are 4 of you in the car, but otherwise the local bus services are so much cheaper and the airport in Beziers does try to tie in the bus timetable with the arrival of the flights.
Beziers airport destinations
You can catch flights from Beziers airport to a number of European countries. Beziers airport destinations include:
There are 2 flights to Beziers airport per week (Tuesday and Saturday) from Stockholm Skavsta airport in Sweden with Ryanair.
CityJet also has a weekly route from Beziers to Bastia airport in Corsica, which runs every Saturday.
There is a weekly Beziers flights to Oslo Rygge airport in Norway with Ryanair during the summer months (every Monday).
Ryanair also operates regular cheap flights to Beziers, France from Dussledorf Weeze airport in Germany (Monday and Friday) and to Paris Beauvais airport 4 times a week (Monday, Wednesday, Friday and Sunday).
Flights to Beziers from UK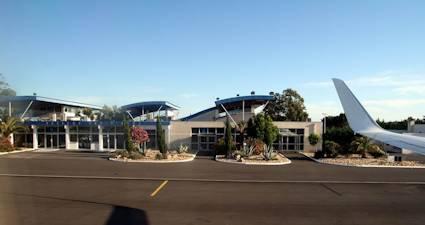 There are a number of daily and weekly flights to Beziers from UK airports:
The Bristol to Beziers flights run 5 times per week (Monday, Tuesday, Wednesday, Friday and Saturday).
There are 3 weekly flights to Beziers France from Edinburgh airport during the summer season (April to October).The flights from Edinburgh to Beziers run on Wednesday and Sundays, with an additional flight on Thursdays during July.
There is a twice weekly flight from Manchester to Beziers airport on Tuesday and Saturday, with an additional flight on Friday during August.
The London to Beziers flight operates from Luton airport and runs 4 times a week (Monday, Wednesday, Friday and Saturday).
Car rental Beziers airport
All the usual car hire companies are represented at Beziers airport. The three main car rental companies are Thrifty, Avis and Europcar, but each of these partners up with the other main car hire companies such as Hertz, Wallgreen, National, Alamo and Budget. Be warned though, that this being France the registration process can be quite time-consuming, with the mandatory one person on the desk serving about 30 people. What I always find amusing is watching the staff at Beziers airport when a plane comes into land. It is almost as if it takes them by surprise. "OMG! a plane has just come in - but it was only yesterday when another plane landed". The cars are usually parked up in the outer car park (still only 2 mins walk away). The roads around Beziers airport are usually pretty quite and you are literally just 5 minutes away from the A9 autoroute (which takes you down to Perpignan and up to Montpellier, Nimes and Avignon) and the A75 which leads up to Pezenas, Clermont l'Herault and eventually Paris. The local website and contact numbers for the Bezier airport car hire companies are as follows: Thrifty +33 04 67 39 63 03; Avis +33 04 67 28 65 44; and Europcar +33 04 67 26 75 88.
10 Best places to stay near Beziers airport
The area around Beziers is beautiful. The city is surrounded by vineyards in all directions and the Mediterranean beaches are just 10 kms from the city. The famous Canal du Midi passes right past Beziers and spending a day walking or cycling along the canal tow-path is a wonderful holiday experience. If you want to be right on the coast, I would suggest that you consider places such as Portiragnes (just 3kms from Beziers airport), Vias, Serignan, Cap d'Agde and Marseillan. Further inland (but still within 20 mins of the beach), I would also recommend Pezenas, Tourbes, Boujan, Nezignan l'Eveque and Thezan-les-Beziers
Portiragnes
Portiragnes is a nice old village just 3kms from Beziers airport. The Canal du Midi flows through Portiranges and the beaches at Portiragnes Plage are some of the best in the area. There is a great beach bar at Portiragnes Plage Est, which serves excellent food (unusual for beach bars) and it also hires out sun loungers for €10 per day. The beach is very flat and safe for children. There is also a sailing school here as well. The village of Portiragnes is actually quite pretty. We have a couple of rental properties in Portiragnes. The first is a very well equipped large 3 bedroom villa with a pool that can sleep up to 9 people (see Portiragnes villa for more details). The second property is a large house right in the centre of Portiragne village. This property can also sleep up to 9 people, so it is perfect for 2 families to share (see Portiragnes house rental for more details). Portiragnes makes sense as a holiday base if you do not want to venture far. You can very easily just get a taxi straight to your holiday home and walk or cycle to the beach every day.
Tourbes
Tourbes is a quiet little village which is located just 15 mins from Beziers airport. The beaches are just 15-20 mins away and the wonderful historic town of Pezenas is just down the road. The village of Tourbes features a boulangerie, a good local bar, 2 excellent restaurants, a pharmacy and some local tennis courts. There is also horse riding available on the edge of the village. Tourbes is surrounded by vineyards and you can buy wine direct from a number of village wine makers. One of our most popular villa rental properties is located just on the edge of Tourbes. This South France holiday rental is a fabulous modern Villa with private pool, 4 bedrooms, 3 bathrooms, a large luxury kitchen and beautiful views over the vineyards. The villa is within easy walking distance (10min) from the village centre. This South France holiday rental is ideal for two families to share as one family can have the downstairs bedrooms and the other the upstairs bedrooms. This villa benefits from WiFi internet and UK satellite TV. The villa comprises a total of 152 sq meters of living space.
Read more about this South France holiday rental in Tourbes.