I have lived in the Languedoc region of France for 10 years now. If you want an unbiased opinion of the best places to buy a house in Languedoc, I have created a list of the top 20 places to live in the Languedoc region. It is not particularly scientific, but I have selected these locations based on a number of criteria.
Languedoc property: location
You can basically cut and dice the Languedoc region of France very quickly in terms of the places to buy and places to avoid. So moving from North to South. The Gard department is very nice, but it is a long way to the coast. So you need to be based near to some of the main tourist places (Uzes, Sommieres, Nimes, Pont du Gard, Avignon). Montpellier, property is very expensive, but it is a great place to live. Some of the villages near to Montpellier are very good options. West of Montpellier - nice countryside but there is not a lot going on. East of Montpellier - on the coast there are some pretty bleak holiday resorts (Carnas, Palavas, Frontignan) but Aigues-Mortes is beautiful. Beziers, avoid. In between Beziers and Montpellier is probably your best bet (20kms around Pezenas). On the eastern side of Beziers to the coast there are some really nice locations. To the west of Beziers, the property is cheap, but you are half way up a mountain and you need to be very careful. Narbonne - I actually like Narbonne, it is a decent size town and very easy to reach all the points of Languedoc. There are also some beautiful villages nearby, along the Canal du Midi. East of Narbonne to the coast is OK, but Gruissan and Bages are probably the places that stand out. West of Narbonne up to Carcassonne - the A61 corridor - is like living in a wind tunnel in the winter. Be very careful. Near Carcassonne, there are some great places to buy and it is very popular with tourists. The Corbieres region is a triangular area in between Narbonne, Carcassonne and Perpignan. Nice to visit, cheap to buy, but I wouldn't want to live there myself. It is also difficult to rent. Perpignan is OK, but some of the places near to it look like a scene from the Walking Dead during the winter. The coastal area south of Perpignan is a good area to look.
Languedoc property: Rentability
Secondly, I have considered the best places to get a return on investment. I am not talking here about future property prices, because many a people have lost their shirt trying to bet on the French property market. What I am talking about is whether you can make some money on your property in the near term by either renting it out for a few weeks in the summer or over the winter months. You may not want to do this, especially if it is going to be your permanent home. But this factor is worth considering for two reasons. Firstly, it gives an indication of popularity. If these locations are popular with renters, they will also be popular with future buyers should you come to sell. For example, you may think that Herepian or Poujol sur Orb are the best things since sliced bread, but you will never rent a house in these locations and by defacto, you will struggle to sell in these locations. Secondly, you may not want to rent your property, but a future buyer may well do to cover the annual overheads of the property. Explaining to a potential buyer that you can make X thousand a year in rental income could swing the deal. The key factors affecting rentability are: distance to the coast (no more than 25 mins), proximity to an airport for low cost flights; swimming pool (virtually guarantees 8 weeks summer rental) and local facilities (boulangerie, restaurants, bars, shops all within walking distance.
Languedoc property: look and feel
Well there are lots of places in the Languedoc, so I have tried to narrow it down to places that I would consider living in. So is it a nice looking location; does the village have some life (both in the summer and the winter); is it easy to get to; is the village an 'open' place (i.e., is it welcoming of foreigners); is there some soul to the place - history, culture, etc; and are there plenty of things nearby to visit and experience.
1. Best place to live in Languedoc Roussillon: Pezenas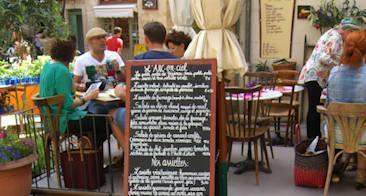 In the Languedoc, there are 5 really beautiful towns to visit: Uzes, Aigues-Mortes, Sommieres, Mirepoix and Pezenas. We live near Pezenas and we absolutely love the place. Lovely old streets, plenty to do and see. Pezenas is also a short drive to the coast. It is surrounded by vineyards and has excellent transport connections. Definitely my top tip as a place to buy a house in Languedoc.
2. Languedoc France real estate: Caux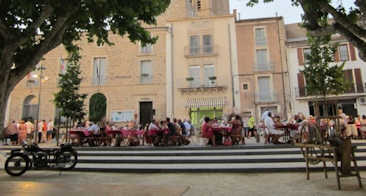 In my opinion, there are 4 villages you should consider if you are looking for Languedoc real eastate around Pezenas: Caux, Tourbes, Nezignan l'Eveque and Neffies. Caux is probably the largest village out of the 4. It has a lovely old hilltop centre (they call these villages Circulades in France on account of the circular streets that wind up the hill). There is a bar, shop, cafe and I think a restaurant in Caux. In actual fact we are off to Caux this afternoon to visit some friends who have a house there. Lovely setting, vineyards all around and close to Pezenas as well.
3. Nezignan l'Eveque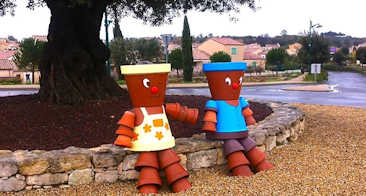 This is our village, so I am biased. But, I would also point out 4 main attractions: 3kms from Pezenas, 15 mins to the coast, lovely village centre and there is always something going on. Our local mayor, Dr Siccard, has in my opinion done a fantastic job. The village is beautifully maintained. The main street is an avenue with palm trees lining the way. The summer festivals during July are excellent. But above all, the village has a really nice feel to it. Very friendly and open. There is an excellent restaurant at the hotel and the local Pizzeria is fantastic. The local bar is a bit of a let down, but the shop is well stocked and there is also a tabac, beauty salon, boulangerie, post office and hairdresser. The houses in Nezignan l'Eveque are more expensive than other villages, but I suppose the items above explain the reason for this.
4. Tourbes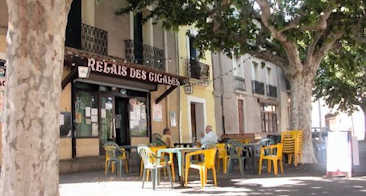 Tourbes is real up and coming village. The bar has just been taken over by new owners and they are really keen to book live bands and host art exhibitions in the upstairs room. There is also a good restaurant (La Maison) and a really good bistro at the Cave Cooperative. Like Nezignan, Tourbes is a friendly place and it is close to Pezenas as well.
5. Neffies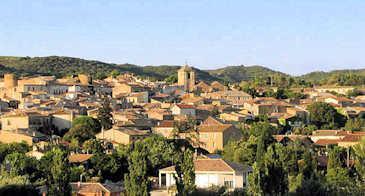 Neffies is another of the Circulade villages close to Pezenas that you should consider buying in. There is a really good restaurant here and the local bar is great in the summer. There is a lovely terrace where you can look out over the rooftops and the vineyards beyond. It is not a big place, but there is still a local shop and tabac and you have Roujan just up the road which has all the shops you will need. Pezenas is just a short drive away.
6. Marseillan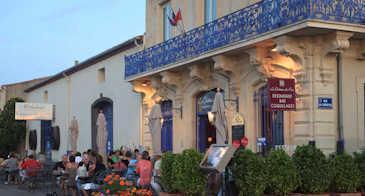 Marseillan is located on the coast. It has a lovely old port area, with lots of bars and restaurants. The main reason I would recommend Marseillan is that it is a place that always has a bit of life about it (summer and winter). We like going here in the winter for a meal (Table d'Emilie is a fantastic restaurant). We like to have a walk down by the port afterwards. Marseillan is a big place, but it has a close-knit feel about it. The Marseillans are very proud of their town. It is also the original location of the Noilly Prat distillery. Marseillan plage just up the road is probably one of the best beaches in Languedoc.
7. Sete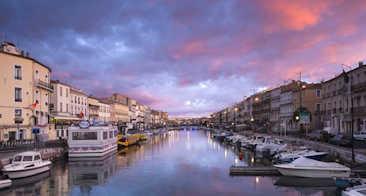 Sete is a coastal town located close to Montpellier (there is a regular train connection). I love going to Sete, especially in the summer down by the canals. There are about 3 big music festivals in Sete each year and you also have the fabulous water jousting festivals as well. Sete is a bit scruffy on the outskirts, but there are also some really nice neighbourhoods on the coastal side of the town. Stretching from the town down for about 20kms to Marseillan, you also have a fabulous set of sandy beaches. Again Sete is a popular location for summer rentals (and also long term winter rentals).
8. Lavérune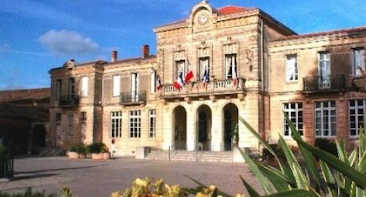 There are basically two places close to Montpellier that are worth have a look at. The first is Lavérune. This lovely village just south of Montpellier has always impressed me when I have driven through it. It is a large village with plenty of things going on. It is very close to Montpellier, but you actually feel like you are in a village rather than a suburb. The village has a lovely high street and all the buildings have been restored.
9. Sussargues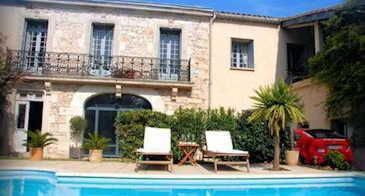 Sussargues (or sausages as we call it in our house) is on the northern side of Montpellier. We have a holiday house located here and it always books out for 8 weeks of the summer. Sussargues is a small village, but there is a lot going on. You are well located to get into Montpellier, but you also have some lovely countryside around as well. The village of Restincliers nearby, is also worth looking at.
10. Cap d'Agde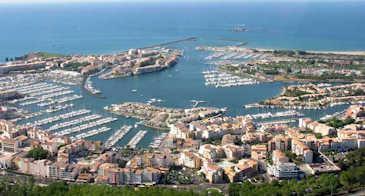 I don't think that you would ever lose money if you bought in Cap d'Agde. It is very popular for rentals (summer and winter) and I am pretty certain if you bought an apartment here, then you could generate enough income to pay off the mortgage in 10 years (just from rentals). Parts of Cap d'Agde are a bit 'special' - there is a large nudist community (AKA 'noodle doodle' village) and some areas are a bit tacky. But there are also some really nice parts. It is also the sort of town that you can cycle around. The port area is aways busy winter and summer, and the beach at Rochelongue is lovely.
11. Bouzigues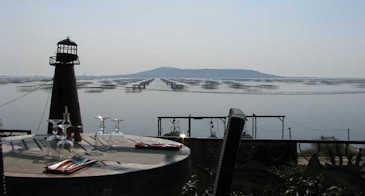 Bouzigues is coastal village located on the Etang du Thau. Bouzigues is known throughout France as the capital of oyster and mussle production. Bouzigues oysters are found in the best Parisian restaurants. The view out across the lake to the town of Sete is lovely. There are also some excellent seafood restaurants on the shoreline. You are also very close to Montpellier and there is a beach just up the road in Meze.
12. Collioure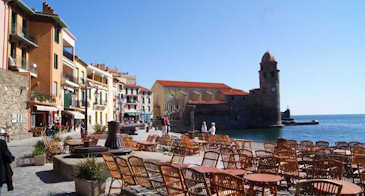 Collioure should really be higher up this list, but I get the impression that property here is a bit expensive. But there is a good reason for that. Collioure is simply beautiful and I love visiting the town - winter or summer. Collioure is a coastal town south of Perpignan. It was visited by a whole range of famous painters (Derain, Matisse, Picasso). The location of Collioure is magnificent. The sheltered harbour, the lovely mazy streets by the port, the famous church and the mountains behind; all make Collioure special. We have a number of apartments to rent in Collioure and they are always very popular. I think if you bought in Collioure you could expect to rent out your property for 15-20 weeks a year very easily.
13. Sainte-Maximin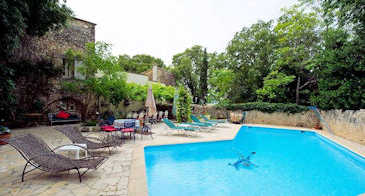 St Maximin is a beautiful village located close to Uzes in the Gard department. We visited St Maximin very recently and it is a lovely old village. There is also plenty of building work going on in St Maximin with some of the old village houses being restored. There is a nice restaurant in St Maximin itself and plenty of good restaurants in the area. Uzes, is always a popular town to visit with tourists. You also have the Pont du Gard (Roman aqueduct) just down the road and Nimes is not too far away either. So all in all it is a great location to buy a house.
14. Castillon du Gard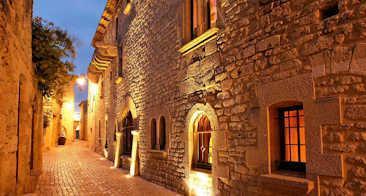 Close to Sainte-Maxime is another very pretty village called Castillon du Gard. This village has also undergone a lot of careful refurbishment in recent years and it can give you a good indication of what St Maximin will eventually look like. This is also another good spot to buy. The Pont du Gard is on your doorstep, as well as Nimes, Avignon and Uzes.
15. Fanjeaux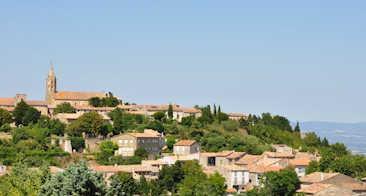 Fanjeaux is a hilltop village close to Carcassonne. We have a rental property in Fanjeaux and it rents very easily. With Carcassonne airport just 15 mins up the road, as well as the famous citadel in Carcassonne itself, Fanjeaux is a great location. The A61 autoroute provides you with quick access to both Toulouse and the coast.
16. Mirepoix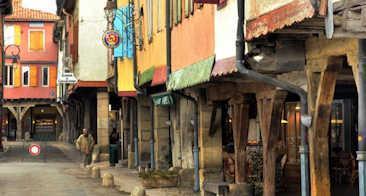 The medieval market square in Mirepoix is simply stunning. Mirepoix is a bit off-the-beaten track, but there is enough going on in the town for you to not feel like you are living at the end of the earth. The countryside surrounding Mirepoix is very beautiful - more cow country than vineyards - but you do have the town of Limoux just up the road which specialises in a local Champagne (which I think is the same if not better than the real Champagne - in fact it is made in exactly the same way).
17. Lieuran-les-Beziers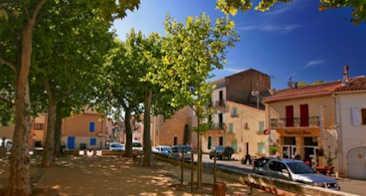 This is probably the only village I would recommend to buy in close to Beziers. There is a river running through the village and plenty of old village houses. Lieuran is a small village, but we have soem friends that live here and they really like the village. It is a friendly sort of place.
18. Serignan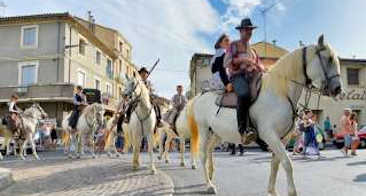 I lied, there is another village near Beziers I would recommend. Serignan is located about 3 km from the coast. The town itself is a decent size and it also has a really nice modern art museum. There is a canal that runs through the edge of Serignan and you can easily cycle along the canal and then turn off up to the beach. Serignan is a good rental location for the summer weeks, because of it's proximity to the coast.
19. Sommieres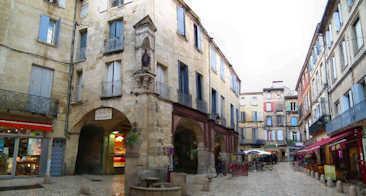 Basically, there are 4 standout towns in Languedoc: Pezenas, Uzes, Mirepoix and Sommieres. All are very similar in looks. Lots of narrow streets, old buildings, lots of restaurants and always full of visitors. Sommieres is located in between Montpellier and Nimes and was featyred as the setting for the film Jean de Florette. There is a beautiful river running through Sommieres and it also has a fabulous Saturday market.
20. Ceret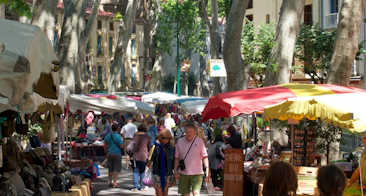 Ceret's position in the foothills of the Pyrenees, provides a dramatic back-drop to this lovely old town. For centuries the town has been famous because of it's local cherry crop (Cerise also lends its name to the town). Ceret is also the location of the Modern Art museum, on account of the many famous painters, including Picasso who have stayed in the town. The centre of Ceret has a lovely old historic quarter and the town is blessed with many excellent restaurants. In the winter, Ceret is close to the ski slopes of Font-Romeu and Les Angles. In the summer, the beaches of Argeles sur Mer and Collioure are also close at hand.