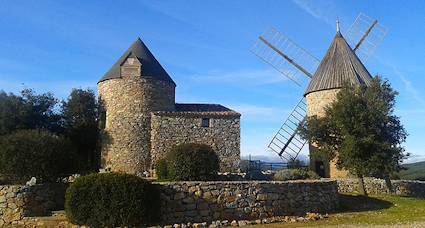 The Faugeres wine appellation was only created in 1982, yet produces consistently good wines. The secret to the Faugeres wines lies in the steep hills surrounding the sleepy village of Faugeres, high up above Beziers. The hillsides are predominantly made from schist, which provides a unique soil drainage and moisture retention. Typically, the Faugeres wines are full of ripe fruit liquorice. The Faugeres wine appelation also includes an excellent rose. I am naturally a little suspicious of rose wines - like I am of "special boards" in restaurants, but the Faugeres rose wine is extremely well-made. My prediction is that the Faugeres wines, little known outside of France, will become the next 'discovered wine'. My advice is therefore to buy it now whilst the prices are such good value.
Faugeres wines of Languedoc
One of the best Faugeres wine producers is actually made by a British guy called Simon Coulshaw. After studying an intensive viticulture and wine production degree, Simon and his lovely Spanish wife Monica, then set about finding the most suitable vineyard in France to buy. After visiting over 100 vineyards, he eventually found what he was looking for in the hills above Faugeres. Simon currently produces around 10 different Faugeres wines. He produces two white wines (my preference is for the Rousanne over the Vigonier) and a really fantastic Rose Faugeres wine. The rose is an excellent wine for an 'apero'.
Simon also produces 4 red wines. 2 of the red wines go under the Faugeres wine appellation and 2 are sold under the prestigious Coteaux de Pezenas marque. Out of the reds, my choice was the Faugeres wine, les Maurels. This is a really, really good Faugeres wine. It is a definite first bottle of the evening job. So if you want an entertaining afternoon and you want to buy some really excellent Faugeres wine, then please call in for a visit with Simon and Monica. Great people, great fun and great Faugeres wine.
Domaines des Trinites, Faugeres wine
You will find Domain des Trinites in the tiny village of Roquessels, which is on the road from Roujan to Faugeres. After you pass through Gabian, drive on for another 5 minutes and on the right hand-side in the distance, you will see a village perched up on a hill. Take the turn off for Roqueselles and Simon and Monica's place is just on the left as you enter the village. Please ring them in advance to book a time to come and visit (Tel: 04 67 90 23 25). To read more about Simon and his wines, please see our article on Domaines de Trinites, Faugeres wine.
Domaines des Trinites, 6 Chemin de l'Aire, 34320 Roqueselles, France.
Email: This email address is being protected from spambots. You need JavaScript enabled to view it.
Website: www.trinites.com.
If you are looking to buy some Faugeres wines in the local shops, my own favourite Faugeres wine is the Mas Olivier. But you can't go far wrong with any wines produced by this tightly controlled appellation (see Faugeres AOC for more details about all the Faugeres wines). For more great Languedoc wines see our article Best Languedoc Wines.