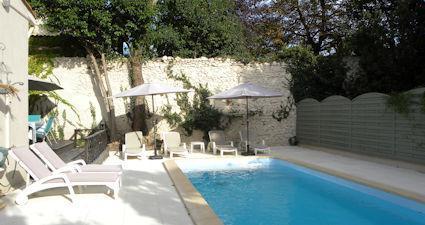 Go Languedoc has the widest selection of villas in France with pools to rent this summer. With many of our owners holding their prices at 2015 levels, you are sure to find a good deal for your family holiday. Imagine the warm summer sun on your back and kicking off your flip flops and diving into a cool swimming pool. We personally inspect all of our properties to make sure that they come up to our exacting standards and ensure that you have a comfortable stay.
All of the Villas in France with pools featured on Go Languedoc employ pool maintenance staff to ensure that the pool is kept clean and safe for your vacation. If you are travelling with children you also have the peace of mind that all the pools are fitted with either pool alarms or fencing.
So go on, splash out and rent a villa in France with a pool for this summer's vacation!
Go Languedoc Villas in France with pools :
This French villa with private pool is in Villelongue dels Monts near Argeles-Sur-Mer and Collioure on the Cote Vermeille. This converted Catalan Farmhouse is part of a complex of 4 individual villas nestled up on a wooded hillside. Each of these villas has its own private pool and can be rented separately or together (accommodating up to 30 people in total). The grounds surrounding each of these villas has been carefully landscaped to ensure that guests retain all the privacy that they need. These villas in France with private pools have been carefully reconstructed to retain as much of the original features, whilst adding the necessary modern features. These villas in France with private pools can be rented the whole year round and are the ideal location for special family occasions and anniversaries.
>> more info Villelongue-del-Monts villas in France with pools.
If you are searching for luxury villas in France with pools for your summer holidays, then the beautiful surroundings of the Les Jardins de Saint-Benoit, a spa resort set in the foothills of the Corbieres mountains and close to the Mediterranean coast, will be the ideal place for you. Situated amongst the vineyards surrounding the ancient village of Saint Laurent de la Cabrerisse, this excellent 4 bedroom villa offers the perfect holiday accommodation in Southern France for a large family or two families on holiday together. The villa comes with it`s own private pool and guests are free to use the large main pool in the Spa resort, together with the children`s pool. Additional villas are available to rent in this exclusive holiday village.
>> more info Les Jardins St Benoit, Luxury villas France with pools.
This villa with pool France is which has a nice secluded pool, is situated in the heart of the pretty village of Laurens, close to Beziers in the South of France. The villa with pool consists of 3 large double bedrooms, one en-suite, and can accommodate 6 people. There is a large gravelled garden to the front of the property overlooking the village square with a paved pool area to the side with the pool measuring 7.5x3.5x1.4m, it is possible to have the pool heated for out of season bookings. The village is ideally located to explore this lovely area of the Languedoc, being 30 minutes from the Mediterranean, and 15 minutes from the River Orb and the Black Mountains.Laurens has all of the usual amenities, including boulangerie, bar, minimarket, butcher, tabac, pharmacy, take-away and a restaurant.In nearby villages there are a full range of supermarkets and shops.
>> more info South of France villa with pool.
These villas in France with pool are situated in Prades-le Lez, 10 mins (12kms) from the centre of Montpellier. The villa `Les Pins` sleeps up to 5 people with shared pool and is well equipped for a holiday in the South of France. It is walking distance to all facilities including; Baker/grocer - fresh fruit veg, hairdressers, doctor, dentist, beauty salon and restaurant/bars. In the heart of the Languedoc close to all the most popular tourist attractions.
>> more info Prades le Lez, Montpellier villas in France with pools.
This luxury villas rental property in South of France has a heated private pool and beautiful garden. There is air-conditioning, TV, wireless internet, trampoline and summer kitchen. The villa is near the beaches and has 7 bedrooms / 5 bathrooms and sleeps up to 15 people. If you are looking for luxury villas in France with pools, then this exceptional property in Marseillan is an excellent choice. With it's own private pool and landscaped garden, this is an excellent option for a large group on holiday in the South of France.
>> more info Marseillan, luxury villas in South of France with pool.
Situated in Argelès-sur-mer you will find this beautiful South of France villa with pool close to the beach which has recently been renovated to a high standard and sleeps up to 6 people. This holiday villa has a garden/court yard and swimming pool. Argeles-sur-mer has 7km of beach and a harbour and a host of restaurants and shops. The seaside resort has been granted the blue flag award for its beaches and harbour.
>> more info South of France villa with pool close to beach, Argeles-sur-mer.
Click here if you want see more Villas in France with pools .