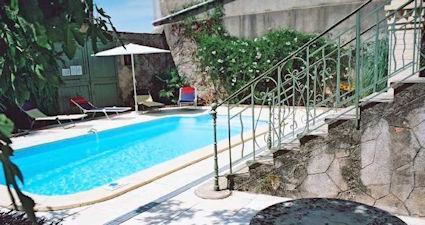 Go Languedoc has a wide range of French villa holidays properties for 2018 bookings. If you are planning your summer holidays, then let Go Languedoc help you search for the perfect French villa holidays rental property. We have identified a number of excellent deals for French villa holidays in France 2018, with many of our owners holding their rental prices at 2016 levels. Also, with new low cost routes opening up from the UK (Manchester to Beziers and Leeds to Montpellier - both with Ryanair) now is the perfect time to book your 2018 French villa holidays.

Below we have picked out the 'best of the best' French villa holidays properties for your 2018 summer holidays in France. In particular, we have highlighted those villas in France with pools, internet access, air con and UK tv - all popular requirements from our customers. At Go Languedoc, we personally visit all of the advertised properties to check that the details are as accurate as possible. We also have a good understanding of the local area and attractions. Whilst we have selected a range of the best properties for you to consider, we also have many other excellent French villas and gites to choose from. If you have any particular requirements, then please send us an email French villa holidays 2018 telling us what you are looking for. We will then compile you a list of options for you to consider, based on our first hand knowledge of the villas and the areas.
2018 villa holidays South of France

If you are searching for options for your summer holidays in France this summer, then here is a good selection of our properties for 2018 villa holidays in South of France. These villas all have good availability, but we are expecting them to book up soon.
This very attractive old wine merchant's house with private pool, is situated on the edge of the village of Thezan les Beziers, South France. This property for French villa holidays comes with plenty of options for enjoying the warm climate of the South of France, with 4 different terrace areas. The house is furnished and equipped to a high standard. The 8m x 4m swimming pool which has jacuzzi area with seating and ambient music, under-water lighting, and a safety alarm in accordance with the pool safety regulations. The villa has 5 bedrooms and can accommodate 10 people in comfort. This French villa has all the mod cons that you need including CCTV, wifi, UK TV and air con.
>> more info on this Thezan Les Beziers, French villa holidays with pool 2018.
This modern South France villa with private pool is located in the old village of Saint-Pargoire, close to Pezenas, was built in 2010. The Architect designed villa comes with a pool (8m x 3m), a large garden with Mediterranean plants and fruit trees, 3 terraces and stunning views of the villages and countryside beyond. This South France villa sleeps up to 6 people in 3 bedrooms and benefits from air conditioning and wifi internet.
>> more info on this 2018 French summer holidays villa South of France.
This lovely villa for holidays in France is located on the outskirts of Beziers in the Languedoc region of South France. This is a great spot for a family holiday. This holiday villa in South France also comes with a private pool (10m x 4.5m), a large landscaped garden, parking for several cars, 3 bedrooms, aircon througout and wifi internet. The holiday villa comfortably sleeps 6 people. The large town of Beziers is just down the road - 15 min walk to the centre. The river Orb flows 50m away and offers great entertainment for the children with canoeing avilable as well as fresh water swimming.
>> more info on this 2018 Villa holidays France, Beziers.
This stunning holiday home in the Aude region of South France comes with a private swimming pool, large garden, 3 double bedrooms and plenty of authentic French charm. The holiday home dates back to the 1770's, just before the French revolution and was originally two houses. Both houses were connected to the nearby vineyard and the original wine presses are still to be found at the property. This holiday home in South France is located in a small village just 15 minutes from Carcassonne airport and the medieval town of Carcasonne. The market town of Limoux (famed for its Champagne-like fizzy wines - Blanquette de Limoux) is just a 15 minute drive away..
>> more info on this Aude French holiday villa for bookings in 2018.
This luxury French villa rental is in the wine making village of Caux near Pezenas in the South of France. The property is a very spacious modern villa with private swimming pool, garden and lovely views over the village of Caux. The villa is walking distance to the village centre and offers air con, internet, a jacuzzi, a pool table, 5 bedrooms and 2 bathrooms. This French villa rental can sleep up to 10 people and is ideal for a large family group or 2 families holidaying together..
>> more info on this French villa rental with pool.
This lovely villa in the village of Gabian is perfect for family holidays in France. The villa comes with a nice private pool, 5 double bedrooms, air conditioning and wifi. The villa has been beautifully renovated and features a well-equipped kitchen, lovely lounge and a good sized terrace with views over the pool and garden. The villa is located on the edge of the village and comes with nice views of the surrounding vineyards and hills. This family villa in France is just a short walk into the centre of the village where you will find a bar, cafe/restaurant, boulangerie, pharmacy and small shop. The nearby town of Roujan also has a good range of restaurants and a large supermarket. The Mediterranean beaches are just 30 mins drive and you are surrounded in all directions by excellent vineyards (including those producing the wonderful Faugeres wines)..
>> more info on this Gabian villa for Family holidays in the South of France 2018.
This lovely sunny French villa with a private heated pool in the village of Cabrieres, South France, is the perfect place for a family holiday. The villa is set in 2500m2 of grounds and comes with 3 bedrooms and lovely views over the surrounding hills. The villa has wifi throughout and fans are supplied for all bedrooms. This French villa is an easy stroll to the local bar/restaurant and shop for daily bread deliveries. Cabrieres is well-located for visiting the beaches, the mountains and all the sites of Languedoc-Roussillon..
>> more info on this French villa with pool for holidays in 2018.
Please click here to see the full range of French summer holidays villas 2018 on Go Languedoc.