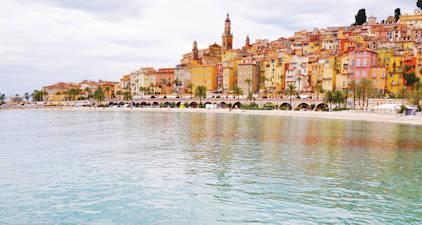 The coastal town of Menton is a beautiful place for a holiday in the South of France. We have a number of holiday apartments to rent in Menton itself, which make an excellent alternative to staying in a hotel. With the excellent local transport network, it is certainly not necessary to hire a car. There is a direct bus and train service from Nice airport to Menton. There are also regular trains and buses to Nice, Monaco and Italy. Menton is an excellent spot for exploring the French Riviera. Monte Carlo is just 10 mins by train. Villefranche-sur-Mer has a lovely bay and great beaches. Nice is 20 mins by train and has some first class museums and art galleries. San Remo in Italy is well-worth visiting, as is the glorious coastal resort of Antibes in between Nice and Cannes. Menton has a good range of beaches in the lovely bay. The town has an excellent market, lots of good restaurants and cafes and the old town is a great place to walk around. Menton is also famous for its impressive gardens and there are 7 main gardens to visit.
Apartments Menton France for rent
We have featured two of our most popular holiday apartments in Menton. Both come with satellite TV channels and an internet connection. Menton is not a particularly large town, but these two apartments are well located in Menton for the restaurants, shops and the beaches. Both these apartments will also consider long term rentals during the off season. Menton is a fantastic place to stay all year around.
These beach side apartments to rent in Menton, France, encompass 2 large apartments in a residence overlooking the sea. The apartment featured here is located on the second floor and can sleep up to 5 people in 2 bedrooms. The apartments are extremely well maintained and provide very comfortable accommodation in Menton. This apartment has a balcony with a nice sea view and the apartment building has it's own private garden which provides direct access onto the beach (Promenade du Soleil). You do not need a car to stay in these beach-side apartments in Menton. There is a bus stop directly outside the apartments building which has direct buses to Nice airport. Menton also has it's own train station, with trains to Nice, Monaco, Cannes and Italy. The apartment comes with wi-fi and satellite TV channels.
This lovely 1 bedroom Menton apartment to rent in South France, benefits from a central location in the heart of Menton near the indoor market. You are just a few steps away from the restaurants, shops and the beach. Menton is a beautiful location for a holiday in the South of France. Located just 3 kms from the Italian border, Menton is also very close to Monaco and Nice. Nice airport is just 30 mins away and can be reached by a direct train and bus service. This very practical apartment also comes with internet and UK TV channels.
This Menton apartment is also available for long term rentals during the low season.
Where to next . . . ?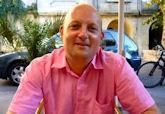 I hope that this article has provided you with some good ideas about the types of apartments available for rent in Menton, France. Now to get you in the mood for your vacation on the French Riviera, read about:
If you would like some more detailed information about renting an apartment in Menton France, then please visit our full range of apartments to rent in Menton and the surrounding resorts: Apartments Nice area or drop us a quick message and we will come straight back to you. I wish you a wonderful stay in the South of France.
Contact Iain by Email or by phone +33 6 95 00 28 44