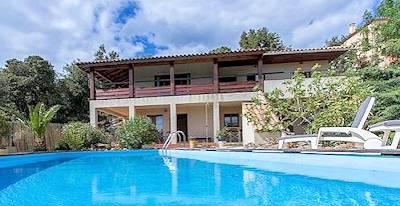 Herault is the fastest growing area in France. Each year 20,000 people move to Herault. Situated in the Languedoc-Roussillon region, Herault covers a wide area encompassing mountains, Mediterranean beaches, vineyards, historic towns and cosmopolitan cities. Herault is the sunniest place in France, benefiting from more that 300 days of sunshine a year. Herault also has some beautiful towns that are a pleasure to spend time in such as Pezenas, St Guilhem, Aigues Mortes and Clermont l Herault.
There is plenty of good holiday accommodation and vacation rentals in Herault. If you are looking for a rural gite in Herault or a villa with a pool, then Go Languedoc is the place to look. We have hundreds of Herault vacation rentals and you are sure to find a perfect house to rent.
Go Languedoc's Herault villas and gites :
This modern South France villa located in the old village of Saint-Pargoire, close to Pezenas, was built in 2010. The Architect designed villa comes with a pool (8m x 3m), a large garden with Mediterranean plants and fruit trees, 3 terraces and stunning views of the villages and countryside beyond. This South France villa sleeps up to 6 people in 3 bedrooms and benefits from air conditioning and wifi internet.
More information on this New South France villa near Pezenas sleeps 6
Maison Boulet accommodation holiday accommodation Montpellier is a 19th Century Maison de Maitre in the village centre. It is walking distance to all facilities including; Baker/grocer - fresh fruit veg, hairdressers, doctor, dentist, beauty salon, wine cooperative, restaurant/bar, florist, garage and a supermarket a 5 minute drive away. Maison Boulet is tastefully renovated luxury accommodation and is located in one of the current sought after residential villages close to Montpellier in the heart of the Languedoc close to all the most popular tourist attractions. The property can sleep 8-10 and has a swimming pool.
More information on Maison Boulet accommodation, Camargues near Montpellier
Le tour de Aspiran is a chateau de ville in Aspiran, France with a pool. It comprises of 6 bedrooms, 4 bathrooms, courtyard garden, terraces and heated swimming pool (10x4m.) The property used to be 3 houses. The property has been restored and furnished comfortably and has a wonderful character and history. It is ideal for a large family or two families holidaying together. Out of season half the house can be rented for 6 people.
More information on Le Tour de Aspiran, large cottage in France with pool sleeps 6 -12
This holiday rental, South of France, is an old `Vigneronne` property which has been completely renovated in the last few years. The holiday rental is ideal for a large family or two families holidaying together. The property can sleep up to 16 people. This lovely holiday rental in South of France, is in the heart of Roujan, a village in the Languedoc region near Pezenas. Roujan is surrounded by vineyards and located between the mountains and the Mediterranean coast. This is a great spot for visiting this beautiful region in the South of France.
More information on Roujan vigneronne holiday rental South of France
Situated amongst the beautiful landscape of the vineyards of herault, Domaine Savary de Beauregard is a working vineyard producing nine different wines. The apartment is situated over the wine cellars and the outside eating area is beneath a large mulberry tree which provides a good shaded area. Come and take a wonderfully relaxing holiday on a beautiful wine producing domaine in Herault. More information on this gite amongst the vineyards in Herault