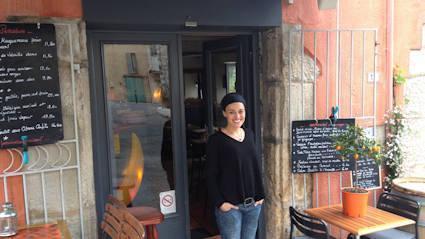 The Pescalune restaurant in Bargemon, Provence, was opened in 2008 and has built an enviable reputation as one of the best small restaurants in Provence. Situated in a former florest shop, the inside of the restaurant measures just 4m x 10m, with all the eating located outside on the terrace in front of the restaurant, overlooking the small square and fountain. The owner, head chef and Maitre D' is Viginie Martinetti. Martinetti, is an award winning young chef, thriving in the male-dominated restaurant world. In 2013, she won the final of the coverted French Top Chef TV programme (equivalent to Master Chef).
Virginie Martinetti, Pascalune restaurant Provence
Martinetti was born in the Haute-Savoie region of Eastern France and later moved to Cannes to begin work in luxury hotels in the resort. In October 2009 she met the Michelin chef, Filipe da Silva from the La Gorges de Pennafort hotel restaurant in Callas. Taken under his wing and with further off-season sabatticals in the kitchens of Serge Goulomès at Mas Candille in Mougins; William Ledeuil at Ze Kitchen Galery, Paris; and at Adeline Grattard's Yam T'Cha restaurant also in Paris; Martinetti has sharpened her culinary skills and widened her influences.
La Pascalune restaurant Bargemon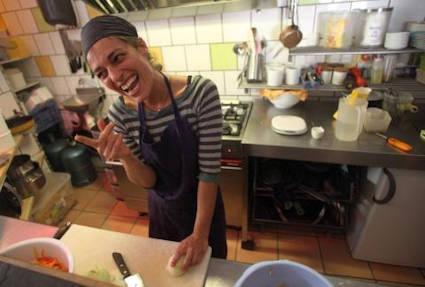 Virginie is a very innovative chef and what you have to appreciate about her is that she does everything in this restaurant. She preps the food, she buys the key ingredients, she cooks and she also finds time to come out and talk to guests. She is such a lively personality, always joking with staff and guests alike. La Pescalune provides a refreshing menu that is lively and interesting - just like the Chef. The restaurant has its own organic vegetable garden close to the restaurant, where Virginie harvests all the herbs, vegetables and flowers used in her creations. Startes usually range from €8-€15 and feature such dishes as Vietnamese salad, Tartare of Sea Bream, and fresh foie gras. The main courses will set you back €15-€25 and you can enjoy Pork tenderloin, Pheasant pie, Tartare of Sea Bream and Sea bass ravioli in a mussel and lemongras broth. The wine list is pretty good and not too expensive (around €19 a bottle).
The Pescalune restaurant recently achieved its first inclusion in the 2016 Michelin guide. At this moment of triumph, tragedy struck as Martinetti fractured her arm in a freak accident. The restaurant is due to reopen in 2017 and I will be making sure I plan in another visit. Get well soon Virginie!!
Restaurants in Provence - La Pescalune
You will find La Pescalune restaurant at 13, rue de la Résistance BARGEMON, Provence, France. For reservations, please telephone + 33 06 29 94 66 64
Where to next . . . ?
Contact Iain by Email or by phone +33 6 95 00 28 44 if you have any particular questions you would like to ask about visiting the South of France. If you liked the article then please share it with others using the Twitter and Facebook buttons below. I wish you a wonderful stay in the South of France.