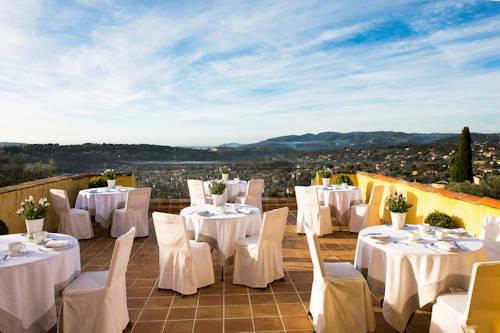 Jacques Chibois' Michelin star restaurant, La Bastide St Antoine, is located close to Grasse and is widely regarded as one of the best restaurants in Provence. La Bastide is a lovely old-style Provencal country house, surrounded by an olive grove. La Bastide St Antoine restaurant is a member of the Les Grandes Tables du Monde association, which covers 170 of the World's top restaurants across 24 countries. Jacques Chibois is fiercely proud of the French culinary heritage and especially of the local dishes of Provence. He has written two best-selling cook books: "La Provence comme on l'aime" and "Saveurs et parfums de l'huile d'Olive" which contain many of his celebrated dishes such as pan-fried foie gras escalopes with artichoke cream and roast veal fillet with truffle potatoes. The celebrated French Chef Raymond Blanc has noted that ". . . Jaques Chibois makes some great food, they do a wonderful starter of oysters, caviar and smoked scallops and a superb lobster bouillabaise with olives . . .".
Grasse restaurant Provence: La Bastide St Antoine
La Bastide St Antoine restaurant has an incredible wine list with over 1,600 different wines from Provence and vintages from other wine regions in France. His Head Sommelier was a recipient of the Gault et Millau gold award in 2013 and the Philippe Faure-Brac award in 2014. La Bastide St Antoine also provides wine tasting sessions which are delivered by its French, English and Japanese-speaking sommeliers.
Michelin Chef Jacques Chibois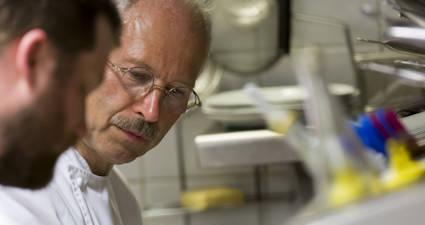 Jacques Chibois was born in central France and he was raised near the town of Limoges. His parents ran a flour mill and Chambre d'hote. His mother was an excellent cook and he accompanied her to local markets and nearby farmers to purchase produce for her evening meals at the B&B. Originally, Chibois entered the farming industry but he soon changed track and with the help of his mother he obtained an apprenticeship at a Michelin starred restaurant near Limoges and then moved on to work in the kitchens of some extremely talented Michelin chefs, including Michel Guerard, Jean Delaveyne, Roger Vergé and Louis Outhier. In the early '80s Chibois became the head chef of the 2 Michelin star Grey d'Albion restaurant in Cannes and during his stay here he was awarded the covetted Chef of the Year title. In 1996 Jacques Chibois opened La Bastide St Antoine in a large Provençal country house situated in an ancient olive grove. In 1997, the Chibois obtained 2 Michelin stars for La Bastide Saint Antoine restaurant and the Michelin judges noted that " . . .his flavourful, aromatic and light cuisine lifts the spirits and delights in the heart of Provence . . .". Jacques Chibois was also the proud recipient of the Chevalier de l'Ordre du Mérite et des Arts et des Lettres, a French honour which is bestowed upon individuals who excel in the field of art, writing, science and of course food.
La Bastide St Antoine best restaurant in Provence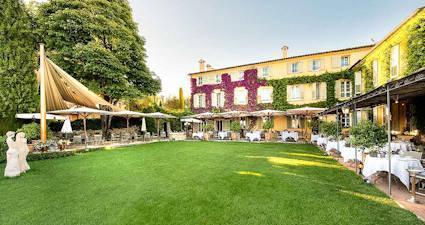 La Bastide St Antoine restaurant has a 3 course lunch menu at €63. The evening dinner menu includes a 6 course menu from €178 and a 10 course menu from €198.
You will find La Bastide St Antoine at 48 avenue Henri-Dunant, Grasse, Provence, France. For reservations call +33 04 93 70 94 94.
Where to next . . . ?
Contact Iain by Email or by phone +33 6 95 00 28 44 if you have any particular questions you would like to ask about visiting the South of France. If you liked the article then please share it with others using the Twitter and Facebook buttons below. I wish you a wonderful stay in the South of France.