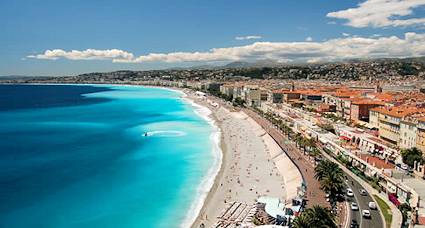 If you are planning your summer holidays and you are looking for information on where to go in the South of France, then just follow our handy guide of the very best places to to stay in South of France. We have grouped these South France tourist attractions into distinct regions of the South of France, but to be honest getting around is quite simple. There is an excellent road network and the trains are superb. Let Go Languedoc help you choose where to stay in South of France.
Where to stay South of France
The South of France is a great place to visit. It has a wonderful climate with long warm summer days stretching through to September and October. There is a really super coast, with many fantastic beaches. You will also find a rich variety of places to visit, from chic resorts, sleepy old villages and astonishing historical monuments dating back to Roman times (and before). Whilst the Cote dÁzur coast and to some extent the Languedoc coast can get very crowded in the height of summer, there are still plenty of more places to stay, where you can get unspoilt peace and tranquility. With beautiful towns and villages such as Pezenas, Sommieres, Uzes, Collioure and Anduze; as well as unspoilt regions such as the Cevennes, the Corbieres hills, the Plateau du Larzac and the Lozere region; it really is the perfect French holiday destination.
Best time to visit the South of France
In terms of the best time to visit the South of France, avoid late November through to January because it is absolutely freezing. My favourite time is April and May and then September and October. Basically from May through to September you can usually guarantee good weather.June is usually very pleasant up in the late 70F's/mid 20C's. In July and August you can expect to get many days around 90F/30C. A peculiar thing happens in mid-august. You sometimes get some summer showers that last a few days - it is something to do with the warm air from the South and the Sea.
Anyway, here are our favourite places to go in the South of France.This should provide you with a decent idea of where to stay in the South of France:
1. Where to stay in South of France: Cote d'Azur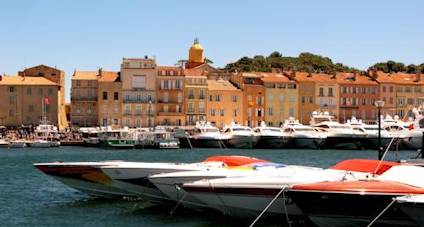 Think of the South of France and the Cote d'Azur comes squarely into mind. With its wide sweeping bays and golden beaches it is not difficult to see why some 5 million people flock to the Cote d'Azur every year. Only Paris rivals it as a tourist attraction. With Nice's famous Promenade des Anglais, St Tropez's chic heritage and the beauty of coastal towns such as Cassis, Cap Antibes and Villefrance, there is so much to do and see. Glitzy, chic, relaxed, rich, sunny, beautiful. St Tropez's beaches are among the best in the world and its harbour only loses out to Monaco for the impressive array of yachts on show.
Here are some of the best properties in Cote d'Azur on Go Languedoc where you can stay:
This new 1 bed roomed apartment rental in the millionaires paradise of Port Grimaud, near St Tropez, is on the first floor of a south-facing apartment complex with gardens and swimming pool. This St Tropez apartment rental sleeps 2 - 4 people and is situated in Port Grimaud within walking distance of a quiet sandy beach overlooking St Tropez. An ideal self catering holiday rental apartment on the chic Cote d`Azur coast in the South of France.
More information on this St Tropez apartment rentals property.
Located in the heart of Cannes, this Cote d`Azur apartment rental in the South of France has stunning views of Le Vieux Port and is just 2 mins walk from Palais des Festivals/La Croissette. This newly refurbished duplex apartment rental offers spacious (60sq m) and luxurious accommodation with a large living/dining area, shower room, large double bedroom and family bathroom. There is a beach nearby located in the heart of Cannes. If you are on the look out for excellent apartment rental on the Cote d`Azur, then this is a great choice.
More information on this Cannes vacation rental South of France.
2. Where to stay in the South of France: Camargue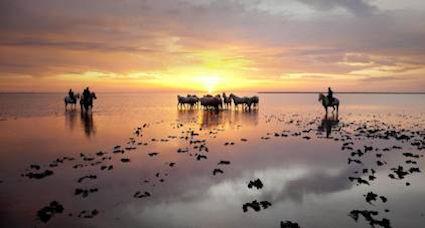 The Camargue is a nature lover's dream. The wide open spaces, pink flamingos, white horses, migrating birds, famous black bulls, quiet coastal roads and long sandy beaches create the perfect setting for a relaxing holiday in the South of France. You who also find some wonderful places to stay such as Arles (the base for Van Gogh and Paul Gauguin), Aigues Mortes (with its famous grid pattern streets), Beaucaire and Saint-Gilles. With nearby cities such as Nimes, Montpellier and Marseille, you also have a good selection of airports and train stations.
Here are some great places to stay in and around the Camargue region, South France:
3. Where to stay South of France: Provence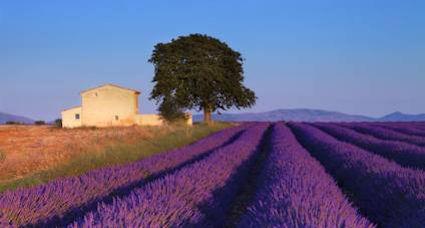 The image of Provence quickly comes to mind when you think of the South of France.With its lavender fields, beautiful villages and stunning countryside, the Provence is an ideal holiday spot in the South of France. My two favourite towns in Provence are Aix-en-Provence and Saint Remy. The former has an excellent range of cafes, boutique shops and windy streets. The latter is famous as the birthplace of Nostradamus and oozes a relaxed Southern France pace of life. Nearby to Saint Remy, you will also find the beautiful scenary of Beaux de Provence.
Here is a selection of places to stay in Provence on Go Languedoc:
If you are looking for cottages in Provence to rent this summer for your South of France holidays, then this charming house in Le Luc is the perfect place for a relaxing break. This holiday cottage in Provence can sleep 4 people and is packed full of authentic features. The cottage also comes with a nice garden and is a short ride to local facilities such as the boulangerie, cafe and grocery shop. This holiday cottage in Provence is situated on the outskirts of the small town of Le Luc-en-Provence in the Var department of the Provence-Alpes-Cote d`Azur region in south eastern France. The Var is popular for South of France holidays, providing a range of attractions such as the Gorges du Verdon, Moustiers, St Tropez, Sainte Maxime.
More information on Le Luc cottage in Provence.
Bargemon is a beautiful village nestled amongst the mountains in the Var department. Bargemon is one of the most beautiful villages in Provence. It is typically French, with lots of charm, a central square with pavement cafes, water fountains, narrow streets, shuttered houses and ancient ramparts. This spacious holiday gite in Provence comes with 2 bedrooms and can accommodate up to 6 people. The apartment has a beautiful living room, two outside terraces and is located all on one level in the centre of the village. The apartment provides beautiful views over the mountains and valley.
More information on this Var holiday gite in Provence, France.
4. Where to stay in the South of France: around Nimes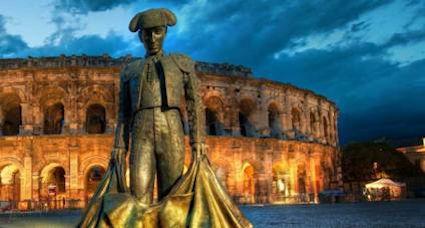 Nimes is inextricably linked to its Roman past. Its location on the Via Domitia - the main chariot route from Spain to Rome - helped make it a favourite with a series of Emperors. Today it is endowed with an outstanding collection of monuments including the Maison Carrée, the Amphitheatre and the temple of Diana. The Pont du Gard, South of France, is an extraordinary Roman aqueduct located just north of Nimes.The Pont du Gard is one of 4UNESCO World Heritage Site located in the South of France. Complete with excellent visitors centre and Mediterranean garden, the Pont du Gard, South of France is a special place to visit. Surrounding Nimes you will find some beautiful places to stay such as Uzes, Sommieres, Anduze.
Cabernet Sauvignon is a 3 bedroom cottage rental on the edge of Provence with a classical winding staircase with preserved stone walls. The cottage rental is south facing and surrounded by aromatic plants and vineyards. This cottage is located just 20kms from Nimes and is a stone's throw away from the picturesque Cevennes region
More information on this cottage rental Languedoc Roussillon near Nimes
This beautiful old Water Mill has recently been renovated to a very high standard and provides 3 French holiday cottages, in between Nimes and Montpellier. The cottages are situated on a river bank on the edge of the pretty village of Salinelles, which is close to the picturesque Southern France town of Sommieres. These beautiful French holiday cottages come with a heated, infinity pool which overlooks the river. These cottages are a short drive (35 minutes) to the sandy beaches of the Mediterranean coast and are within walking distance of a couple of restaurants, a bar and a boulangerie/general store.
More information on these French holiday cottages with pool near Nimes
These luxury French holiday gites for two people are located between Nimes and Montpellier, near the small medieval town of Sommieres. These French holiday gites are situated at Le Domaine de Monteils, a former monastery. The surrounding area is famous for its wine and is bordered to the south by the wetlands of the Camargue and the sandy beaches of Languedoc and in the north by the spectacular Cevennes national park. The area is full of historic sites, including the city of Avignon, the medieval duchy of Uzes, the roman towns of Nimes and Arles and the UNESCO World Heritage sites of Carcassonne and the Pont du Gard. There are 5 luxury French holiday gites at Domaine de Monteils. In a Mediterranean park of 5 hectares, Domaine de Monteils looks like a little Provençal hamlet and provides and oasis of calm and relaxation.
More information on these French holiday gites near Nimes.
5. Where to stay in South of France: St Guilhem-le-desert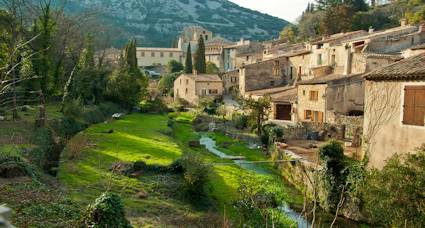 Hugging the western banks of the Gorges de l'Herault, is the stunning village of St-Guilhem-le-Desert. This ancient village, now designated a UNESCO World Heritage site, is nestled amongst stunning scenery. St Guilhem is regarded as one of the prettiest villages in France and has been attracting visitors across the South of France for centuries. The surrounding countryside is a delight, with excellent walks to be taken near the Cirque de Navacelles, along the banks of the Gorge de l'Herault and the Plateau du Larzac.
Here is a selection of some of the best places to stay in South of France near St-Guihem-le-Desert:
These villas in Southern France are situated in La Boissiére, 15 mins (20kms) form Montpellier. The villa sleeps up to 10 people with above ground pool, air conditioning throughout and is well equipped for a family holiday in Southern France.
More information on these villas in Southern France near St Guilhem le Desert.
6. Where to stay in the South of France: Montpellier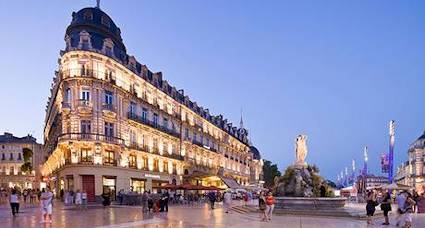 I love going to Montpellier. It is a real treat. The place is alive with amazing energy and is a real tonic to the lazy days spent in a Southern France village. With fine museums, a charming old centre, modern tramway network and booming hi-tech business sector with extraordinary modern buildings; you really get the feeling that Montpellier is the place to be in the South of France. It even has a Mediterranean beach!
7. Where to stay in South France : around Beziers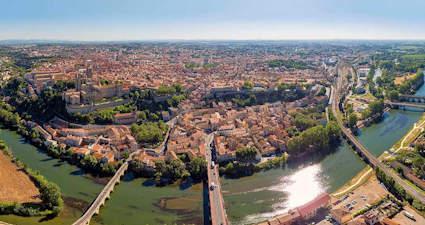 To be perfectly honest, the city of Beziers is no great shakes. But for 3 days in sultry August, Beziers comes alive in spectacular fashion with its annual Feria. Fireworks, street processions, dancing, bullfights - all washed down with plenty of local wine. This is definitely the best time to be in the City. Beziers was also the birthplace of Paul Riquet, who constructed the Canal du Midi, a tree-lined canal that runs from Toulouse to the Mediterranean sea, is the largest UNESCO World heritage site on earth. It has come to symbolise the slow, relaxed life of the South of France. Passing under the walls of historic Carcassonne the quintessential South of France experience is to boat, walk or cycle along Riquet's Canal du Midi.
8. Where to stay in South of France: Pezenas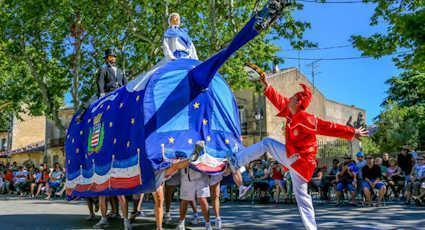 Walk the old streets of Languedoc's former capital. Once the stomping ground of Molliere and now a haven for antiques and a fabulous Saturday market. Pezenas is a wonderful old South of France town. Its beauty just grows on you the more time that you spend walking its ancient streets. Pezenas is also situated amongst some of the best vineyards in the South of France. You are close at hand to sample some excellent Picpoul de Pinet white wines, red and rose wines from Faugeres, as well as wines from the Coteaux de Pezenas.
>> see Pezenas for more details
9. Where to stay South of France: Carcassonne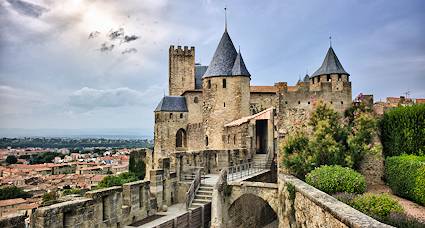 Carcassonne, South of France, is France's most famous and evocative medieval citadel. Carcassonne is another UNESCO World Heritage Site in the South of France. It is the scale of the castle at Carcassonne that blows you away. A wonderful monument with an impressive history. If you are on holiday and you are looking for a good day out then Carcassonne must come top of your list of South of France places to visit. For more information please read our article on Carcassonne, South of France castle. Carcassonne is also featured in our article 10 Best South France picnic spots.
10. Where to stay in the South of France: Collioure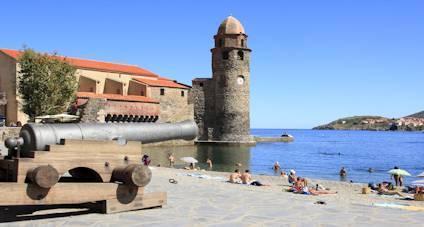 The picturesque beach town of Collioure is an idyllic place. It is situated in the very south of France, 26 km (approx. 15 miles) from the Spanish border. It has always attracted a host of artists because of its 'special light' and you can follow the unique art trail through the town. Its small Catalan harbour is sheltered by a quiet bay where the Pyrenees meets the Sea. You can count on having a splendid swim at one of the small coves. The surrounding countryside is dominated by the Pyrenees, which tumble into the sea at Collioure. Pic du Canigou is the highest point in the Eastern Pyrenees and it has become a symbol of the Catalan nation that once spread from Northern Spain to well into modern day South of France. A traditional bonfire is lit on its summit on Midsummers Day. Torches are then carried to light other bonfires in villages across Catalonia.