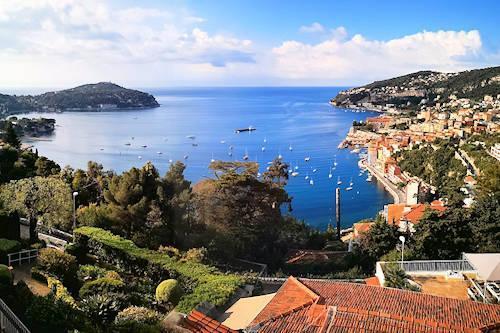 I am often asked to help clients pick out places to visit in the South of France during their vacation. If you are planning your summer holidays in France for 2020 and you are looking for information on where to go in the South of France, then just follow our handy guide of the very best places to visit. We have grouped these South France tourist attractions into distinct regions of the South of France, but to be honest getting around is quite simple. There is an excellent road network and the trains are superb. The South of France is a great place to visit. It has a wonderful climate with long warm summer days stretching through to September and October. There is a really super coast, with many fantastic beaches. You also find a rich variety of places to visit, from chic resorts, sleepy old villages and astonishing historical monuments dating back to Roman times (and before. One thing which is often not mentioned in the guide books however, is how beautiful the scenery is. Well obviously everyone knows about the Pyrenees, but how many people explore the Cevennes, the Corbieres hills, the Plateau du Larzac and the Lozere region. It really is the perfect French holiday destination.
Best time to visit the South of France in 2020
In terms of the best time to visit the South of France, avoid late November through to January because although you still have glorious blue skies, during the evenings the temperature can drop. It is certainly not as you imagine and if the wind picks up it can feel quite cold. You do still get the odd warm day, where temperatures can hit 20°C/70°F, but the average day time temperature is around 14-15°C/60°F. My favourite time is April and May and then September and October. Basically from May through to September you can usually guarantee good weather. June is usually very pleasant up in the late 70F's/mid 20C's. In July and August you can expect to get many days around 90F/30C. A peculiar thing happens in mid-august. You sometimes get some summer showers that last a few days - it is something to do with the warm air from the South and the Sea.
Anyway, here is a list of some great places to visit in the South of France during 2020. This should provide you with a decent idea of where to go in South France:
Where to go in South France: Cote d'Azur and French Riviera
OK, I am going to be a bit of an Anorak here. There isn't actually a place in France called the Cote d'Azur or French Riviera. It was a term made up by a French writer in the 1880's to describe the coastline in between the Italian border and the naval town of Toulon. But in reality, when we all think of the South of France, then the Cote d'Azur or French Riviera is the phrase which immediately springs to mind. For me, the Cote d'Azur encompasses the French departments of the Var and Alpes-Maritmes, and includes the popular destinations of Nice, Cannes, St Tropez, Grasse, Frejus, Menton, Antibes and Villefranche-sur-Mer.
Nice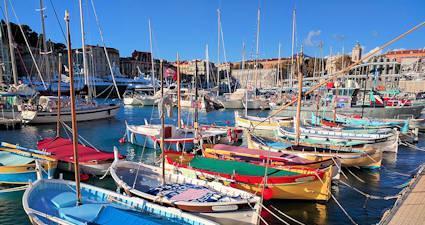 Think of the South of France and Nice comes squarely into mind. With its broad avenues, wide sweeping bay and golden beach it is not difficult to see why some 3 million people flock to Nice every year. Only Paris rivals it as a tourist attraction. With the famous Promenade des Anglais, the Matisse museum, the Russian Cathedral and Vieux Nice, there is so much to do and see. Nice is also home to a celebrated Jazz festival. In actual fact, Nice held the very first jazz festival in the world in February 1948. Over the years the Nice Jazz festival has been attracted all the great Jazz musicians of the age including Louis Armstrong, Miles Davies, Charlie Mingus, Dizzy Gillespie and Ella Fitzgerald. The 2020 Nice Jazz festival will be held from 17 to 21 July 2020 (see Nice Jazz Festival 2020).
Surprisingly, some of the best times of the year to visit Nice are outside of the summer season. During February, Nice holds one of the oldest and biggest carnivals in the World. The enormous Nice carnival procession takes place over 15 days during the Mardi Gras. The 2020 Nice carnival will take place from 15-29 February 2020 (see Nice Carnival 2020 for more information).
Also, during December, the Nice Christmas market ("Le Village de Noel") takes over the central Jardin Albert 1er and incorporates an ice rink, a Ferris wheel and a lot of Christmas related food and drink.
St Tropez, South of France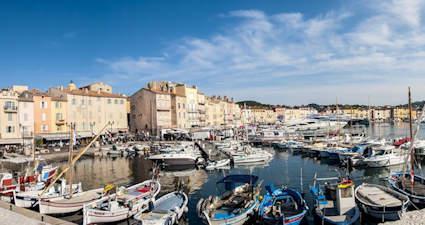 Glitzy, chic, relaxed, rich, sunny, beautiful. Whatever adjective you use to describe St Tropez, it still does not satisfactorily sum up this top South of France resort. Commencing with Bridget Bardot and continuing with present day celebrities, St Tropez in the South of France continues to be the summer home of the rich, famous and beautiful. St Tropez's beaches (Tahiti Plage and Pampelonne) are among the best in the world and its harbour only loses out to Monaco for the impressive array of yachts on show. Saint Tropez is located on a small bay, close to the major resort town of Sainte-Maxime. The city of Toulon is 50kms to the West and Cannes is 70kms to the East.
I have to say the first time I visited St Tropez, it wasn't what I was expecting at all. The town itself looks quite normal. It is only when you look closer that you realise that the little boutique shops located in former Fishermen's houses actually belong to Prada, Hermes and Channel. The restaurants are not crazily expensive, but the private beach bars on the St Tropez beaches can be a bit steep. If you are looking at staying in St Tropez, I would probably advise you to consider some of the surrounding villages such as Cogolin, Port Grimaud, Ramatuelle, Gassin or La Croix Valmer. The reason being is that you can still access St Tropez, but in the height of summer this part of South of France can grind to a halt with traffic. These places can offer the best of both Worlds, some peace and quiet, as well as a short drive to all the craziness. You can see some examples of our places to stay near St Tropez here: St Tropez villas and apartments
Cannes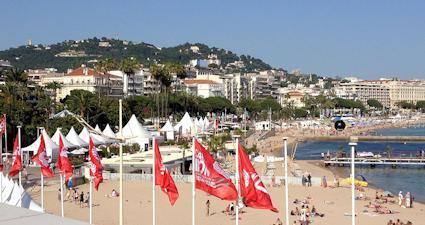 The French coastal city of Cannes is always associated with its celebrated film festival which has been running continuously for 70 years. The 2020 Cannes film festival will be held from 12-23 May 2020. You might think that once the swarm of Actors, Producers and Paparazzi have left town, that Cannes will return to normal. But there is no real 'normal' time for Cannes. There is actually more going on in Cannes than just the the red carpet. The city holds 12 important events and conferences throughout the year including the International TV and media festival MIPTV, an international property show called MIDEM, various fashion and shopping events, as well as a number of major sport festivals and regattas. In fact there is not a month goes by when the City is not prparing for the next big event.
Although Cannes does not have it's own airport (Nice Cote d'Azur airport is only 30 kms away), it is definitely a destination I would head to in South France. Cannes has a beautiful central boulevard (Le Croisette) which bends around the Bay, it is a great centre for shopping and it has a number of good beaches. Also on the coastline surrounding Cannes you will find some delightful places to stay, such as Antibes, Theoule-sur-Mer and Mandelieu La Napoule (see Cannes rentals for selection of accommodation). But for me, the beauty of Cannes is to just mooch about the Old Town, waling along the beach front and just gazing out at the horizon over the wonderful bay area.
Where to stay in the South of France in 2020
If we have inspired you to go to the South of France, then why not rent a villa as an alternative to a hotel. Our villas in Cote d'Azur provide you with more freedom and flexibility and will give you an unforgettable experience of life in the South of France. Our full listing of South of France villa rentals can be seen at Cote d'Azur villa rentals. But here is just a snapshot of our most popular villas to rent in South France:
Where to go in Southern France 2020: Provence and the Camargue
Provence is a beautiful part of France and I would certainly recommend that you incorporate a trip during your visit. With gorgeous towns such as Aix, St Remy and Arles; and stunning countryside, you can see why it remains one of the most popular destinations in France to visit.
Aix-en-Provence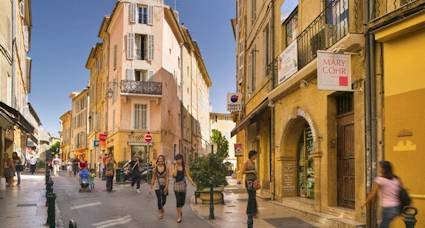 The old University town of Aix is a wonderful place to spend time in. Perhaps the most recognisable part of Aix is the Cours Mirabeau, the wide avenue with rows of plane-trees that follows the line of the old city wall and divides the town into two halves. Along this avenue, you will find plenty of cafes, including the Deux Garçons, which has been frequented by the likes of Paul Cezanne, Emile Zola and Ernest Hemingway.
Aix has a lovely old Cathedral and the impressive looking Hotel de Ville, which looks onto a picturesque square (place de l'Hôtel de Ville). Aix is often referred to as the city of a thousand fountains and they are everywhere. The most prominent is Fontaine des Quatre Dauphins (Fountain of the Four Dolphins) in the Quartier Mazarin. Aix hosts an important opera festival, the Festival international d'Art Lyrique, founded in 1948 (which ranks alongside Salzburg and Glyndebourne in terms of importance). The festival takes place in late June and July each year. The main venues are the outdoor Théatre de l'Archévéché in the former garden of the archbishop's palace, the recently restored 18th-century Théatre du Jeu de Paume, and the newly built Grand Théatre de Provence.
Aix also holds a week long music festival, featuring Jazz, Classical and Rock music. Concerts are held in different street venues and courtyards in the city, hence the name of the festival "Musique dans la Rue". The festival takes place each year in June to coincide with the national 'Féte de la Musique' (21 June 2020). Visit our article on Aix-en-Provence tourism for more
St-Remy-de-Provence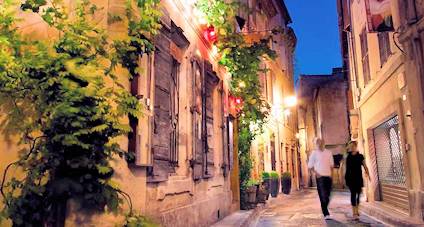 Saint-Remy-de-Provence is a pretty little town in the South of France. It is often regarded as the heart of Provence. The centre of the town has lots of mazy streets and it has a large market which takes over the town every Saturday morning. Saint-Remy-de-Provence was the birthplace of Nostradamus, a 16th-century author famous for his prophecies. The brother of Vincent van Gogh lived in St Remy and the painter was treated here in the psychiatric center after he had cut his ear off. He painted Starry Night whilst he was in Saint Remy.
Saint-Remy-de-Provence is a very pleasant place to spend a week or so on vacation. There are lots of small restaurants and pavement cafes, as well as interesting little shops. Nearby to Saint Remy, you will find the Baux de Provence, a picturesque village perched on the edge of a rocky outcrop. The village is no longer inhabited full time, but there is still plenty to see as you wander the old streets inside and around the castle. You will also find the Cathedral des Images, a huge old quarry, the walls of which are used to project images of famous paintings. It is quite something and well worth the visit.
Just a word of warning, be careful visiting Saint Remy outside of May-September. The Mistral wind just rips through the town and surrounding areas. On a bad day it can knock you sideways.
Gorges du Verdon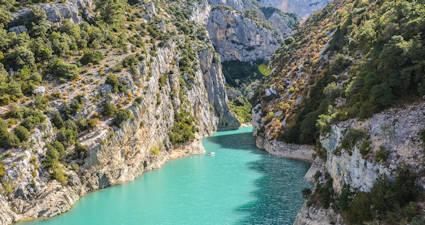 The Gorges du Verdon is France's equivalent to the Grand Canyon. With a dramatic 700m drop to the river floor, the Gorge is an excellent day trip. Set amongst beautiful Provence countryside, the Gorge du Verdon is a permanent fixture on any tour of the South of France. The Gorge runs for about 25kms and when looked down from on high, the turquoise colour of the river makes it really special. What is truly outstanding however, is the fact that the Gorge was only discovered relatively recently. The Gorge only started to be detailed in maps and document from around 1780 and it only started to appear in French guide books in the last 19th century.
But I think the best way to explore the Gorges du Verdon is by canoe. You can hire canoes at various points along the river and it is a great way to take in the dramatic cliffs of the Gorge.
Arles - Van Gogh & Roman heritage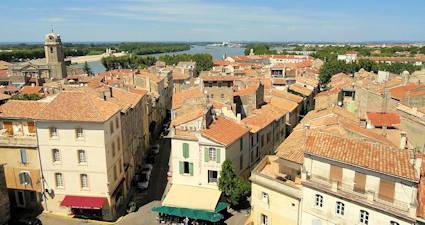 Arles is definitely my favourite city in the South of France. With its Roman heritage - complete with Amphitheatre, Forum and Theatre; beautiful 17th Century mansions, mazy streets, modern Museums and wide rolling river; Arles has it all. Arles was also the base for Van Gogh and Paul Gauguin, during their ill-fated but successful partnership in the 'Studio of the South'. Here van Gogh painted some of his most famous masterpieces (see Van Gogh in Arles for more information).
Construction is just about complete on the Luma Arles tower, designed by the famous architect, Frank Gehry. This stunning building will house artworks connected to Arles, as well as providing studio space for contemporary artists.The building itself is an artwork in itself, with a twisting structure and a shimmering metal facade.
Arles is also convenient for exploring the natural beauty of the Camargue region, with its famous white horses, flamingos and wetlands. Arles is also quite convenient for reaching the coast, with some excellent sandy beaches at La Grau-du-Roi and L'Espiguette.
Seillans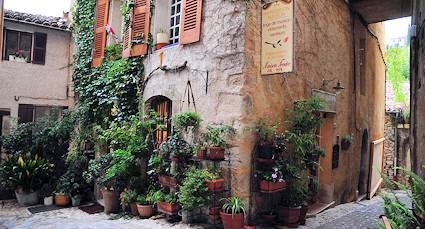 The pretty Provence village of Seillans is located to the west of Cannes on a beautiful hillside overlooking a valley. Seillans regularly features on the list of the most prettiest villages in France. It was also the former home of the German painter, Max Ernst and his American wife, Dorothy Tanning (who was also an accomplished Sculptor and Writer).
Seillans is situated in the eastern Var, beside the popular village of Fayence and about a half-hour drive west of Grasse. The picturesque medieval center of this town is so steep that it is only accessible on foot. The narrow winding streets of the center of Seillans eventually open out onto several beautiful squares where you can enjoy the sunny days and beautiful sunsets. Seillans also boasts a castle, chapel and several gorgeous tall houses.
The landscape surrounding Seillans is filled with olive groves and vineyards, which make for great day trips. Seillans is a great spot from which to explore towns of Provence and the cities of Cannes, Nice and Aix-en-Provence.
Marseille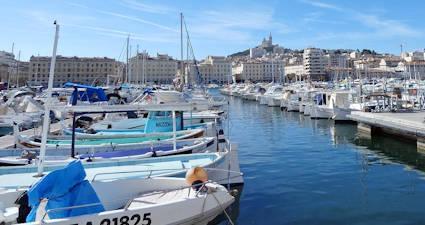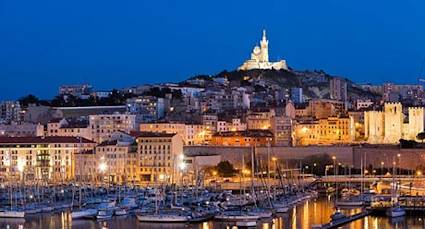 The port of Marseille is the second-largest city in France and the largest city in Provence. The city is a bit of a mixed bag. Scruffy (and dangerous in parts) and also charming and modern in others. But do not be discouraged, Marseilles has much to offer.
Heading off to the Vieux Port area of the city is always rewarding and here you will find market stalls filled Provençal products, Moroccan-like souks and a centuries-old fish market with produce coming straight off the boats behind it. In Vieux Port's Le Panier neighborhood, you'll find narrow, winding streets and authentic shops. You'll also find pedestrianized shopping streets such as Rue St-Fereol. Make sure you stop somewhere and get a steamy bowl of bouillabaisse, a traditional fish stew from Marseilles containing different kinds of fish, shellfish and vegetables, flavored with a variety of herbs and spices such as garlic, orange peel, basil, bay leaf, fennel and saffron. It really is delicious and in France it has an almost mythical status.
Marseille is often described as the gateway to Provence and from here you can easily strike out and visit the other towns of Provence, France.
L'Isle sur Sorgue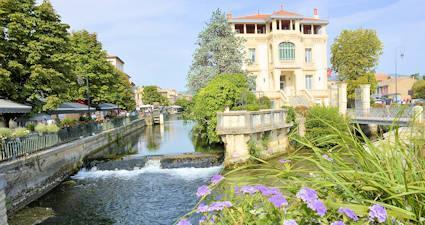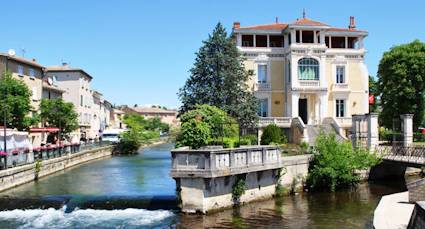 L'Isle sur Sorgue is often regarded as one of the prettiest Provence towns. Located on the banks of the river Sorgue, L'Isle sur Sorgue was originally a fishing village, situated on an island in the middle of marshland. The river Sorgue provided a a healthy source of income for the town's inhabitants from crayfishing and milling (oil and flour).
L'Isle sur Sorgue also became an important centre for silk, paper, wool, rugs and dyeing. L'Isle sur Sorgue has a network of canals that cross through the town between the narrow ancient streets.
Roussillon, Provence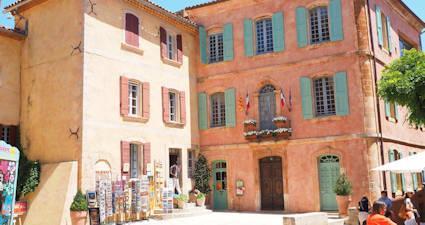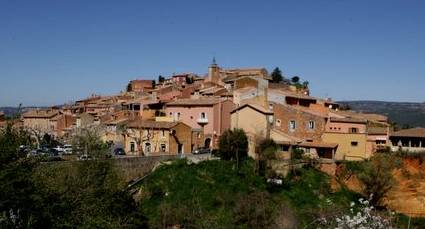 The hilltop town of Roussillon in Provence is often regarded as one of the most beautiful towns of Provence. This famous Provence town, is very popular among tourists for the breathtaking views and the famous ochre coloured buildings. Probably the best time of day to visit this picturesque village is just before sunset, as sunlight throws lots of different shades upon the walls of the houses. Spending time wandering the narrow, winding streets is a relaxing experience and it is easy to soak up the joys of provincial life away from the hustle and bustle.
Roussillon is situated close to Avignon. From the village of Roussillon, France, you can enjoy beautiful views of the surrounding National Park du Luberon and the local landscape has led to comparisons being made to Colorado in the USA (it is often referred to as the 'French Colorado'!). The town only has about 1,300 inhabitants, and it it initially grew prosperous from the local ochre deposits that were mined nearby the village for centuries.
Where to go in 2020, South of France: around Nimes and Avignon
Pont Du Gard - Roman Aqueduct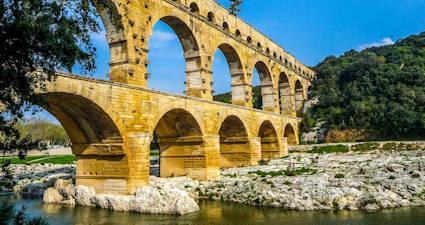 The Pont du Gard, South of France, is an extraordinary Roman aqueduct located just north of Nimes.The Pont du Gard isone of 4UNESCO World Heritage Site located in the South of France. Complete with excellent visitors centre and Mediterranean garden, the Pont du Gard, South of France is a special place to visit. One of my favourite days out with the kids is to swim under the arches of the Pont du Gard or take a canoe up the river. For more information see Pont du Gard, South of France.
Uzes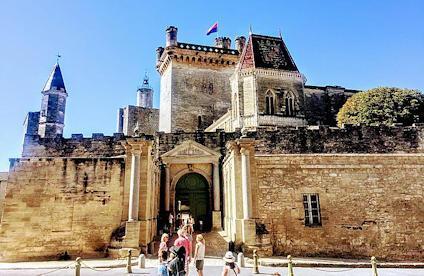 Uzes, South France is a very pretty town. We recently spent a weekend there and we had a great time. Together with Aix en Provence, St Remy. Aigues Mortes, Avignon, Sommieres and Pezenas; Uzes really ought to be up there on your list of places to visit if you are planning a tour of the South of France. In the centre of Uzes, South France there are lots of narrow streets with little boutiques arranged around the old Duchy. In the centre you will find a big square (Place aux Herbes), laid out with fountains and plenty of decent restaurants. Whilst we were visiting, there was a big Arts Fair going on - which really sums up Uzes - it is a big art loving town. The Saturday market in Uzes takes over most of the town and it is supposed to be very good (as well as busy). Uzes and region have a bit of a reputation as a foodies paradise. The other reason for coming to Uzes, France (especially if you have kids - or a sweet tooth) is to visit the Haribo sweet museum. I took my three little monkeys there and they absolutely loved. It was like Willy Wonkas Chocolate factory! There were plenty of free sweets, some boring exhibits of old sweet manufacture and more interesting intreactive displays about how they make the sweets today. The shop on the way out is something to behold. It cost me a small fortune.
Avignon - Le Palais des Papes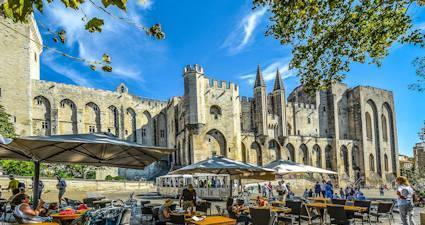 Set in the heart of Provence, thePope's Palace is the biggest Gothic palace in Europe. Once home of the Sovereign Pontiffs, this Palace with its ceremonial rooms, chapels and private papal apartments, became a symbol of the power of the Christian world in the 14th Century. Avignon is a wonderful mix of history and culture, set on the banks of the River Rhone. Avignon arrived on the World's stage when in 1303 the Vatican decided to move away from the anarchic violence of Rome to the peaceful pastures of Provence. Although they only stayed for 70 years their legacy can still be seen on the beautiful streets of Avignon.
Saintes-Maries-de-la-Mer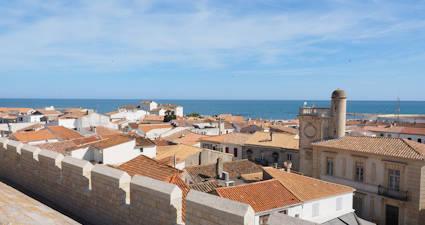 Saintes-maries-de-la-mer, South France, is situated on the Camargue coast (see Petite Camargue). Although the place is tiny, it is absolutely heaving in the summer. The town itself is a fairly non-descript sort of place, but you can imagine that for centuries fishermen have dragged their boats and their catch up onto the beach - just as they do now. What makes Les Saintes-maries-de-la-mer standout however has been the succession of pilgrims that have visited it for centuries. A huge gypsy fair is held in Saintes-maries-de-la-mer, South France, every year towards the end of May.
Nimes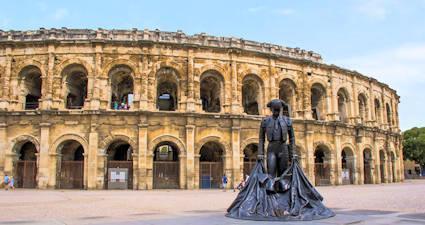 This city is inextricably linked to its Roman past. Its location on the Via Domitia - the main chariot route from Spain to Rome - helped make it a favourite with a series of Emperors. Today it is endowed with an outstanding collection of monuments including the Maison Carrée, the Amphitheatre and the temple of Diana. Today it is home to a bustling commercial district, with winding streets hiding a plethora of boutiques and artisanale's. It also houses two good art galleries and hosts some of the most colourful festivals in the south of France - February's Carnival and the ferias of Pentecost and September.
Aigues Mortes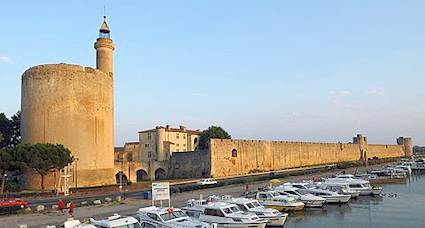 Spending time in Aigues Mortes is an absolute joy. This medieval walled town is romantically set among the dunes and plain of the Camargue. A tour of Aigues-Mortes' fortifications and grid pattern streets is a must on any visit to the South of France. Although popular in the height of Summer, you can easily spend a very pleasant day wandering around the shops and eating at the pavement restaurants in the centre.
Inspiration? . . . or more questions?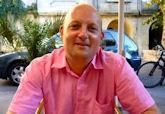 I hope that this article has provided you with some good ideas about the places to go to in the South of France during your visit. We live in the South of France all year around and we absolutely love being here. We are always out and about visiting new villa rental properites and researching tourism articles about the South of France. We have a great collection of articles with more ideas about things to do and places to go in the South of France, including:
Go Languedoc provides holiday accommodation, long term rentals and tourism information about the South of France - covering Cote d'Azur, Provence and the Languedoc. If you would like some more detailed information or if you have any questions about finding accommodation for your visit, then just drop us a quick message and we will come straight back to you. I wish you a wonderful stay in the South of France. Contact Iain by Email or by phone +33 6 95 00 28 44.