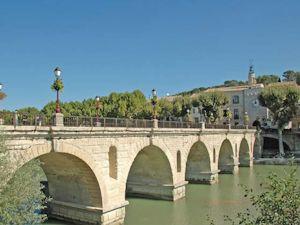 Sommieres, France, is a pretty little town with a wide river flowing through it. Sommieres is situated in between Nimes and Montpellier and it is easy to spend a day here wandering around the old narrow grid streets of this ancient town. If you are visiting Sommieres here you will find some of our Sommieres tourist information tips
Lawrence Durrell and Sommieres
Sommeiers was home for 33 years to the writer Lawrence Durrell. Durrell claimed that he had seen "nothing prettier" than Sommieres in all his travels. The old Roman bridge that crosses the river is still in use today and forms the centerpiece of Sommieres. The old town is situated on the east bank and this is probably where you will want to spend most of your time. After passing over the bridge you enter Sommieres through the 17th century Tour de l'Horloge, which as you would expect features a large clock face. The old town of Sommieres was laid out on a grid pattern by the Romans and much of it remains the same. There are two traditional arcaded market squares around which are congregated some excellent bars and restaurants. On Saturdays, these squares are taken over by an excellent local market.
Where to visit in France: Sommieres, France tourism information
Although Sommieres was ransacked during the Wars of religion (it has always had a strong Protestant tradition), it retains its wonderful old character and you can imagine that little has changed for hundreds of years. Above the town are the remnants of the towns castle (destroyed by Catholic forces in 1573), but the castle tower remains and offers wonderful views over to the Pic du St Loup mountain. In the summer Sommieres is home to a lively Festival featuring bull fighting in the local Arenes.
Staying in Sommieres
Sommieres is a good base for a holiday in Languedoc. The Cevennes hills are on your doorstep and the beaches of Petite Camargue are 30 mins away. Nearby you also have Montpellier and Nimes for day trips. We stayed at Collette Labbes' Chambres d'Hotes, set in an old wine domaine and complete with swimming pool in the well kept garden. The rooms are all of a high standard and range from Euros 70-Euros 120 for a suite. We also had an excellent meal at the L'Inde Restaurant tucked in an alleyway in between the two market squares.
Sommieres villa rental
If you are looking for a holiday rental with a swimming pool close to Sommieres, then Sommieres Villa is the perfect spot. This South France holidays rental is located on the edge of Provence in the quaint old town of Sommieres, close to both Nimes and Montpelier. Villa Sommieres in the South France comprises 4 double bed rooms, two of which have ensuite bathrooms. This South France holidays rental has a large private swimming pool, garden and terrace. This villa in Sommieres, South of France, sleeps up to 8 people with additional sofa beds in the lounge. The villa with pool is located on a hill above Sommieres and provides incredible views of the local South France countryside. Available to rent from Euros 1650 per week. For more information please see the property page for Villa Sommieres