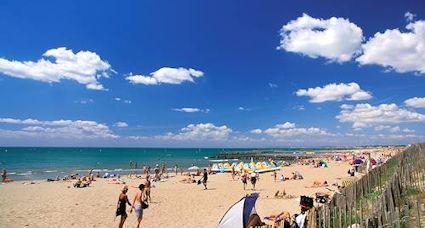 Situated in between Cap d'Agde and Valras Plage, Vias Plage beach, South France, has some of the warmest water in the Languedoc. You will of course find beaches with better facilities, but as an overall package, Vias Plage tops them all. This popular Languedoc beach is sheltered, with golden sands and easily accessible even in the height of summer. There is also plenty of bars and cafes behind the beach to keep you in supply with cold drinks and ice creams. Vias Plage beach, South France, is featured in our Top 5 list of Best Languedoc beaches.
Vias Plage - Languedoc beach, South France
I reckon that Vias Plage beach, South France, is the only beach in Languedoc that my wife actually knows. I am sure that she does know other Languedoc beaches, but every time we pack the kids in the car with all their surf boards and inflatables and I ask "Right where are we headed?", the response is always "Vias Plage!". She claims she likes it because you can find a quiet spot and the water is shallow. But I reckon it has more to do with her secret car parking space which only involves a 15 second walk to the sand.
To get to Vias Plage beach, South France, come off the A9 at junction 34 and take the RN312 to Vias. Then follow the signs to Vias plage. We always head right into the heart of Vias Plage, where all the beach bars, restaurants and shops are, and then take a right turn past the campsite. If you keep following the track you will come to another car park that invariably has spaces. We prefer this area of Vias plage as the beach is usually quieter.
Vias Plage beach South France
Visit Vias Plage for more information about what to do in the local area. If you are looking for a house to rent close to Vias Plage or one of the other excellent Languedoc beaches, take a look at some of the Go Languedoc beach houses.