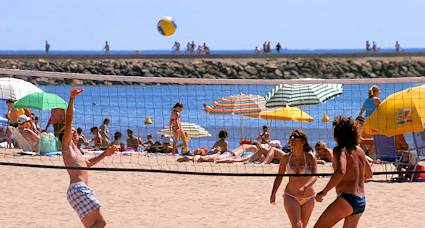 Valras Plage beach close to Beziers is a typical Southern France beach resort. Ringed with lots of decent restaurants, a harbour and plenty of shops, Valras plage also offers you plenty of things to do when you want a break from the beach. This South of France beach has clean, warm water and the beach itself is well maintained.
The wide open expanse of sand at Valras Plage, France, comfortably accomodates large numbers of holiday makers, allowing you enough room to spread out and relax. If you prefer big sandy beaches sandy then Valras Plage beach is perfect. The section of the beach near the centre, has lovely children's play area. The sea is very shallow at this part of the Languedoc coast, so great for kids.
There is also plenty to do after the beach with lots of restaurants, boutiques and ice cream stalls. During the summer there is also a childrens adventure park and fairground rides just by the harbour.
Valras Plage beach, South of France best beach
You can drive to Valras Plage, France, one of two ways. Either from junction 35 of the A9 along the D64 or from junction 36 of the A9 and and follow the road past the pleasant village of Vendres.
Where to next . . . ?
Contact Iain by Email or by phone +33 6 95 00 28 44 if you have any particular questions you would like to ask about visiting the South of France. If you liked the article then please share it with others using the Twitter, Facebook and G+ buttons below. I wish you a wonderful stay in the South of France.