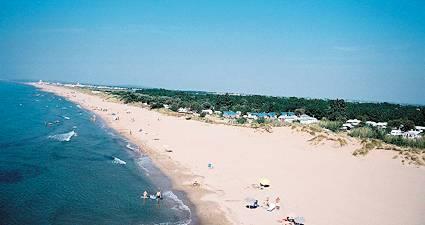 Serignan Plage is a popular South France beach destination for thousands of holiday-makers each year. Serignan Plage has a wild and natural look to the beach and offers plenty of space to spread out and enjoy beach games. The beach is protected by wild sand dunes at the back, which gives the beach a lovely character. The beach has a wide exapnse of fine golden sand. There is a small naturist section at the far left of the beach (near the salt marshes), but otherwise this beach is frequented by families (many staying at the local camp sites) and workers clocking off work in nearby Beziers. If you get bored of the beach you can always check in to the local campsite and use the swimming pools and water slides (for a small daily fee).
Serignan Plage, South France beach
Serignan Plage has over 3km of beaches. Serignan Plage first received its Blue Flag award for the quality of the beach and the water in 2009 and it has retained this European quality standard ever since. The beaches at Serignan Plage are cleaned daily. Serignan Plage is actually made of of 5 separate beaches. The main beach is called La Grande Maire, then there is the La Chapelle, the Seoune, then the naturist beach (or noody doody beach as it is called in our house; before you finally reach the Orpellières Plage at the end of serignan Plage. There are 3 Life Saving stations (at La Grande Maire, Seoune and Orpellieres Plage. Toilets are located in the main car park at La Grande Maire plage. The car park at La Grande Maire also has a disabled access facility (amphibious chair lift). Every year the local municipality works hard to protect the beach from erosion, including planting 'desert plants' to protect the sand dunes at the back of the beach from wind erosion and constructing 'groynes' all along the beach using Chestnut wood to prevent tidal erosion of the beach.
Serignan Plage France
Serignan Plage itself is a small coastal resort that is home to a number of popular campsites, small supermarkets, 4-5 restaurants (including the popular Latino Beach bar), a number of bars and cafes and a small marina. There is a small weekly market (which has an excellent fish stall). Serignan Plage virtually shuts down during the winter, when all you will find is a few lone dog walkers. There is an active naturist community in Serignan Plage, which has its own dedicated campsite with a connecting naturist beach.
Serignan beach France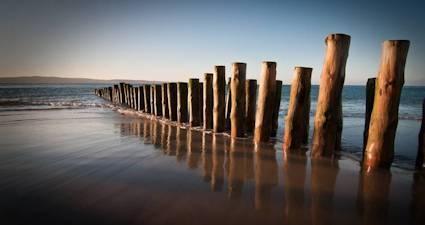 As South France beaches come, it is one of the best and least crowded (see Best Languedoc beaches for more top South France beaches). Visit www.ville-serignan.fr for more information about Serignan Plage and what to do and see in the area. Serignan Plage is located south-east of Beziers (follow the D64, then turn left onto the D37).
Serignan Plage weather
During the summer months, the weather in Serignan Plage is what you would expect - long, hot summer days, with a cooling breeze. Normally, during July and August you can expect an average temperature of around 32oC and around 10-11 hours of sunshine per day. There is normally little chance of rain, but when it does rain it is usually in the form of heavy showers. September and October are the wettest months of the year, but in between the showers, it is perhaps the best time to visit the beach, it is almost deserted. During the Winter, the weather in Serignan Plage can turn quite blowy, with strong coastal winds ripping across the beach. The sea water temperature from January to April is probably too cold forall but the maddest of people to swim in (my youngest son being one of them). Like September, May and June are really nice times to visit Serignan Plage because there are very few people on the beach as the campsites are yet to fully open.
Serignan beach villas to rent
We have a number of beach villas to rent in Serignan. With Serignan Plage just 3 kms from the town of Serignan, you can have quick access to the beach. Serignan itself is a nice town with plenty of shops, restaurants, a marvellous art gallery (see Serignan art gallery) and plenty of vineyards surrounding the town. Beziers is just a short drive away and Serignan provides excellent access to Beziers airport, the A9 autoroute and the TGV train station at Beziers.
French villa with pool Serignan (sleeps 6)
This modern French villa with pool is situated in the popular village of Serignan, just 4kms from the coast and a short drive to the city of Beziers. This French villa comes with a heated pool (7m x 3.2m), a garden, sauna, BBQ, 3 bedrooms and a comfortable lounge-dining area. If you are planning your family holidays in South of France this year, then this comfortable and practical property is an ideal rental choice.
Serignan beach villa France with pool (sleeps 8)
This beach villa France, is situated in the popular village of Serignan, just 4kms from the coast and a short drive to the city of Beziers. This beach villa comes with a private pool (11m x 5m), a garden, summer kitchen and BBQ. This beach villa France has 4 bedrooms and can sleep up to 8 people. The villa is on 2 levels. In the main house the kitchen comes with all the modern appliances that you will need - dish washer, oven, hob, microwave, fridge freezer etc. there are 3 double bedrooms and two shower rooms and 2 separate toilets. There is a large lounge with TV (some English channels) and wifi internet.
Where to next . . . ?
Contact Iain by Email or by phone +33 6 95 00 28 44 if you have any particular questions you would like to ask about visiting the South of France. If you liked the article then please share it with others using the Twitter, Facebook and G+ buttons below. I wish you a wonderful stay in the South of France.