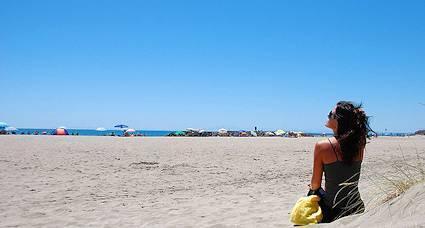 Rochelonge plage, is situated on the western side of Cap d'Agde. It is our preferred choice out of the 5 main Cap d'Agde beaches (Plage de la Roquille, Plage de Mole, Plage de Richelieu and Plage de l'Amite) . There is a nice beach side restaurant and bar and you get lovely sweeping views of the whole bay down to Narbonne plage. This fine sandy beach extends out in the direction of le Grau d'Agde. From Rochelongue Plage you have a wonderful view to the Fort de Brescou, a former prison and garrison.
You can reach Rochelongue Plage by taking the A9 to juntion 34 and then follow the RN312 and RN112 to Cap d'Agde. You will see an exit for Rochelonge plage as soon as you enter Cap d'Agde. There is a car park just near the entrance to the beach. If this is full however, try the car park for the Aqualand park (about a 10 min walk).
Best Cap d'Agde beach in Languedoc
So if you want to experience one of the best Languedoc beaches then head for Rochelongue Plage. In the height of the tourist season you will need to arrive early (or after 16.00) to get a parking spot and a good place on the beach.
For more information on Rochelongue Plage and Capd'Agde please visit www.capdagde.com. Also see Go Languedoc's selection of houses and apartments to rent in Cap dAgde.
Where to next . . . ?
Contact Iain by Email or by phone +33 6 95 00 28 44 if you have any particular questions you would like to ask about visiting the South of France. If you liked the article then please share it with others using the Twitter, Facebook and G+ buttons below. I wish you a wonderful stay in the South of France.