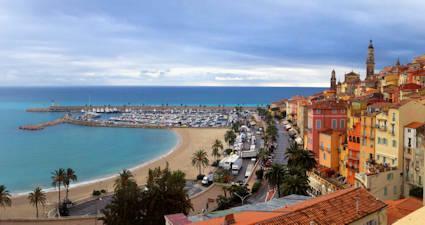 The lovely coastal town of Menton benefits from some of the cleanest waters on the French Riviera on account of a state of the art water purification system located in the bay. The Menton beaches are also scrupulously clean. Menton has a wide variety of beaches which stretch from Garavan, right on the Italian border along to Carnoles. You will find a mixture of both sandy and pebble beaches, as well as public and private beach clubs.
Menton beaches France
The beaches surrounding Menton, France, are primarily narrow strips of either sand or pebbles. The local council makes a great effort to enlarge the shoreline by 30 meters each year to accommodate the number of sunbathers that flock to this part of the French Riviera. Generally speaking, the beaches towards the Italian border are sandy and the beaches on the western side of Menton towards Monaco and Nice are quite rocky. Amongst the best Menton beaches on the western side are:
Plage de Fossan - a wide sweeping sandy beach which is great for kids. This is probably the pick of the western Menton beaches. The other benefit of Plage de Fossan is that it is a no smoking beach. Towards the far end of the beach there is also a small park and childrens'play area.
Plage du Casino - located close to the Menton Casino, this small rocky beach is very popular with the local residents of Menton
Plage du Borrigo - another popular beach with the local residents, Plage du Borrigo, is located on the western edge of Menton. The beach has good parking and is also equipped with showers at the back of the beach.
Menton sandy beaches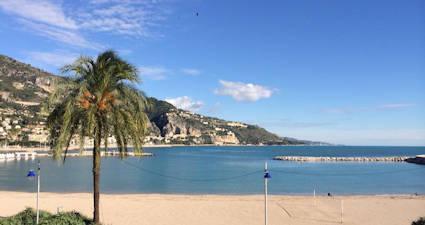 As you cross over the river in Menton, the beaches become noticeably more sandy (and more crowded). The beaches here stretch from the old port all the way around the Bay de Garavan. There are two public beaches (Sablettes and Rondelli), but the rest of this coast is given over to hotels and private beach clubs.
Plage Sablettes - is located right next to the port. This narrow beach gets very busy in the summer as it is the closest beach to the old town of Menton. The beach is popular with families on account of the warm shallow water. The backdrop of the beautifully coloured buildings of Menton makes this a special location.
Plage Rondelli - in contrast to Sablettes, Plage Rondelli is a wide open sandy beach popular with a younger crowd.
Where to next . . . ?
Contact Iain by Email or by phone +33 6 95 00 28 44 if you have any particular questions you would like to ask about visiting the South of France. If you liked the article then please share it with others using the Twitter, Facebook and G+ buttons below. I wish you a wonderful stay in the South of France.