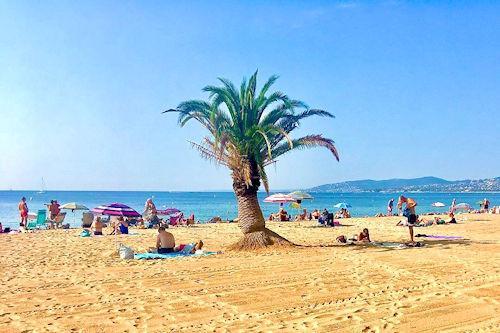 The old Roman port town of Frejus has one of the nicest beaches on the French Riviera. Frejus beach is a lovely sandy beach located right in the heart of the town. Frejus beach provides 2kms of golden sand, stretching down to the lovely marina. The beach has a nice palm-tree lined promenade at the rear, providing stunning views out over the beach and the Bay of Saint-Raphael.
Frejus beach France
Frejus beach is split into public areas and private beach bars (Eden Plage, Kazaar Klub and La Plage). Except in the height of the summer, you can use the sunbeds and facilities at the beach clubs provided that you have a meal or order drinks. Along the beach, you can find a whole host of water sports activities and is particularly popular with wind surfers and kite-surfers out of the high season.
Frejus beaches South France
If you want to venture further afield, the stretch of coastline around Frejus is populated by a number of excellent beaches. In the east, the coastline towards Agay has a number of fine beaches including Plage Tortue and Plage de la Pescades. To the west, you will find some excellent beaches close to Sainte-Maxime and Les Issambres, as well as the excellent beaches close to St Tropez (see St Tropez beaches for more information).
Where to next . . . ?
Contact Iain by Email or by phone +33 6 95 00 28 44 if you have any particular questions you would like to ask about visiting the South of France. If you liked the article then please share it with others using the Twitter and Facebook buttons below. I wish you a wonderful stay in the South of France.