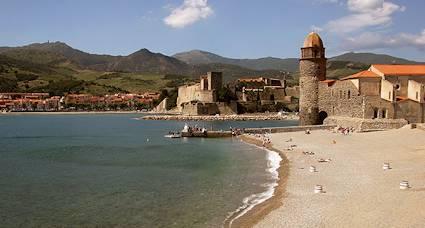 Collioure, with its three beaches has to be up the top of the list as the best Languedoc beach resort. Although the beaches are small and often busy, the views of the tranquil sea and Pyrennees are spectacular. You also have the wonderful town of Collioure on-hand with its restaurants, boutiques and artist trails to keep you amused. This is one of our favourite Languedoc beaches - others can be found in Best languedoc beaches.
Collioure, Languedoc beach
Situated on the sunny Côte Vermeille, the small Catalan coastal town of Collioure has been attracting holidaymakers for over a century. Collioure with its little harbour, famous church and castle and the mazy old town, is the perfect place for a day with the family. You can combine sunbathing, swimming, a nice lunch, a little shopping and a bit of sight seeing all in one go. Collioure is located due south of Perpignan, close to the Spanish border. We alwats find that the best route to follow is to exit the A9 autoroute at Le Boulou and following the signs to Argeles sur Mer (then head in the direction of Banyuls).
Where to next . . . ?
Contact Iain by Email or by phone +33 6 95 00 28 44 if you have any particular questions you would like to ask about visiting the South of France. If you liked the article then please share it with others using the Twitter, Facebook and G+ buttons below. I wish you a wonderful stay in the South of France.