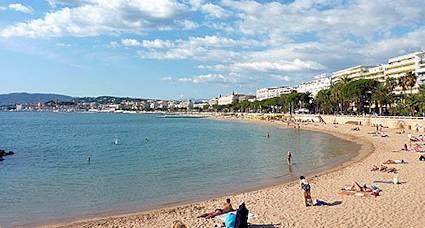 The beach at Cannes tends to divide people into two camps. Some people love the feel of this beach right in the centre of glamorous Cannes, with its world famous film festival. Others complain about this crowded South of France beach and the quality of the sand. To be honest I am in the latter category and would recommend you make the short drive round to Theoule-sur-mer (a lovely little coastal village). The long strip of golden sand to the north of Theoule-sur-mer is a quite calm, with a few bars and cafes around to give you respite from the sun. It really is an excellent South of France beach.
Beaches Cannes, South of France
The public beach at Cannes is situated near to the Palais des Festivals. Also look for signs to Plages du Midi and Plages de la Bocca on the western edges of the town. Yes you may get to see some of the 'beautiful people' wandering around the beach side promenade in central Cannes, but they are more likely to head for some of the private South of France beaches owned by the hotels.
Where to next . . . ?
Contact Iain by Email or by phone +33 6 95 00 28 44 if you have any particular questions you would like to ask about visiting the South of France. If you liked the article then please share it with others using the Twitter, Facebook and G+ buttons below. I wish you a wonderful stay in the South of France.