If you are staying in the South of France on holiday this summer and you do not have the luxury of your own private pool, then you maybe interested in finding some great places to cool off from the hot South of France sun. Whether it be lakes or cool mountain rivers, or even outdoor pools in towns, the South of France has an abundance of good places for swimming. The Languedoc region, Provence and Cote d'Azur are all blessed with a diverse range of lakes and rivers with stone beaches and rock pools. There are few restrictions in France about where you can swim, with all waterways predominantly public property. There is no need to rent a villa with a pool in South France, just follow our guidelines for the best places to go swimming in the South of France.
1.) Places for swimming South of France - Pont du Gard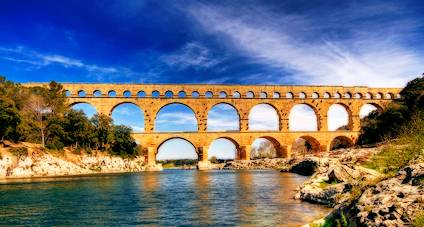 Just under this famous Roman aqueduct there is a rocky beach and nice cool river. There is plenty of parking in the Visitor centre car park (on the Northern side of the river) or you can take your luck along the road on the Southern side of the river. The Pont du Gard is located north-west of Nimes, close to the lovely town of Uzes.
2.) River swimming South of France - Gorge du Verdon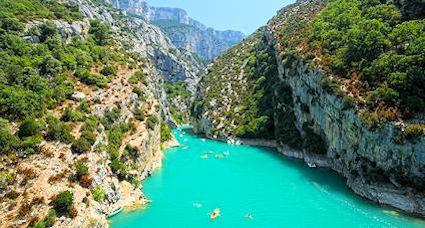 In France's equivalent of the Grand Canyon, you will find a turquoise blue river with plenty of shade from the surrounding cliffs. Hiring a canoe is an obvious choice as you can then paddle along the River Verdon to find a secluded river beach to base yourself. The Canyon is about 25 kilometres long and up to 700 metres deep. The most impressive part of the canyon can be found between the towns of Castellane and Moustiers-sainte-marie. The Gorge du Verdon is located in the very north of the Var department, approximately 40kms north-west of Dragignan and 1.5 hours west of Cannes and Nice
3.) Lakes for swimming in South France - Barrage des Olivettes, Vailhan, Herault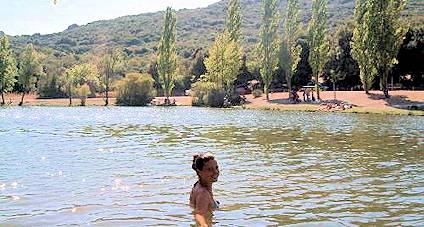 This little lake close to Roujan in Herault was a life-saver for us. If you are fed up of the beach and you want to find a safe place for a cool swim, then Barrage des Olivettes in the village of Vailhan is the answer to your prayers. To find the Barrage des Olivettes, you take a little track from the village of Roujan (which seemingly takes hours, but is only 5kms). By the time that you reach Vailhan you feel that you are at the end of the world. There are a number of picnic spots, but you probably need to arrive at dawn to grab one of the picnic tables. There is also an excellent restaurant here called L'Auberge du Presbytère.
4.) Places for swimming South of France - Restaurant Les Endroits, Pezenas, Herault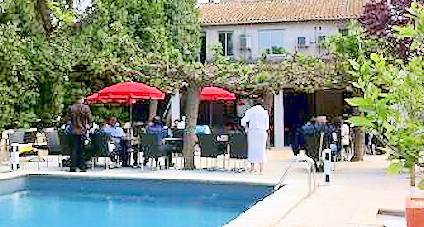 Yes, a restaurant!! Situated close to the bridge over the river in Pezenas, Les Endroits, is a cool place to go for a swim. The restaurant has a large swimming pool with a pool side bar. Entrance is free, all you need to do is to buy a drink, take a table, unpack your towel and then dive into the pool.
5.) Swimming lakes in South of France - Lac du Salagou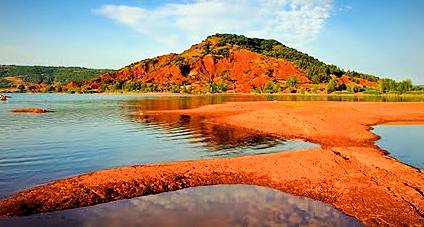 Lake Salagou is like marmite, you either love it or you can't see what all the fuss is all about. Personally, I am in the last category. I just don't get it. But lots of people adore Salagou. People come and spend their holidays nearby. Indeed the teacher of my eldest son even wrote a song about Salgou! It is a good spot for windsurfing and sailing and there is a good half day cycle trail around the shore. You will find Lake Salagou close to the town of Clermont d'Hearault, just off the A75.
6.) Swimming lakes in France - Pont du Diable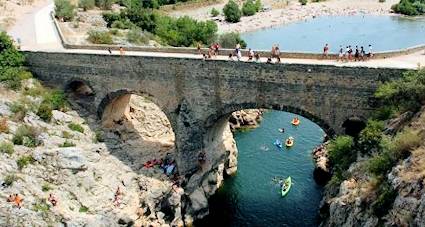 This is one of my favourite spots in South France. Just below the lovely village of St Guilhem le Desert, the river Herault has been partially dammed forming a small lake. From the banks of the lake you can take out a canoe and paddle up the ravine under the Pont du Diable. You just need to be careful to avoid the crazy teenagers hurling themselves 30 foot down off the small road bridge into the river below. In the last few years a lot of money has been spent developing the surrounding area, including providing a large car park, a lovely visitor centre (where you can grab a cool beer and ice cream) and a life guard look out post. We like to get to the lake for mid-afternoon and then head up to St Guilhem around 8.00pm for a Pizza in the square above the village. Pont du Diable is located 35kms north-west of Montpellier on the D27 between the villages of Aniane and St Guilhem le Desert. The nearest landmark is the Grotte de Clamouse underground cave centre.
7.) Swimming pools South of France - Le Grande Bleu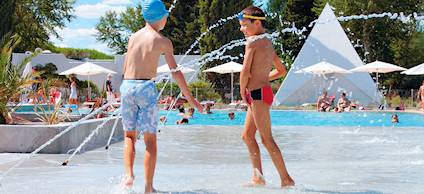 La Grande Motte may not be everybody's cup of tea, but there is no denying that the public pool complex in the resort is excellent. With a wave machine, lazy river and water slides, this pool complex has it all. You can sunbathe all day beside the pool, have a picnic in the adjoining shaded area, cool off in the pool when required - and all for about €5 per day.
8.) River swimming South of France - St Jean du Gard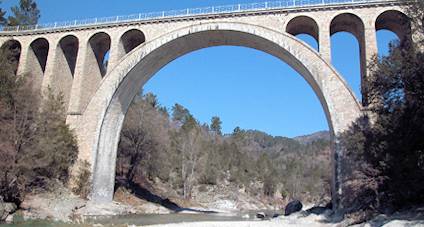 On the River Gardon in between the towns of St Jean du Gard and Anduze, close to the village of Mialet, you will find a wonderful stone bridge designed by Monsieur Eiffel (of the Paris Tower fame). Underneath the river there are plenty of places to swim and paddle in the cool water.
9.) Places for swimming South of France - Outdoor pool Pezenas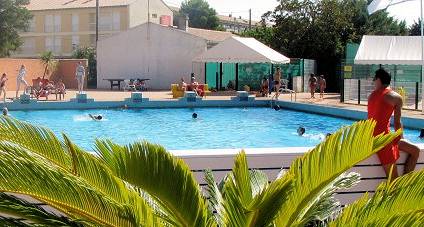 This place was another life-saver for our family during our first summer in France. This outdoor pool in the town of Pezenas is an excellent place for the family and it costs virtually nothing to get in. There are three pools - one for toddlers, one for kids (and rather lazy adults) and a full 25m exercise pool. You will find the pool by following directions to the Complexe Sportif.
10.) Places for swimming South of France - Roquebrun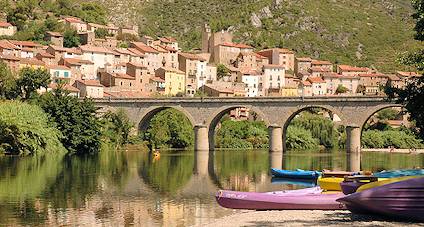 Roquebrun is one of the prettiest villages in Languedoc. Perched on the edge of the river Orb and framed by a giant rocky spur behind, Roquebrun is a great place to spend an afternoon. The river is slow-flowing and there is a little weir that you can slide down (our kids normally go down head first, but there again they are mad little buggers!!). Roquebrun is located close to Saint Chinian, 25mins north-west of Beziers.
11.) Canoeing in France - Vallon Pont d'Arc du Ardeche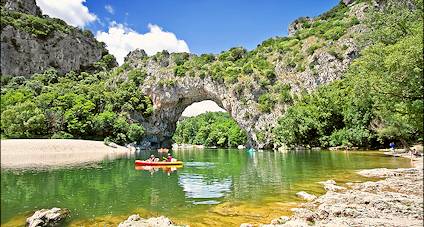 The Vallon Pont d'Arc on the Ardeche river is an instantly recognizable landmark. This 30m high rocky arch which has been eroded out by the river from the rock provides an excellent base for canoeing, swimming and a river-side picnic. But be careful, the river is quite fast flowing and full of rocks. We arrived too late to hire a canoe here with our boys and we were very glad that we were. When we saw the people trying to navigate the rapids (unsuccessfully!!) we were rather pleased that we just elected for a quite paddle. It is not white water rafting style rapids, but it is not a quite paddle along the river either. Still the adrenalin junkies will love it. Vallon Pont d'Arc is located close to the town of Vallon. Vallon Pont d'Arc is located 1 hour north-west of Orange in the Ardeche department.
12.) Swimming in waterfalls France - Gorges d'Heric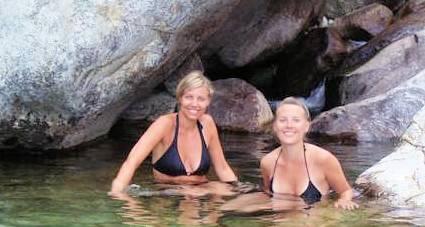 Well I say waterfalls. You will only really find these active in the winter (when you would have to be deranged to consider swimming in the river). In the summer, the waterfalls give way to little rock pools that are perfect for swimming in. Some of the pools are deep enough for jumping in from the nearby rocks (although for diving please see comments in relation to swimming in the river in winter!!). The Gorge de Heric is located in the heart of the Languedoc National Park, close to the town of Lamalou-les-bains and in between the villages of Le Poujol sur Orb and Olargues on the D908. There is a car park at the bottom of the Gorge (near the village of Mons-la-trivalle).
13.) South France lakes for swimming - Lake Montbel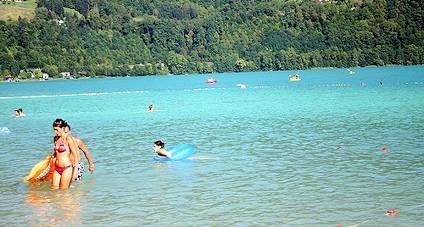 Located in between the beautiful town of Mirepoix and Limoux, you will find this amazing lake. The water is the brighest turqoise you will ever see. Lake Montbel is a centre for windsurfing. It also has a kiosk where you can hire pedalos (complete with water slides on the back. There is also a nice little beach-side shack where you can get a cheeky little beer or a cup of coffee. The nearest village to Montbel is Chalabre. If you are heading out this way, make sure you go on a Monday and take in the excellent market at Mirepoix. Well worth the stop off. Montbel is 30 minutes due south of Carcassonne in the beautiful Arriege countryside.
Where to next . . . ?
Contact Iain by Email or by phone +33 6 95 00 28 44 if you have any particular questions you would like to ask about visiting the South of France. If you liked the article then please share it with others using the Twitter, Facebook and G+ buttons below. I wish you a wonderful stay in the South of France.