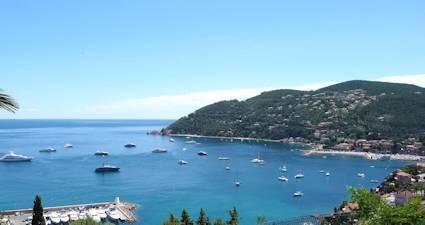 Théoule-sur-Mer is an idyllic small town located in a prime spot on the French Riviera between Cannes and St Tropez. This French Riviera town is a favourite holiday destination for the rich and famous, seeking some seclusion from the crowds. Théoule-sur-Mer provides a number of public and private beaches, together with a Marina and provides the perfect base for a beach holidays in France.
Theoule-sur-Mer France
Theoule-sur-Mer is tucked away in a small inlet among the rocks of the Esterel Mountains. It is one of the most beautiful coastal resorts on the French Riviera. Theoule sur Mer is only 10 Km from Cannes and 40 from Nice, and is therefore easily reached by car or boat. Since medieval times, the Theoule-sur-Mer has been dedicated to fishing and it retained its air of a small fishing village, becoming one of the favorite places for those in search of peace and beauty on the Cote d'Azur.
Beach holidays in France
Theoule sur Mer possesses some excellent sandy beaches, often set into small bays carved out of the red rocky coast. You cannot but help to experience the feeling that you are in a special place in the world, with the clear turquoise waters and fine beaches, fish restaurants and truly beautiful private beaches and luxury hotels. Theoule Sur Mer is a great place for beach holidays in France because it provides you with the peace and tranquility to relax, that can be missing from many of the more crowded parts of the Cote d'Azur.
The main public beach can get quite busy in the summer months (especially after 4.00pm when the inhabitants of Cannes spill out of the city after work). I am not really an advocate of private beaches out of principle, but sometimes it is worth to shell out some money to get a guaranteed spot on the beach during your holidays in france. The views make the entrance price worth the investment.
Le Marco Polo is a private beach situated in a stunning cove in Théoule sur Mer, not far from Cannes. This secluded beach is nestled in amongst the dramatic red cliffs of the Esterel Massif and the crystal clear turquoise waters of the Mediterranean. There is a beach restaurant on Marco Polo beach where visitors can enjoy a light lunch on the beach.
An alternative private beach is La Plage de Red Roc. The views from the beach club are wonderful. Every day from the middle of April until the middle of September, for a small fee you can bathe in the warm sunlight on the sun loungers laid out on a series of terraces that lead down to the crystal clear water. There is an excellent beach restaurant open for lunch all season, as well as during the evenings from June to September. The attached hotel offers a luxurious Thalassotherapy spa, which is open to beach visitors for an additional price.
Beach holiday France: Theoule-sur-Mer restaurants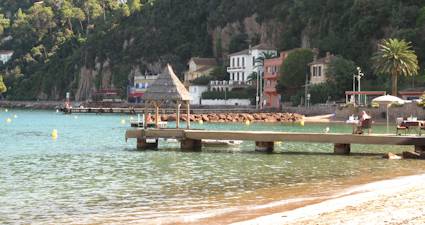 There are a number of excellent restaurants, including Chez Philippe which offers an à la carte menu and a 28€ set meal for lunch. At weekends the local beaches are popular picnic destinations and you will often find impromptu games of boules along the beach and pathways. There are lots of restaurants and snack bars to choose from as you walk the coast to the Marco Polo beach and also within the town centre.
Théoule sur Mer enjoys one of the most beautiful Riviera locations, as it benefits from stunning coastal views out towards Cannes and the Lérins islands, as well as a prime location at the heart of the Estérel forest park. There are a number of walks including a complete circuit of the headland - L'Aiguille - taking about 1hr 15 mins. In Théoule there's a choice of water sports and boat hire.
Theoule-sur-Mer is just a short drive from Cannes and here you will find a wealth of shops, restaurants, casinos and attractions. You can also reach Cannes via train - just 3 stops on the St Raphael train, taking about 12 minutes.
Theoule-sur-Mer beach holidays France
All-in-all, Theoule-sur-Mer is the perfect base for a beach holidays in France. On Go Languedoc, we have a range of accommodation close to Theoule-sur-Mer and Cannes. All of our properties to rent can be seen at Cannes and Theoule-sur-Mer rentals. But here is just a snapshot of our most popuar rentals:
Where to next . . . ?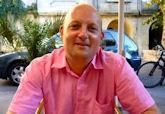 I hope that this article has provided you with some good ideas about visiting Theoule sur Mer in South of France. We live in the South of France all year around and we absolutely love being here. We are always out and about visiting new villa rental properites and researching tourism articles about the South of France. We have a great collection of articles with more ideas about things to do and places to go in the South of France, including:
If you would like some more detailed information or if you have any questions, then just drop us a quick message and we will come straight back to you. I wish you a wonderful stay in the South of France.
Contact Iain by Email or by phone +33 6 95 00 28 44