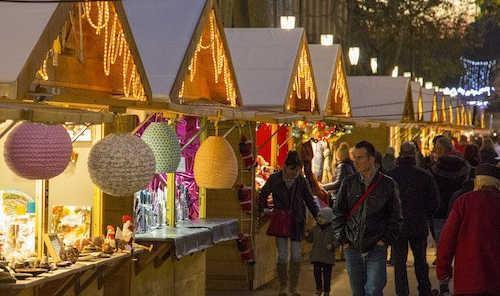 Christmas is a lovely time for visiting Aix-en-Provence - well actually it is lovely to visit Aix any time of year - but especially at Christmas because the Christmas market brings a real distinct atmosphere to the city. The main pedestrianised shopping street in Aix-en-Provence, the tree-lined Cours Mirabeau, is festooned with Christmas lights, decorations and a whole collection of market stalls selling local food and wine, Christmas gift ideas and various craftwork. During December, around 60 Chalets are set up along the Cours Mirabeau and the boutique shops along the street compete with each other for the best Christmas decorations. The particular French Christmas tradition of "Santons" or Nativity figurines features heavily at the Christmas market in Aix. These are sold at various market stalls on the Cours Mirabeau and along Allees Provencales.
Christmas in Aix-en-Provence
Aix is a busy town during December. The annual Fete de la Sainte Lucie, is held on the 13 December. I have no idea why a town in the South of France celebrates a traditional Swedish festival, but this is a big festival of lights (Saint Lucie is the atron saint of the blind) kicks off at the Cathedral during the early evening and then moves on for a bit of welcome merriment at the Town Hall with mulled wine and Swedish folk songs. Later during the week, there is the street procession along the Cours Mirabeau, called the Bravade Calendale. This features a lot of street musicians and dancers (fuelled by mulled wine). Finally, on 6 January 2017 there is the annual Epiphany procession (Marche des Rois), where images of the Three Kings are paraded through the town from the Cours Saint Louis up to the Cathedral. Our kids still love this festival of Epiphany in France. The tradition is that you buy a special Gateau de Roi, which contains a small figurine of the King hidden inside. Whoever finds the King in their particular slice of cake, gets to wear the accompanying crown (provided they haven't choked in the process). This used to be a highly competitive event in our house and regrettably it still is..
Christmas festivals in France
Throughout December a large marquee is set up on Place François Villon in the centre of Aix-en-Provence and various special events and markets are held here in the run up to Christmas. Aix-en-Provence hosts 2 food festivals during December. There is the Olive Oil festival (to be held on 10-11 December 2016) which celebrates the local olive oil production and features various olive-related foods. The following weekend and running up to Christmas Eve, there is the traditional Market of the 13 Deserts (Marché des 13 Desserts) which as the name suggests features local Provencale cakes, patisseries and deserts.
All in all, visiting Aix-en-Provence at Christmas is really a wonderful site to see.