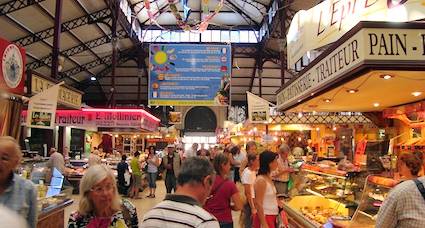 When everything else in Languedoc is shut on a Sunday, visiting Narbonne market provides you with a burst of life. Spread around the centre of Narbonne on either side of the canal, Narbonne market mainly sells clothing, leather goods, shoes, etc. But there is a wonderful indoor food market that is one of the best in Languedoc. The food here is excellent, especially the cheese and pate. But it is the friendly atmosphere that you notice the most.
Best French markets: Narbonne market
It is no surprise that Narbonne Market features in our selection of the Best Markets in Languedoc. For more information about what to do or see in Narbonne, please visit the Narbonne tourism website.
If you are interested in staying close to Narbonne, please see Go Languedoc's selection of Narbonne houses to rent