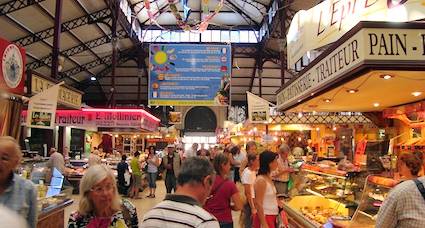 When everything else in Languedoc is shut on a Sunday, visiting Narbonne market provides you with a burst of life. Spread around the centre of Narbonne on either side of the canal, Narbonne market mainly sells clothing, leather goods, shoes, etc. But there is a wonderful indoor food market that is one of the best in Languedoc. The food here is excellent, especially the cheese and pate. But it is the friendly atmosphere that you notice the most.
Best French markets: Narbonne market
The indoor market in Narbonne is a great place to visit at all times of the year. But we make a regular pilgrimage on Christmas eve each year. In the centre of the indoor market at Narbonne you will find 2 or 3 bars which also serve food. But the great bit is that you can go and buy what you want to eat from the butcher stalls or fishmongers and the bar owners will cook it for you. All they charge is a couple of euros and the price of the accompanying salad or chips.Getting fresh cuts of steak cooked up fresh whilst you enjoy a good glass of wine at the bar is just an amazing experience. Having said that, we did manage to buy horse meat by mistake one year. We never twigged until the bar man kept shouting out "Cheval! Cheval!" - when noone else claimed the order, we realised we had just bought 5 prime sirloin cuts of a local pony. I have to say though, it tasted great!
Where to next . . . ?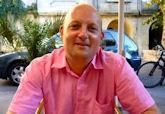 It is no surprise that Narbonne Market features in our selection of the Best Markets in Languedoc. For more information about what to do or see in Narbonne, please visit the Narbonne tourism website.
If you are interested in staying close to Narbonne, please see Go Languedoc's selection of Narbonne houses to rent
Check out the Best Languedoc festivals to visit during your stay in South France
Read our reviews on the Best South France Museums to visit during your stay
Contact Iain by Email or by phone +33 6 95 00 28 44 if you have any particular questions you would like to ask about visiting the South of France. If you liked the article then please share it with others using the Twitter and Facebook buttons below. I wish you a wonderful stay in the South of France.