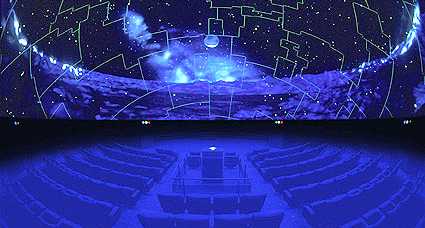 Planetarium Galilee - Montpellier's own superb planetarium, is in the heart of the Odysseum complex on the Eastern side of the city, close to the A9 autoroute and the city airport. We have not been ourselves, but we've heard good reports about it from friends who have kids in France.
French family holidays: Planetarium Galilee, Montpellier
The main activity is centred around the planetarium theater, which is topped with a semi-circular screen. It features the latest digital imagery to give a sensation of travelling through the stars and galaxies (or at least that is what the website says). The show is offered in two parts, a film on the theme of the planets, galaxies or space and a live explanation of astronomy by an expert guide. In total the show lasts around 45 minutes. There is an excellent website for the Planetarium Galilee.
The Odysseum complex is a modern open air shopping mall, featuring restaurants, an aquarium, a bowling alley, as well as useful shops such as Decathloan sports store, Ikea and Geant supermarket.