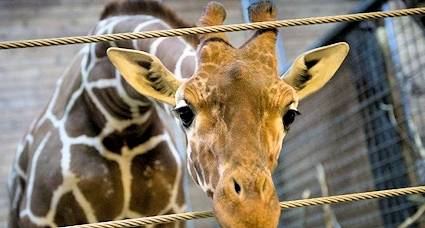 Montpellier Zoo - or Parc Zoologique Henri de Lunaret, to give it its full title - is a free day out in a lovely parkland setting in the North of Montpellier. Zoos are always a hit with our boys and we easily spent 4 hours walking round and we still didn't see all of the animals. There are bears, lions, cheetahs, leopards, rhinos, antelope - you name it. I suppose the only thing that slightly lets it down is that when we went there is nowehere to go to get a drink or an ice cream. But it is free, so you can't expect too much. They're also going through a period of building work and I believe that new facilities will be open from 2008. Anyway, it is a good day out, our boys loved it and it is certainly a cheap alternative to Sigean African Safari. Did I mention that it was free?
Places for kids in France: Montpellier zoo
Montpellier zoo has also recently completed the creation of its "Lungs of the Planet - Amazon Jungle". At a cost of nearly €6m, this new attraction aims to provide a real feel for life in the Amazon. The centre contains nearly 3,500 plant species and 500 animals. Features include a tree level walk-way, a mountain path complete with steamy drizzle and 7 different climatic zones. After your hour or so walk through the jungle, you can enjoy a drink and something to eat in the smart restaurant overlooking the jungle.. Entrance to the Amazon House is €5 for adults and €2.50 for children over 6. The Amazon House is open every day from 09.00 to 19.00. For more information about the Amazon House click here.
So if you are looking for places for the kids in France this summer, then Montpellier is well worth the drive. Montpellier Zoo is situated in the Northern suburbs of Montpellier. For more details and directions please visit : Montpellier Zoo