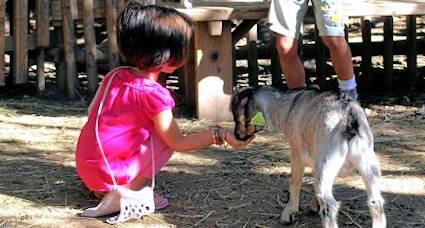 Le Petit Paradis is a real gem if you're at a loose end trying to find an activity for the kids in France. Situated between Montpellier and Nimes, Le Petit Paradis park is set amongst the beautiful landscaped gardens and you can discover a real oasis here. We took our kids (Cameron 8, Archie 5 and Finlay 2) together with some friends and their children. The children will love all the animals (horses, cows, goats and ducks) wandering free in their own spaces. The kids will also enjoy the play area with its castle trampoline (for under 6 years only), a floating bridge and swings. Best of all though your children will enjoy the rowing boats (the water is not deep, only 1 meter or so and you can borrow life jackets from the kiosk). Also you can ride on one of the horses. The park is accessible for wheel chairs and buggies/strollers. There is a snack bar here (with choice of salads and omelettes, drinks and ice creams) but you'd be better off bringing your own food and sitting out and having a picnic (see Best Picnic Spots in Languedoc for more ideas about picnics in the South of France).
Things to do with kids in South France: Le Petit Paradis
If you get a hot day then walking around this park with its shaded greenery is perfect. The rowing boats are fun and kids always enjoy pony rides and seeing aniumals wandering free. A great day out for the kids in France
Getting there: Le Petit Paradis is located in between Montpellier and Nimes. From the A9 take the exit for Vendargues and follow the directions for Millau and Montpellier. The park is situated just off the RN 110 in between Vendargues and Castries and is well signposted. Visit Le Petit Paradis for more details.

Opening hours: the park is open all year around from 13.00 to 19.00 (10.00 to 19.00 on Wednesday, Saturday and Sunday in the summer holiday period)
Prices: it costs around €5 for adults and €4 for kids - you don't pay for toddlers under 2 years. If there are a lot of you it is worth buying the 10 ticket book because it works out at around €3 each. The rowing boats cost €2 (from memory) and the pony rides cost €1.50, although you can buy a ticket book for €10 that gives you 11 rides (we couldn't get Finlay off the bloody thing so we had to buy the extra tickets).
More kids activity ideas in Languedoc can be found at 10 adventures for kids in Languedoc. More information on traveling with kids in France can be obtained from: