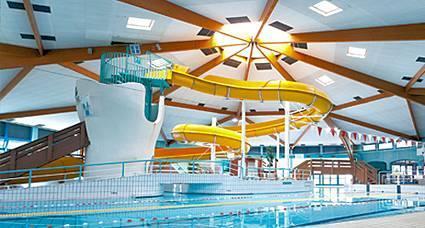 If you are on your holidays in France with your children and you want an alternative to the beach (or an economical alternative to Aqualand), then La Grande Bleu swimming pool in La Grande Motte, Languedoc, is a good choice. La Grande Bleu is an indoor and outdoor swimming pool complex with 'flumes'(or 'toboggans' in French), up to 48m in length, 3-4 swimming pool areas, a toddler pool, sun terrace, solarium, steam room and sauna, jaccuzis, water jets, wave machine, etc. There is also a cafeteria and ice cream bar inside the swimming pool area. We went about 2 months ago and all our children (ages 3, 5 & 8) had a great time. We've also been to the outdoors swimming pools in the in the summer, complete with wave-pool, long water-slides and lazy-river and a good time was had by all.
Holidays in France with children: Espace Grande Bleu
Prices: a family ticket was around €14.
Opening hours: Espace Grande Bleu is open 10.00 to 17.00 every day all year round (closed Mondays in the winter). In the summer months it stay open until 20.00 Information on opening times and prices is also available from the La Grande Motte tourism website .
Location: Espace Grande Bleu, La Plaine des Jeux, 195 rue Saint-Louis, 34280 LA GRANDE MOTTE, Languedoc.
Driving instructions:
Espace Grande Bleu is well signposted once you get into La Grande Motte (initially follow directions to Point Zero, then you will see the signs). La Grande Motte is located close to Montpellier on the Languedoc coast. It is reached by taking the D62 off the A9 to the East of Montpellier at Junction 31. Alternatively take the D979 at Junction 29 of the A9 just North of Montpellier.
An alternative to Espace Grande Bleu if you are looking for a good swimming pool to take the kids to after the beach is the Swimming Pool at Sete. This also has water slides and a wave machine.