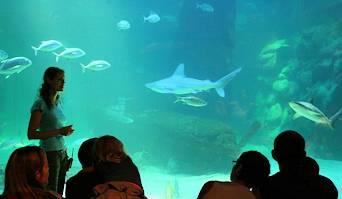 If you want to entertain the kids on your holidays in France this summer and you want an alternative to the beach, then the aquarium at Le Grau du Roi, France, is perfect. This small aquarium complete with Shark tunnel, seal and sea-lion observatory and beautiful varietes of jelly fish, focuses very much on educating children of all ages. We especially liked the collection of tropical fish and the sea museum. The children really liked the Garden area with its hands-on pond. It was worth the day out. It wasn't too expensive and afterwards we had a walk around the marina at Port Camargue and then drove to Aigues Mortes for something to eat.
Kids holidays in France: Aquarium, Le Grau-du-Roi, France
The Aquarium Le Grau du Roi, France, is open every day all year around. During July and August it is open from 10.00 until midnight. In May, June and September, the aquarium stays open from 10.00 until 20.00. During the winter months the aquarium opens from 10.00 until 19.00.
Getting there:
Aquarium Le Grau du Roi is situated in Grau du Roi Port Camargue, next to La Grande Motte. You can reach it from Montpellier by taking the D21 (to Perols) and then the D62 (past La Grande Motte). From Nimes, take the D34 at junction 27 on the A9, then pick up the D61 towards La Grand Motte. When you get into Le Grau du Roi, head for Port Camargue. It is fairly well signposted until you get near to it!
Visit Aquarium Le Grau du Roi for more information. For more activities for children in the South of france please see 10 adventures for Children in South of France.