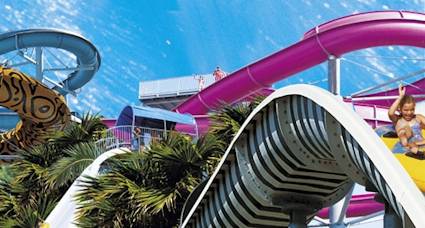 Aqualand water park, France, in Cap dAgde is a good day out for all the kids in France. It is not cheap, but the rides are good and you can easily spend all day here. Aqualand operate some of the best water parks in South of France. We have been to Aqualand Cap dAgde a number of times. The first time it was absolutely mobbed. You had to queue for every ride and it took about 1 hour just to get in. You then had to fight to get a decent place to put your towels down. The second time we went towards the end of the season it was much better. We walked straight up to the cashier and we could find a place to lay down our stuff really easily. If you intend to go more than once, then purchasing the 2 day pass works out a lot cheaper. You can use this at any point during the summer. Another tip is to buy your tickets the day before (in the afternoon when it is not busy. That way you can then wonder straight in when you go rather than queueing up.
Places for kids in South France: Aqualand water parks in France, Cap d'Agde
Our favourite rides at Aqualand water park, France, were the Niagra - absolutely terrifying, a straight slide that takes you down from about 50m to zero in about 2 seconds!; the Colarado - you sit in a long rubber canoe and your whizzed round in the dark before descending like a bullet down the slide; and the Black hole - a massive flume. Don't bother with the Congo River - unless you have young kids or you're a bit of a girl. You also get a nice view over Cap d'Agde from on top of the rides. The wave machine pool is very good and the toddler pools are safe and entertaining. There was not too much to go on if you were under 1.10m. If you do have small children, you might be better visiting the swimming pool in Sete (Sete Pool) La Grande Bleu in La Grande Motte, as I doubt they will get their money's worth here (see Espace Grande Bleu).
Despite all the queueing we had a good day out. It is not something I want to do every day, but it is good fun nonetheless. It certainly brings out the big kid in you.
Aqualand water parks in South of France
Prices: Adult €23.50; Enfant €17
Opening times: 6 June to 2 September. Normal opening times 10.00 to 18.00. In July and August it is open from 10.00 to 19.00
Driving directions: Aqualand water park, France, is located in the heart of Cap d'Agde, but be warned it is ridiculously badly signposted. The only signpost we ever saw for it was about 10 meters away from the entrance!. Drive into Cap d'Agde and take the signs for Rochelongue Plage. We always park up in the car park near the beach and walk around the edge of the lake to get to Aqualand, it takes about 10 minutes. For more up to date information please visit Aqualand Cap dAgde
For more information about kids activities in the South of France see 10 adventures for kids in South of France. Further details about Cap dAgde can be obtained from http://capdagde.com/.