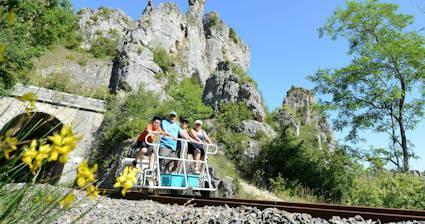 If you are looking for something a bit different that can entertain all ages during your family holiday in South France, then the Velorail at Sainte-Baume in the heart of Provence, is just perfect. So how to describe it?? Well if you remember watching those old Laurel & Hardy films where they used to get stuck on a railway line on an old bogey cart, then that is sort of like Velorail. It is a metal cart with 2 bikes on the front that pedals you along the railway line. Actually, that was a pretty rubbish description, but hopefully you sort of get the idea.
Things to do in Provence with kids
The main thing to focus on is that you are out in the open countryside cycling along an old railway line that tajkes your through tunnels and over bridges. The views are great and everyone can take it in turns to pedal, whilst the others sit and admire the view. You cycle for about 1.5 hours and then an old steam train comes and collects you for the return trip. When we did it, we started a trend of holding our hands up and screaming whenever we went through a tunnel. At first the people behind us thought we were mad! But eventually they joined in as well until we had the whole line of carts doing it.
Family holidays in France - Velorail Sainte-Baume
The Sainte-Baume Velorail is located just off the A8 autoroute at junction 33. Velorail opens from 10.00 each day (from 14.00 in the low season from September to March). The ride takes about 2 hours and they are pretty strict on you departing on time. There are 3 set departure times (10.00, 14.00 and 16.00). This is so that they can arrange your collection by the steam train. I would still aim to get there about midday because there is a nice picnic area. It costs €27 for a party of 5 (basically you get 5 onto one buggy).
Where to next . . . ?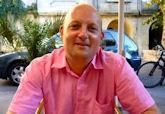 I hope that this article has provided you with a good ideas about how to entertain the kids in South France during your visit. We live in the South of France all year around and we absolutely love being here. We are always out and about visiting new villa rental properties and researching tourism articles about the South of France. We have a great collection of articles with more ideas about things to do and places to go in the South of France, including:
Go Languedoc provides holiday accommodation, long term rentals and tourism information about the South of France - covering Cote d'Azur, Provence and the Languedoc. If you would like some more detailed information or if you have any questions about finding accommodation for your visit, then just drop us a quick message and we will come straight back to you. I wish you a wonderful stay in the South of France. Contact Iain by Email or by phone +33 6 95 00 28 44.