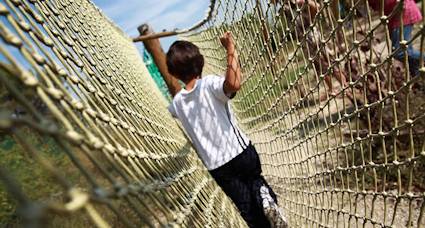 If you're looking for fun places for your kids in France and you want an activity with a bit of a difference, then Accrobranche could be for you. Set in dense forest close to Motagnac, Accrobranche specialises in tree climbing adventures, encompassing abseiling, tree canopy walks and rope ladders. It is suitable for children from age 7 upwards. Whilst this may not be for those fearful of heights (like me!), this is great fun. It takes you back to being 10 years old again. Oh and the children will enjoy it as well. Our lot thought it was brilliant and they slept like Pandas in the car on the way home. A new accrobranche opened close to Beziers and the Languedoc coast in 2010 (follow the road from Beziers (near Decathlon sports store) towards Bessan).
Fun places for kids in France: Accrobranche
Prices: it costs € 12-20 for 2-3 hours. It is always advisable to ring up the day before or so and book a time to avoid queueing. All the instructors we met spoke decent English (tel: 06 07 13 43 80).

Getting there: Accrobranche is situated within the Base Départemental de Bessilles Parc close to Montagnac. Montagnac is about 2km NE of Pezenas on the RN113. As you enter Montagnac from Pezenas you will turn firstly 90o right, then 90o left. Just as you emerge from this last turn, you will then see another 90o right turn. Take the road off the apex of this bend on the left hand-side. Follow this road (D5) for about 5km, following directions for Abbaye de Valmagne and Base Départemental de BessillesParc. The Park is located on the right handside of the road befor you reach the Abbaye Valmagne (also worth a visit - see Abbaye Valmagne for more details). The park is free to get in. Visit: Accrobranche for more details.
If you are looking for more ideas about entertaining your children whilst you are in in the South of France, then please readour article 10 adventures for Children in South France