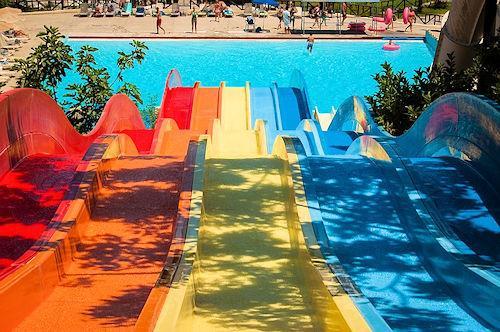 The South of France is generally regarded as having some of the best waterparks in Europe. You have a choice of 6-7 different water parks to choose from in Provence and the Cote d'Azur. If you are coming to the South of France in summer 2020 and you want some ideas about how to keep your kids and grandchildren amused, here is our guide to the water parks in Southern France.
Four of the water parks in Southern France are run by Aqualand (which seems to specialise in teenagers) and there are two good alternatives for smaller children. Speedwater is an independently run water park in between Aix-en-Provence and Marseille and Aquasplash is a new waterpark which is part of the huge Marineland Aquapark facilty in Antibes near Nice.
Best water parks in France
Here is our list of the best water parks in South France to visit during summer 2020. Our kids have ordered them according to their preferences (which mainly involve parks with rides that can scare the living daylights out of their Dad!).
1. Aqualand Frejus water park in France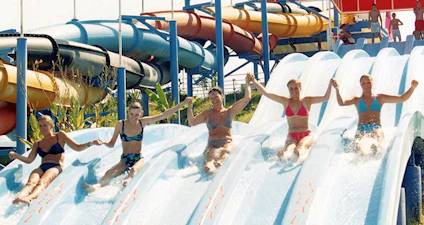 We visited the Aqualand park in Frejus two summers ago. Our favourite rides at the were the Niagra - a 25m high straight long chute that propels you down in 2 seconds; the King Cobra - absolutely terrifying, a pitch black ride that seems to last for ever and takes you spinning and turning down; and the Black hole - a massive flume. But all of these slides do attract massive queues. There is a clutch of good slides which don't get too busy (Anaconda, Colour Splash and Blue Mountain). The wave machine pool is very good and the toddler pools are safe and entertaining. If you kids are under 1.10m tall, then there isn't a great deal of rides for them to go on (so you may be better off at the Aquasplash or Speedwater parks).
The only issue with Aqualand water parks is that they do get very busy during the high season. So you are advised to book online beforehand and to arrive at 10.00 am on the dot to make sure that you can get a good place to sit.

2. Speedwater Park, Aix-en-Provence, France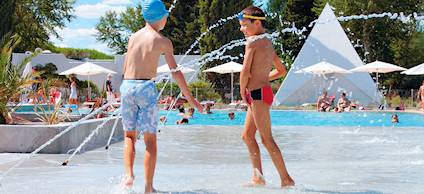 If you want a quieter alternative to Aqualand, then Speedwater Park near Aix-en-Provence could be just the place for you. We took our kids here last summer (ages 16, 14 and 11). Basically, Speedwater is a cheaper version of Aqualand (well I say cheap, it is still a water park, so charges a fortune). But the key difference to Aqualand, is that you do not have to fight to get a sunbed, the restaurants/cafes are not swarming with people and generally the queue for the rides is around 30 mins and not 45 mins. We went to Aqualand a couple of summers a go at the beginning of July (before the North of France descends on the South of France coast) and it was still absolutely packed. With Speedwater, we visited it in the middle of August. I was fearing the worst, but it was actually OK.
Th main attractions at Speedwater is the Black Fear. There was not a hope in hell of getting me on this ride - it is just a long straight chute about 30m high and propels you down like a bullet. Only one of our kids did this ride and he is a nutter anyway. I thought that the Light Hole was the best ride for me. Anyway for about €100 for 5 of us it was a good day out. The only shame is that they do not do a family ticket like Aqualand. Speedwater Park South France is located in between Marseille and Aix-en-Provence, just off the A52. The park opens from 10.00am and I would recommend that you arrive about 15 mins before the park opens.
3. Aquasplash water park France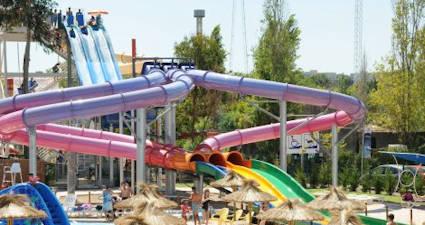 Aquasplash is part of the Marineland aquapark facility in Antibes, close to Nice. This complex includes a sea aquarium, kids adventure themepark, golf course and a water park. This park does have some long flumes, but overall it seems to cater for a younger age group of kids (6-14 years). There is the usual lazy river, wave pool and big slides involving dingy boats and donuts (Spaceboat and Side Winder). The main attraction seems to be the Draguero, which is a 12m high water slide - but to be honest, if your kids are teenagers they will probably find this a bit tame. They also have a height limit of 1.4m on this slide, which will rule out any kids under 12.
The Aquasplash water park is located just off the A8 Autoroute on the outskirts of Antibes, close to Biot. It is a short 10 minute drive from Nice (or you can catch the train to Biot train station. The park opens from the middle of June to the first week of September. The ticket price is €27 for adults and €21 for kids (although they do provide a family ticket and a nice touch where you get 50% off if you go on your birthday.
4. Sainte-Maxime Aqualand South France water park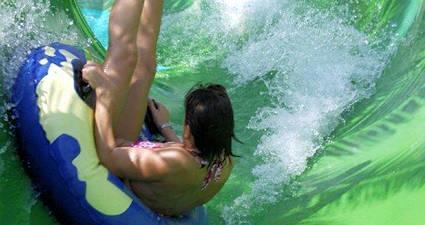 In addition to the Frejus Aqualand water park, there is also another Aqualand in Sainte-Maxime just up the road. I have no idea which is the better park (Aqualand seem to have similar rides at their parks), but when we looked it up on the internet, Frejus seemed to have more rides and looked a bigger park.
I would also imagine that the Sainte-Maxime water park will get busier than the one in Frejus on account of all the camp sites and holiday resorts in Sainte-Maxime.
The Sainte-Maxime Aqualand water park does provide some good family tickets (€83 for 2 adults and 2 kids). The water park is located towards the nothern edge of Sainte-Maxime and provides some nice views of the hills and down to the coast. The park opens from the 24 June until the 30 August each year.
5. Aqualand Cap d'Agde South France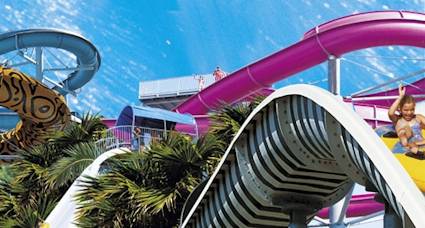 Aqualand has a water park located right in the heart of the Southern France beach resort of Cap d'Agde in Languedoc. The waterpark is situated just next to the L'Ile-de-loisirs in Cap d'Agde, close to Plage Richelieu.
This particular water park has two of the highest water slides in Europe - the Tornado and the Ooomerang. The water park is spread over 4 hectares and comprises 20 different.
When we took our boys here, our favourite rides were the Niagra - absolutely terrifying, a straight slide that takes you down from about 50m to zero in about 2 seconds!; and the Colarado - you sit in a long rubber canoe and your whizzed round in the dark before descending like a bullet down the slide. Don't bother with the Congo River - unless you have young kids or you're a bit of a girl.
You also get a nice view over Cap d'Agde from on top of the rides. The wave machine pool is very good and the toddler pools are safe and entertaining. There was not too much to go on if you were under 1.10m. If you do have small children, you might be better visiting La Grande Bleu in Grande Motte, as I doubt they will get their money's worth here.
Despite all the queueing we had a good day out. It is not something I want to do every day, but it is good fun nonetheless. It certainly brings out the big kid in you. See Aqualand for more information.
6. Aqualand water park St Cyprien South France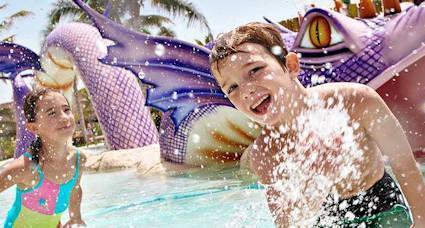 The 4th water park in Southern France operated by Aqualand is located in the beach resort of St Cyprien, close to Perpignan. The park is open from 15 June to 8 september each year. The entry price ranges from 26€-28€ for adults and 19.50€-21.50€ for children. A family ticket can be bought for €85. Purchasing the the fast-pass is definitely worth the money because this water park can get very busy in the summer. The pass allows you to skip to the front of the queues to collect rings to go on the slides.
As with all Aqualand parks, there are plenty of grasses area set aside for picnics and lockers are readily available (so you don't have to carry everything around with you).
This park features the main Aqualand attractions, such as the Niagra, the Snake Canyon, the Twister and the The Wave - a giant wing shaped ride where you slide up and down from side to side.
Aqualand Saint Cyprien is located at Avenue des Champs de Neptune, 66750 Saint-Cyprien
Alternative Water Parks South France
I wouldn't necessarily describe these two attractions as Water Parks, but the do involve water and they are good fun for teenagers.
Canyoning Park South France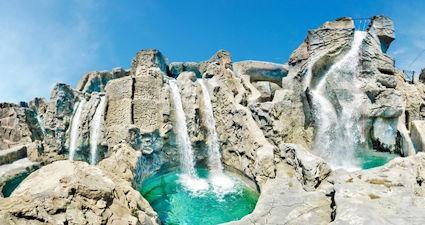 Canyoning - the Canyon Park near to Argeles sur Mer and Perpignan, is an amazing activity centre situated in a disused quarry where you can jump off cliffs into 14 different clear water plunge pools. There is also a 100m Tyrolene zip wire which drops you into another plunge pool.
The Canyoning Park is mainly aimed at older kids. For more information please visit Canyoning Park.
The daily ticket prices are:
Adult (12 years +) : 30 €
Child (8 to 11 years) : 26 €
Family (1 adult and 1 child) : 54 €
The Canyoning Park is located at Espace de Loisirs, 7 Impasse Copernic, 66700 Argelès-sur-Mer.
Teleski Saint Jean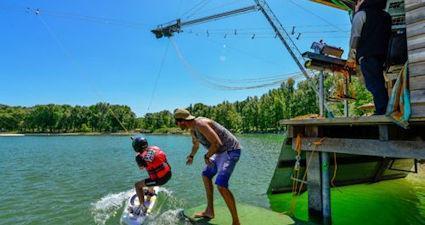 Teleski - is a watersports centre located near to Perpignan at St Jean Pla de Courts. It offers 4 different activities including wakeboarding on a zip wire, water skiing, water skating (I suppose the nearest equivalent is snowboarding on water) and Water jumping.
There is an excellent website for the centre (in multiple languages) at Teleski.
The centre offers a Discovery introductory package at 27 € (29 € July and August) where you can try out individual activities. The prices for individual activities range from €30 - €42 for a half day pass.
You can find the Teleski park at Chemin du Mas Chambon, Base de Loisirs, 66490 Saint-Jean-Pla-de-Corts, France.
Where to next . . . ?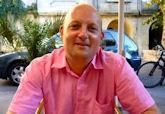 I hope that this article has provided you with some good ideas about the best water parks in South France to visit during 2020. We live in the South of France all year around and we absolutely love being here. We are always out and about visiting new villa rental properites and researching tourism articles about the South of France. We have a great collection of articles with more ideas about things to do and places to go in the South of France, including:
Go Languedoc provides holiday accommodation, long term rentals and tourism information about the South of France - covering Cote d'Azur, Provence and the Languedoc. If you would like some more detailed information or if you have any questions about finding accommodation for your visit, then just drop us a quick message and we will come straight back to you. I wish you a wonderful stay in the South of France. Contact Iain by Email or by phone +33 6 95 00 28 44.