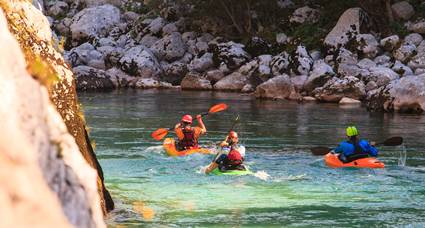 If you're looking for things to do in France with your kids and you want an alternative to the beach in South France, give this a try. Hire canoes and canoe up the dramatic Gorges du Verdon. The water is cool, crystal clear and wonderful for swimming in during the hot South of France summer months. It makes an excellent alternative to the beach.
Things to do in France with kids: Canoeing South France
This is our boys' favourite day out in the South of France. The Gorge du Verdon is a massive canyon with a river running through it. It is often referred to as France's equivalent to the Grand Canyon (but I think that this is stretching it a bit). The amazing thing about the Gorge du Verdon, is that it was only discovered about 100 years ago. I mean seriously, how could they have missed it for all these years? It was not exactly playing hide and seek.
Canoeing Gorge du Verdon
We normally hire canoes from a place near the village of Montmeyan. The canoe hire shop is open from 10.00 until 18.30. It costs around €50 for around 2 hours (which to be honest is about long enough). Even if you take a picnic and stop off half way along, by the end of 2 hours in a kayak your back and shoulders are pretty sore. The key thing for our kids is to find the biggest rocks and then to clamber out of the canoe and jump into the water (the aim being to splash their mum as much as possible).
The Gorge du Verdon is about 25 mins North East of Aix-en-Provence.
South France with kids
So if you're looking for activities for your kids and you want an alternative to the beach in the South of France, give this a try. It is a Cheap day out. As a Kids Activity we rate this as a 9/10. It is inexpensive, you can easily spend half a day here looking up at the dramatic views or the lunatics diving off the cliffs Acapulco style. The children can occupy themselves in the lake or walking along the river or exploring the woods.