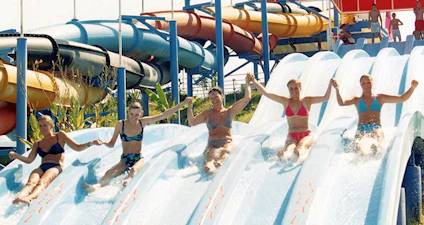 Aqualand has 2 water parks on the Cote d'Azur in South France. There is the aqua park frejus and the Aqualand Sainte-Maxime. We have visited the Frejus aqualand water park and this seems to be the biggest of the two water parks, with more slides and it is situated in a bigger park. Aqualand is generally regarded as running the best water parks in France, although the new Aquasplash water park near Nice is also supposed to be quite good.
Aqua Park Frejus
Our favourite rides at the Aqualand waterpark in Frejus were the King Cobra - absolutely terrifying, a pitch black ride that seems to last for ever and takes you spinning and turning down; the Niagra - a straight long chute that propels you down in 2 seconds; and the Black hole - a massive flume. But all of these slides do attract massive queues. There is a clutch of good slides which don't get too busy (Anaconda, Colour Splash and Blue Mountain). The wave machine pool is very good and the toddler pools are safe and entertaining. There was not too much to go on if you were under 1.10m. If you do have small children, you might be better visiting Speedwater near Aix-en-Provence, as I doubt they will get their money's worth here (see below)
Despite all the queueing we had a good day out. It is not something I want to do every day, but it is good fun nonetheless. It certainly brings out the big kid in you. We visited the Aqualand park in Frejus. There is also another Aqualand waterpark in Sainte-Maxime just up the road. I have no idea which is the better park (Aqualand seem to have similar rides at their parks), but when we looked it up on the internet, Frejus seemed to have more rides and looked a bigger park. There is also a new water park near Nice (Aquasplash Waterpark South France), which has a good reputation, but we have not visited it yet.
Aqualand waterparks South of France
You can get more information about the opening hours and ticket prices for all of the Aqualand water parks in South of France from their website (which is in French and English) Aqualand South of France. The best advice I can give you is to visit the park either at the start or end of the season (late June or early September) or if not, you certainly need to arrive early to get a couple of sun loungers during the high season. I would also defintiely recommend booking online, rather than queueing to pay on the day.