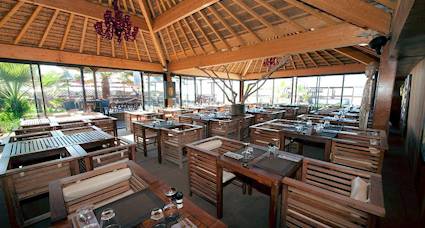 Les Vagues beach-side Languedoc restaurant on the Mediterranean coast near Cap d'Agde is the perfect spot if you want to have an excellent meal out overlooking the sea and beach. To say that Les Vagues overlooks the beach is not entirely accurate. Les Vagues Languedoc restaurant is actually built on the beach. You step down from the large deck area directly onto the sand. Whenever we go there, we let our tribe go off playing on the beach and we sit there nursing a bottle of chilled Picpoul de Pinet and rejoice in the tranquility. No drinks being spilt, no arguments over who sits where, no sulky faces when there is a green coloured object on their plate. In short, it is bliss! We recently went there for my 40th birthday with some friends and it was excellent.
Les Vagues beach side restaurant Languedoc
Apart from the actual location and relaxed ambiance of Les Vagues, the other pleasant thing about this beach side Languedoc restaurant is the service. The former owners were a couple of bohemians - the man looked like Salvador Dali with a big curly moustache and the woman was very chilled out and good fun. They spent their winter months out in Thailand or Laos and came back to run the restaurant from February through to October. The South East asian theme has continued with the new owners and the decor and the menu are very eclectic. The menu is quite small and changes depending on what they have bought in that day. However, there are some constant favourites. The Coquille St Jaques are excellent, as is the Sea Bass and the Tuna. Best of all however is the Chocolate Fondant - which my eldest son thinks is "to die for".
You can find Les Vagues restaurant, Languedoc, in Grau d'Agde, close to the campsites on the road to Rochelongue (Restaurant Les Vagues, Chemin du Littoral prolongé, Grau d'Agde). The restaurant shares the car park for the beach - but it does tend to get very busy in the summer months, so either get their early or park up along the road in between the campsites. The summer months are very busy and it is advised to ring ahead or get their early (tel: 06 23 03 07 47).