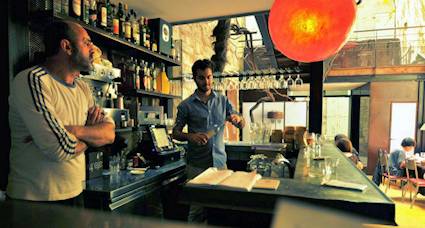 Les Palmiers restaurant in Pezenas, Languedoc is probably one of the best mid-priced restaurants in Pezenas. The restaurant is set in a great location in an open-air courtyard in the heart of the old windy streets of Pezenas' historic quarter. You literally dine out under the stars, beneath 3 huge cream canopies strung in between the two adjoining properties.This is what dining out in France is all about!
The restaurant is set on 2 different levels - the higher terrace being very popular in Summer. We know the chef and co-owner very well. Eric's son plays in the same football team as our eldest boy, Cameron. We have stood on the touchline together in Lodeve in mid-January freezing our balls off - which actually was very reminiscent of the night when we went for a meal in late April! From mid-May through to September however, it is probably one of the best places to eat in the hot South of France evenings. There is of course the obligatory Palm tree inside. What impresses me most about the restaurant however is that the kitchen is open on view to all.
Dining out in France: Les Palmiers restaurant, Pezenas, Languedoc
The menu changes daily and is displayed on a big blackboard that is brought to your table. The food is simple and uncomplicated, but cooked extremely well. My Magret de Canard was excellent and the lamb was also cooked to perfection. If I was to sum up the style of cooking I would say good honest South France cuisine cooked well.
Les Palmiers restaurant, 10 bis rue Mercière, Pézenas, Languedoc. Tel: 04 67 09 42 56. The restaurant is closed on Sundays.