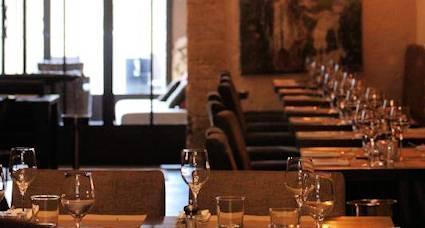 L'Entre Pots restaurant, Pezenas, is without doubt the best restaurant in Pezenas, indeed in my opinion I would even describe it as one of the best gourmet restaurants in Languedoc. Praise indeed, but well justified. Yes, it is (relatively) expensive, but when it comes to restaurants in Languedoc, "you get what you pay for". The think that I most like about L'Entre Pots are the different flavour combinations. I really have not tasted food like it (except at Gilles Gujon's Auberge du Vieux Puits). The service is very professional and welcoming. The interior decor is modern, but comfortable and I love the outdoor terrace at the back.
Best French restaurants in Languedoc: L'Entre Pots, Pezenas
In terms of price, I do not think that a 3 course menu of this standard for around 30-40 euros is not too much. Now the wine, that is a bit pricey, especially when you know some of the local vineyards and the prices you can buy at the door. But they have to make a living and it is not the 2-3 bottle of wine place. Off the dishes that I have eaten there, I would recommend the lamb, pigs trotters and the tuna. All cooked to perfection and beautiful flavours. Whenever visitors ask us where to go, we always recommend L'Entre Pots and we have not had any disappointing feedback yet. You must however, book in advance (T: 04 67 90 00 00)
L'Entre Pots is situated at 8 av. Louis-Montagne F - 34120 Pézenas. It opens from around 7.00pm every evening apart from Sunday and Monday.