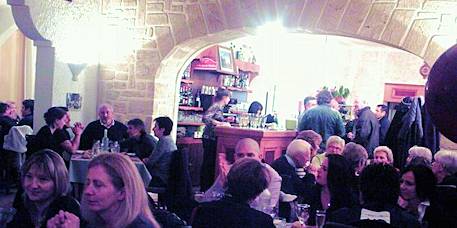 Auberge de la Tour, is situated in Valros, close to Pezenas on the N9 route national. It has long had a repuation as one of the finest restaurants in the Pezenas area of Languedoc. The atmosphere can be a bit quiet at times, but the fine food and the firendly and efficient staff make up for it. If you are looking for places for eating out in France on your holidays this summer, then I heartily recommend this Auberge in Valros, Languedoc.
Eating out in France: Auberge de la Tour restaurant
Situated between Béziers and Pézenas, this hotel-restaurant is a charming country house surrounded by vineyards. The Auberge de la Tour's restaurant serves traditional cuisine with regional Languedoc dishes. Guests can relax in the bar or on the shaded terrace, which opens onto the garden and pool. Restaurant guests are also able to use the swimming pool (but remember what your mother told you about swimming on a full stomach!).
You will find Auberge de la Tour restaurant on the RN9 in the village of Valros, 5km from Pezenas and 15km from Beziers.