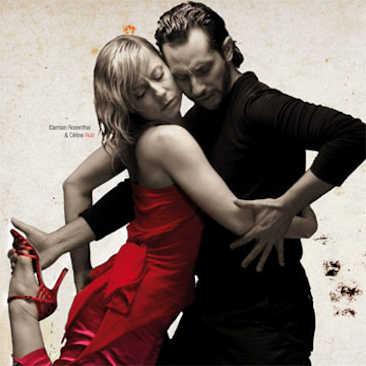 For three long days during the middle of September, Menton swings to the unmistakeable Argentinian beat of the Tango. Whether it be at impromptu performances in the street or organised dances at hotels in the town, it will be difficult to avoid the South American rhythm.
Menton Tango festival 2020
The Menton Tango festival ("Ma ville est Tango") also features late night dances on the Esplanade de Francis Palmero in the centre of the town, featuring celebrated musicians and lead dancers. During each of the afternoons there are organised dances and dance instruction sessions. Then during the evening a full-on Milonga (or Tango dance to you and me) is arranged, accompanied by an expert band. On Friday evening the Milonga Hyperion Ensemble will be playing, followed by Milonga Atipca Milonguera on the Saturday night. The whole event will be closed on the Sunday evening by two Tango DJs (is there such a thing?) DJ Celine Deveze and DJ Caludia Petitmilonga (both of whom are professional Tango dancers and tutors).
Menton Ma Ville est Tango 2020
The 18th edition of the Menton Tango festival will take place on Friday 11 to Sunday 13 September 2020. The festival will kick off on Friday 11th September 2020 with a Tango beginners course at the Palais de l'Europe at 2.00pm. This is followed by a food and drinks reception (Apéro Tango) at the Place de Cap from 18.30. Then the real events start with the Orchestra Céline Devèze from 21.00 in the Palais de l'Europe.
On Saturday 13th September 2020 the Tango festival features two key events. At 20.30 there is a theatre production De Ontoño in the Théatre Francis Palmero. This features choreographed dancing, music and live singers. The showcase event however features the live band Bal Hypéron Tango and the DJ Céline Devèze at the Palais de L'Europe from 21.30. The entrance fee is €15 and the evening will feature the professional dancers: Charlotte Hess, Jérémy Braitbart, Valerie Onnis and Daniel Darius.
On Sunday 15 September 2020, the Menton Tango festival is brought to a close with the Tango Initiation Class at 14.00 in the Palais de L'Europe, evening drinks and a meal from 18.30 at the Place de Cap and the evening event at the Palais de L'Europe featuring Cuarteto Silando and DJ Andréa Degani from 9.00pm (entrance fee €15).
Further information can be obtained from the festival website : Menton Ma ville est Tango.
Where to next . . . ?
Contact Iain by Email or by phone +33 6 95 00 28 44 if you have any particular questions you would like to ask about visiting the South of France. If you liked the article then please share it with others using the Twitter and Facebook buttons below. I wish you a wonderful stay in the South of France.