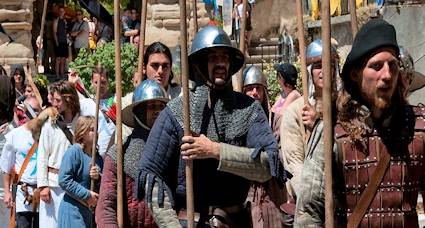 Beaucaire is a pretty little place, with parks situated all along the canal banks. The best time to visit Beaucaire is during the Estivales in July, a reconstruction of the town's medieval fair. Visit the town's website for more details (Beaucaire website).
Beaucaire medieval festival Languedoc
Beaucaire is famous for its annual fair held since medieval times on the fourth week of July. This ten day fair dates back to 1217 when the town was granted an annual trade fair by the Count of Toulouse. This was in memory of a famous victory against Simon de Montfort's forces in the town. At its height this fair would attract upwards of 300,000 people and was famous throughout the South of France. The Musee Auguste Jacquet in the town has an impressive display of the history of the Beaucaire Fair. Behind the site of the fairground stands the ruined castle. Rising some 35m above the Rhone, this provides dramatic views over the local area.