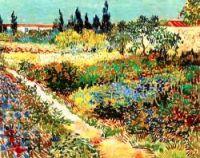 If you are looking for the perfect Painting holiday in the South of France, then the West Mill Art School is for you. The West Mills annual "French Countryside Painting" workshop is held near Nimes in the South of France. This is the perfect painting holiday in the beautiful South of France. The South of France, once the home to such artists as Van Gogh, Gaugin, Matisse, Derrain, Cezanne, Picasso, Dali and Dufy, is the perfect location for you to learn and practice your own painting techniques. The beautiful French landscape of the South of France will both inspire and challenge you.
Art Workshops: French Countryside Painting
All over France you can book yourself onto an art workshop and paint the beautiful French landscape. One such work shop is held annualy at the West Mill near Nimes in the South of France. This year it is from Saturday May 17th until Saturday May 31st 2008 (14 day trip). In 2009, the West Mill Art School will run from 16th-30th May 2009.Under expert tuition, you will have a painting holiday in the South of France to remember.
West Mill Art School, South of France
The West Mill is a 18th century water mill with a private swimming pool and hot tub and is set in a peaceful area with over 11 acres of private land, bordering the Gardon River, at the foot of the Cevennes Mountains. The West Mill is located 2 km from St. Jean du Gard, a traditional French village with weekly markets on Tuesdays. This region is the former home of many famous artists including Cezanne and Van Gogh. The West Mill has been owned and operated by Kirsten Apple for the last 7 years. Kirsten will personally plan your trip so you can explore the back-roads tourists may miss. The local hosts will be Victor and Johanne, a retired couple from England who now live near the West Mill. They will prepare your breakfast and lunch daily as well as provide guide information on the region. The itinerary includes visits to the local markets, the famous Roman aqueduct Pont du Gard, the charming medieval village of Uzes, and visits to several historic cities such as Arles or Nimes as well as painting on location. Perhaps you will have a chance to sketch a shepherd with his goats or some of the swimmers in one of the river pools. You will enjoy the local scenery, foods, and wine.
For more information about the West Mill please click here West Mill 18th Century house to rent South France
South France Art School instructors
The instructor on your painting holiday will be Eileen Pestorius from Austin Texas. She has an MA from the University Of Texas, has lived abroad, traveled widely, and taught numerous courses and workshops. Eileen is a lively instructor whose years of teaching Art History and visiting art museums will enhance your visit. She is an inspiring teacher with humour and grace, who can help students reach their individual goals of translating the beautiful French countryside in their chosen medium.
The instructor for the South of France Photography Workshop is George Le Chevallier from Raileigh, North Caroline. George holds a Master in Art from Hunter College of the City University of new York and a full time professor at the School of Communication Arts in Raleigh. George is fluent in French, English and Spanish and bring this broad perspective to the classroom. His workshop is open for both basic and advance students who are interested in an artist-in-residence experience with an exhibit at the end of the workshop.
The instructor for the Basic and Advanced Photography Workshops is George Munday from Ireland. He is a graduate of Birmingham (England) School of Photography with many years experience. He spent 10 years working for blue-chip clients like Aer Lingus and 15 years running the largest stock picture agency in Ireland. He relocated to County Waterford in 2003 to set up Copper Coast Workshops to teach digital photography. So, whether you have been photographing for half a century or a wee, he will be delighted to to welcome you on the course.
Painting and Photography holidays South of France
All tour prices are Euros 1870 per person, based on double room occupancy. This includes accommodation for 14 nights (depending on the workshop) at the West Mill. Transportation to and from the Avignon train station and all workshop exploration trips are included. All meals are covered including specially chosen 3-course gourmet dinners with local wines. An art easel and stool is provided for each student at the West Mill, and all instructional training. Costs not included in the price are your flight and train ticket to historic Avignon (TGV from Paris is suggested) or extra nights in Paris or Avignon. Art supplies, such as paints, brushes, paper or canvas are not included in the price.