Last updated on .
Hits: 4724
5 best luxury villas in South France near Montpellier airport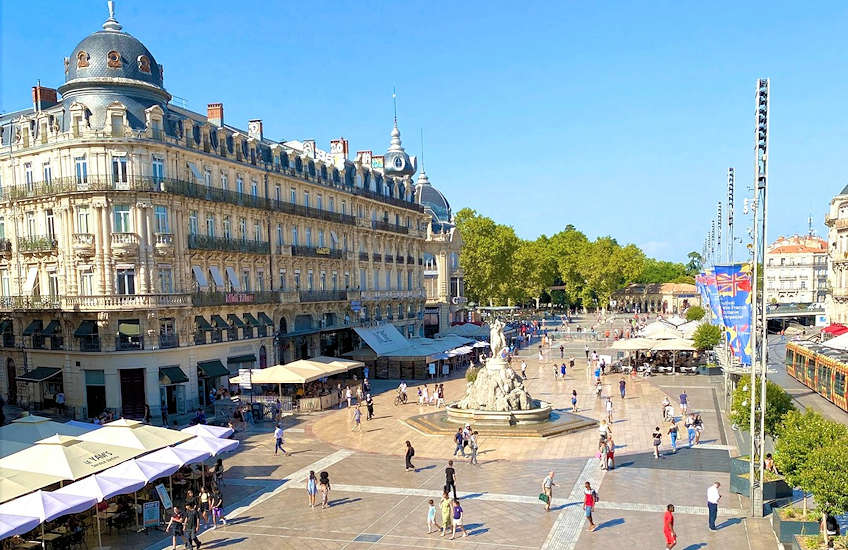 These are the 5 best luxury villas and apartments to rent in South France within 20-25 minutes drive of Montpellier airport. All of these Montpellier villas have good availability for summer 2023.
Montpellier is a wonderful Southern French city with great beaches, shops, museums, restaurants and it is surrounded by excellent vineyards.
Montpellier has an excellent transport network. It has a brand new TGV train station with fast services up to Paris and down to Barcelona. The A9 motorway which connects Perpignan, Avignon and Lyon with Paris, passes right by Montpellier.
Montpellier airport South France
Montpellier airport is a regional hub for Air France, as well as Ryanair and Easyjet. Montpellier airport is the largest and most developed of the Languedoc airports. Montpellier airport is a regional hub for Air France, as well as Ryanair and Easyjet.
Cheap flights to Montpellier airport South France can be found from the following destinations:
Algeria, Algers & Oran;
Morocco, Casablanca, Fez, Marrakech and Nador.
Belgium, Charleroi.
Denmark, Copenhagen.
Corsica - Ajaccio & Bastia,
Croatia - Pula & Dubrovnik
France: Brest, Caen, Lille, Lyon, Nantes, Rennes, Paris & Strasbourg
Germany: Berlin and Frankfurt
Greece, Athens and Heraklion.
Holland: Amsterdam & Rotterdam
Italy: Rome
Madeira
Malta
Portugal - Lisbon.
Spain: Madrid and Seville
Sweden: Stockholm
Switzerland: Basel-Mulhouse
Tunisia: Tunis
UK: London Gatwick and London Luton
2023 cheap flights to Montpellier airport South France
This is the schedule of 2023 cheap flights to Montpellier airport in South France. We have highlighted the Saturday flights to coincide with holiday villas that have a Saturday changeover during the high season:
London Gatwick airport to Montpellier airport (Monday, Thursday, Friday and Sunday flights - all year; + Daily flights - 15 February to 30 November 2023)
London Luton to Montpellier airport France (Tuesday, Thursday and Saturday (2 flights) - 27 June to 2 September 2023)
Visit Montpellier South France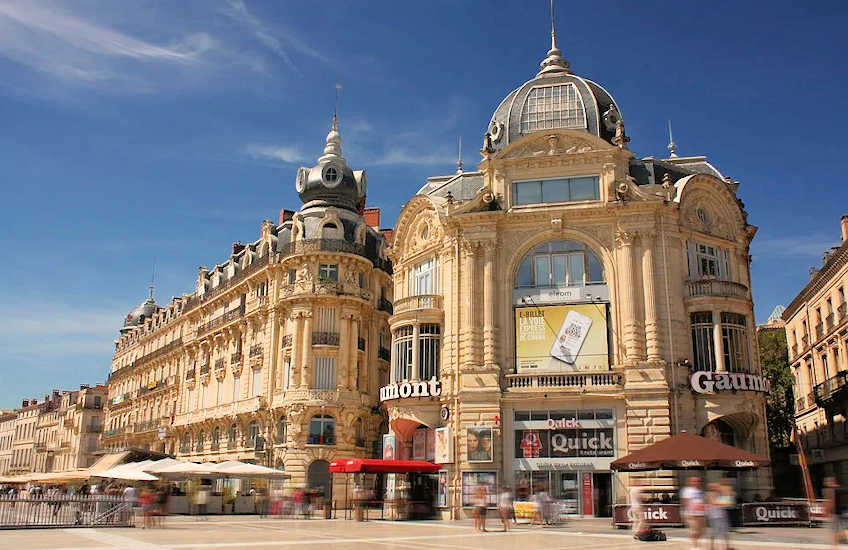 The Southern French city of Montpellier is a great location to be in if you are on holiday in South France. Montpellier has a real positive vibe about it. It is also very much an outdoors city, with wonderful pavement restaurants and bars. The local region has everything.
The warm climate offers clear blue skies and hot sun from late April through to early October. The local beaches along the Mediterranean coast are just 10kms from Montpellier.
Montpellier has a number of World class facilities including Michelin star restaurants, Musée Fabre (an excellent Modern Art Museum), a Planetarium, an Aquarium, a city-wide tram network and a fantastic Zoological park.
During the year, Montpellier is host to a number of large festivals, including a large comedy and theatre festival; Montpellier Danse - an international dance festival; Radio France - a large music festival; and FISE - the World free-style championships for extreme sports such as BMX and skateboarding.
Surrounding Montpellier, there are many excellent vineyards, especially close to Pic-Saint Loup. Montpellier is also conveniently located to explore the rest of the South of France, including Avignon with its famous bridge and the palace of the Popes; Arles, the home of Van Gogh; The world heritage site, Pont du Gard; Uzes on a Saturday for its busy and popular market; the wild and wonderful Camargue with it´s wild horses and flamingos; and the medieval towns of Sommieres, Sauve and Quissac.
Luxury villas & apartments Montpellier South France
We have selected these Montpellier villas based on their popularity with our customers, their proximity to Montpellier airport, the range & quality of facilities offered and the exterior space and views. In our opinion, a luxury villa should have a stunning interior with a high-end finish and state-of-the art equipment. The bedrooms should provide en-suite bathrooms and ideally dressing rooms and private terraces. The living areas should be spacious and offer wonderful views out over the pool, terraces and gardens. Above all, a luxury villa should provide peace, tranquillity, privacy and security.
1. Villa L'Orangerie - Large holiday rental property with pool Montpellier France (Ref: 1846)
If you are looking for a large villa to rent with a pool near to Montpellier in South France, then L´Orangerie is the perfect place for you! It is a beautiful large 6 bedroom holiday rental property within walking distance to amenities.
The villa is situated in a quiet residential area on the outskirts of Gallargues-le-Montueux, a medieval village located between Nîmes (15 mins) and Montpellier (20 mins). The villa provides easy access to the A9 motorway and is just 30 mins from both Montpellier and Nimes airports.
This large villa rental boasts a private 10 x 5m pool, a large landscaped garden with boules, table tennis and badminton facilities and is just perfect for a large family holiday or 2 families holidaying together.
The villa is close to the Mediterranean beaches and all the tourist sites of this beautiful region including the Pont du Gard, Uzés, St Remy de Provence and Van Gogh's former home in Arles.
The villa can be rented for weekends and weekly rentals. The weekly rentals start at €2250 per week.
2. Le Manoir - large holiday rental retreat in South France sleeps 8 (Ref: 1856)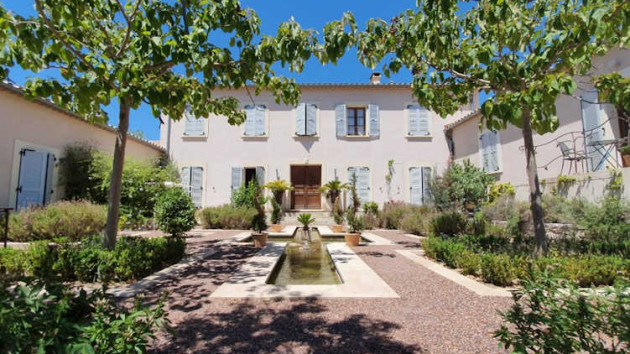 If you are looking for a large and luxurious rural retreat in Southern France, for a family reunion or special occasion, then Le Manoir could be perfect for you.
This large manor house in Southern France comes with 4 bedrooms, a private swimming pool and plenty of charm throughout. Inside the kitchen is large and luxurious. The lounge with its Cathedral ceiling is airy and bright and has plenty of space for 10-12 people. The Morning room is a nice quiet area to enjoy a cup of coffee or to curl up with a good book. All-in-all, this is the perfect base for a large family holiday or 2 families holidaying together.
The house has several terraces and a fantastic pool area with summer kitchen and is in a quiet and peaceful location, yet is just a 5 minute drive to a well-equipped town. This luxury holiday rental is set on 6000m2 of land in a quiet wooded valley.
The private swimming pool area, comes with a pool house complete with a bathroom, sofa area & summer kitchen. There is even a workout area for Yoga or Pilates. The views from the poolside are spectacular.
The holiday rental is located just 40 mins from Montpellier airport and nearby you will find Michelin star restaurants and beautiful French market towns, such as Pezenas and Clermont l'Herault.
This large holiday villa in South France for 16 people can be rented from €5000 per week during the summer weeks.
3. Villa Kengen Corconne villa rental with private pool France (Ref: 1448)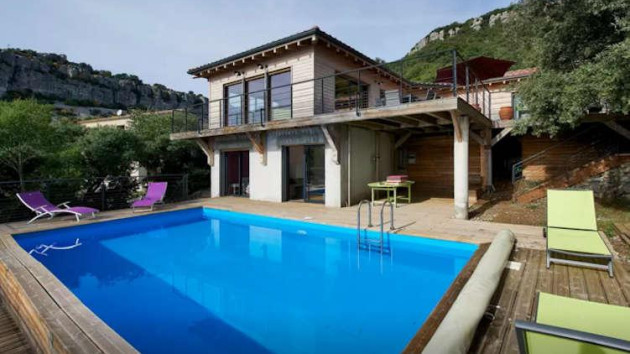 This wonderful holiday home to rent in South France, is situated in a picturesque part of the Languedoc region. With Quissac, Sauve and Nimes close by, this holiday home is in a good location for a relaxing family holiday in the South of France.
Villa Kengen is a fantastic villa rental property with private pool in South France. The holiday villa is located on the edge of the village of Corconne, near Montpellier. This wooden and stone villa comes with a fantastic views. The villa sleeps 8 guests very comfortably in its 4 bedrooms. The surrounding area is famous for olive oil production and good Languedoc wines. The villa is also close to the beautiful village of Sauve, full of restaurants and shops.
If you are looking for a villa rental in Southern France with views, a private swimming pool and plenty of space - then Villa Kengen ticks all the boxes. The villa is just 20 mins from Montpellier city centre, the main shopping centres and the Montpellier airport.
This villa near Montpellier, South France, is available to rent between April and October each year at a weekly rental price of between €1850 and €2500 per week.
4. Le Bel Apartment - holiday apartment South France with jacuzzi (Ref: 1627)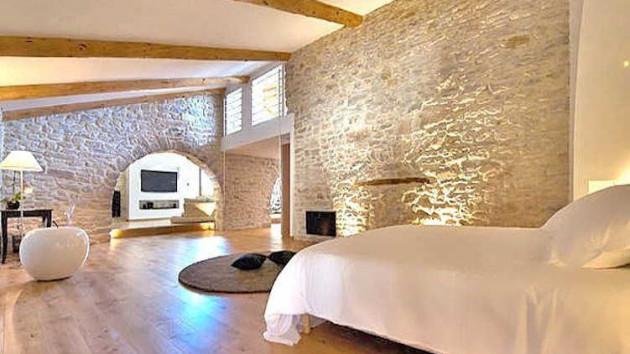 Le Bel Apartment is a luxury holiday property in South France, close to Nimes and Montpellier. Inside the apartment, you have your own private Jacuzzi and outside you have an intimate roof terrace. It is the perfect space for couples to enjoy a relaxing and chilled out holiday.
This luxury holidays apartment is located in a former monastery, located close to the medieval town of Sommieres. The apartment also has full use of the parkland garden and large swimming pool at Domaine de Monteils.
The Domaine de Monteils was originally a priory, founded in the 9th century, by the monks of Cluny. The monks cultivated yellow saffron, which was rare in the South of France and later the Domain became a wine estate.
With thick stone walls first laid over 800 years ago, solid wooden floors and modern stylish furniture, the apartment is a successful blend of old and modern. The apartment provides 160m² of living space and can sleep 2 people.
This luxury holiday property in Montpellier, South France, is available to rent between late May and October at a weekly rental price of between €1450 to €2050.
5. Moulin de Conas Chateau for rent Pezenas South France sleeps 10 (Ref: 1852)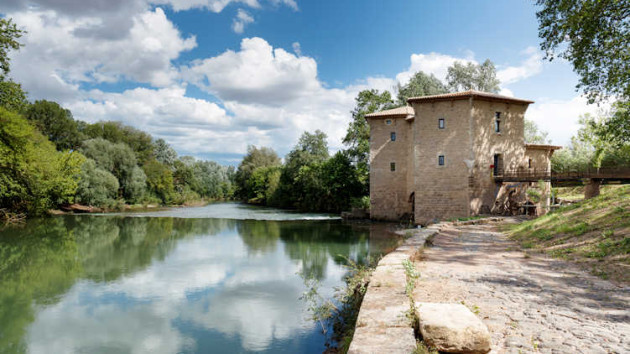 Moulin de Conas is a fabulous 5 bedroom chateau for rent close to the medieval town of Pezenas in the South of France. The holiday home has charm written all over it with original features throughout.
The Chateau is located overlooking the Herault river which is perfect for a quick swim in the summer heat. The property dates back to the 13th Century and was formerly used as the local water mill.
The Moulin de Conas comfortably sleeps 10 guests in its 5 bedrooms and is located in the pretty village of Conas, just a stones throw to Pezenas. The historic town of Pezenas is widely regarded as one of the prettiest towns in the South of France, oozing French charm and a relaxed way of life.
The surrounding area is populated with many excellent vineyards such as Picpoul de Pinet, Faugeres, Saint Chinian, Minervois and Pic St Loup.
This large holiday property for 10 people can be rented from €3,195 to €5,475 per week.
Large houses to rent in France in 2023 . . . more questions?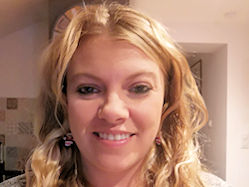 I am Tara Haacke and I manage all the holiday reservations on Go Languedoc. I live in the South of France all year around and I have worked in the vacation rentals sector in France for the last 9 years. If you would like us to suggest some South France holiday villas to rent this summer close to Montpellier airport, then please contact us with your requirements. Just drop us a quick message and we will come straight back to you with a selection of properties offering the best late deals: Go Languedoc.
For further information, please visit:
Contact Tara by Email or by phone +33 7 89 44 15 14