Last updated on .
Hits: 9774
Holidays in Carcassonne vacation villa rentals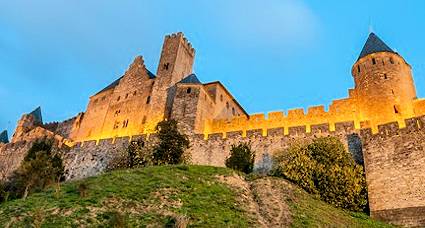 If you are looking for a good base for a holiday in the South of France, Carcassonne is ideal. Not only do you have the wonderful Carcassonne castle on your doorstep, but you are also in striking distance of the Mediterranean beaches, Cathar ruins, beautiful countryside and mountains. Go Languedoc has a number of villas and vacation rentals in and around Carcassonne to rent.
Holidays in Carcassonne
Carcassonne's wonderful castle is one of the best sites in Languedoc. It is only when you arrive that you can get a true feel for the enormous scale of Carcassonne castle. The preserved and rebuilt town inside Carcassonne castle provides an insight into what medieval life was like, even if it has been somewhat spoilt by tacky souvenir shops. But if you can look beyond the plastic suits of armour and tea towels you will be in for a real treat. Carcassonne is a magical place. There can not be a more impressive castle in Europe and it is worthy of a trip from all visitors to Languedoc.
Go Languedoc's Carcassonne vacation villa rentals:
Here is a selection of the Carcassonne vacation villa rentals currently advertised on Go Languedoc:
Set in the historical hillside village of Montouliers with outstanding views overlooking the surrounding vineyards, Villa Alarelle is a fantastically well-equipped large luxury South of France villa rental with pool for an extended family or a group. Villa Alarelle, South of France villa rental offers 6 Bedrooms (sleeps 12+2), a solar heated 12.5 metre swimming pool, new hard tennis court, wifi internet, 70m living area, landscaped gardens of approximately one acre, 4 Bathrooms (2 en suite) and a fully fitted kitchen and separate utility room. If you are looking for a large South of France luxurious villa rental in Aude, amongst the beautiful vineyards of the Minervois, close to Carcassonne, then Villa Alarelle is perfect.
More information on Villa Alarelle, Carcassonne vacation villa rental Aude with pool (sleeps 10-14)
This traditional stone farmhouse with private pool is 30 Mins from the beach ina peaceful location but close to shops and activity,Sleeps up to 12/13 people (5 Bedrooms). A 120 year old stone farm house lovingly restored in a French style but with modern, open and comfortable living space (over 2,500 square feet). The large outside pool and private garden is perfect for sunbathing / BBQ/ kids play area. The house is also well equipped for family entertainment with Wi-Fi, a table tennis table, bikes, table football, magnetic darts board and many other games.
More information on Domaine de Pradines, holiday home France
This Carcassonne vacation rental is a renovated farmhouse with 5 bedrooms and a large private swimming pool, conveniently situated on the outskirts of the mediaeval village of Fanjeaux in between Carcassonne and Mirepoix. The Farmhouse is equipped to a high standard. Tastefully furnished with Danish and international designed furniture, Oriental rugs, modern paintings and traditional local furniture. The Farmhouse is attached on one side to a working farm but is very private and surrounded by high hedges and a hectare of land. Sleeps 8 in comfort.
More information on this Fanjeaux, Aude, Carcassonne vacation rental with pool
Our vacation villa rentals in Carcassonne Languedoc-Roussillon enable you to spend time exploring one of the most impressive Castles in Europe.