Last updated on .
Hits: 10172
Holidays in Carcassonne - vacation villa rentals in South France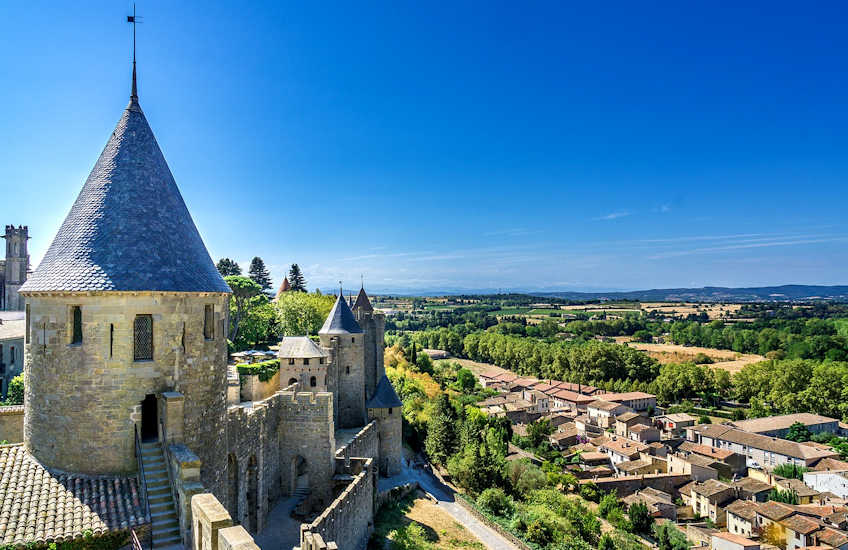 If you are looking for a good base for a holiday in the South of France during the summer of 2023, Carcassonne is ideal. Not only do you have the wonderful Carcassonne castle on your doorstep, but you are also in striking distance of the Mediterranean beaches, Cathar ruins, beautiful countryside and mountains.
The town of Carcassonne has a population of around 48,000 people and together with Narbonne, it is the largest town in the Aude department. Carcassonne has a long history. There are archaeological remains dating back to before the Roman times and it was certainly an important Roman garrison town. The area around Carcassonne was an important centre of the Cathars (a religious movement similar to the Quakers) during the 1200's, until this movement was brutally repressed by a Crusade sponsored by the Pope and the King of France.
Carcassonne has everything you need as a base for a holiday in South France - great transport links, good shops, excellent restaurants and of course some excellent local vineyards.
In the centre of Carcassonne you will find some lovely boutiques and shops, as well as plenty of pavement cafes and restaurants. On the outskirts of Carcassonne there are a number of shopping centres with large supermarkets, clothing stores and furniture shops.
Carcassonne has excellent transport links. The A61 motorway runs right past the town and connects Narbonne in the east with Toulouse and Bordeaux in the west. itself has its own airport - serviced mainly by low-cost flights from the UK and Scandinavia.
There is a train station in the centre of Carcassonne, where you can pick up train services to both Narbonne and Toulouse. There are connecting TGV trains to Paris, Bordeaux, Marseille and Barcelona.
Carcassonne has an international airport with many low cost Ryanair flights to Dublin, Glasgow, Edinburgh, East Midlands, Manchester and London.
The wines from the Minervois and Corbieres vineyards are definitely worth seeking out and the Blanquette de Limoux sparkling wines are an excellent (and inexpensive) substitute for Champagne. The wines are made using the same techniques as Champagne (and there are even some local rumours that the monk, Dom Perignon, may have 'borrowed' the wine making techniques from the Abbey in Limoux!)
Holidays in Carcassonne in 2023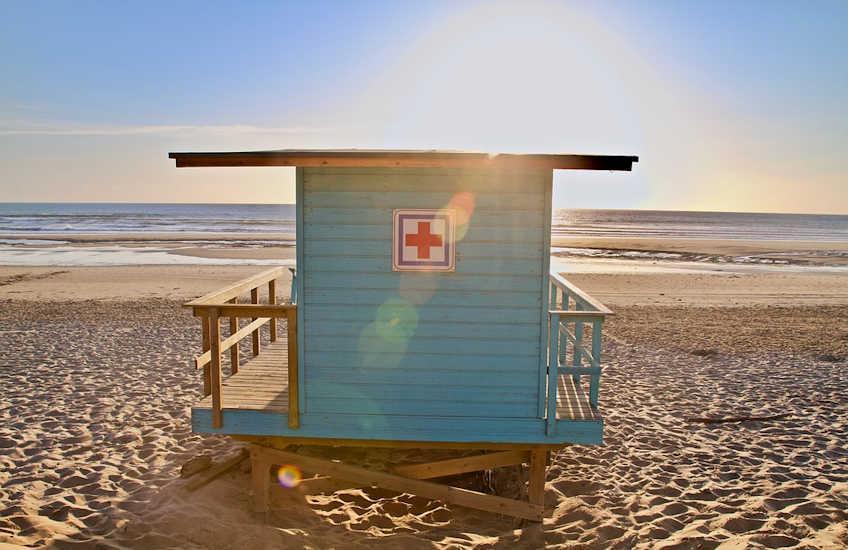 The picturesque town of Carcassonne is located in the Aude department in Southern France. It lies in between the Mediterranean coast, the city of Toulouse and the Pyrenees Mountains to the south. The landscape around Carcassonne is quite varied.
East of Carcassonne - wine region and Mediterranean coast
On the Eastern side of Carcassonne the Canal du Midi flows through the Minervois wine region towards the town of Narbonne and the beaches of the Mediterranean. Here you will find some beautiful beaches, especially at Gruissan Plage (the setting for the film Betty Blue), Narbonne Plage and Le Franqui. You can also visit the beautiful coastal villages such as Gruissan, just inland from the Mediterranean sea and Bages and Peyriac-sur-Mer overlooking the Etang de Bages-Sigean. The countryside is mainly flat and dominated by vineyards. But, you will also find some interesting towns and villages to visit, such as the old Cathar village of Minerve, the quaint market town of Olonzac, the villages of Homps and Le Somail on the banks of the Canal du Midi and the picturesque village of Lagrasse in the Corbieres hills.
North of Carcassonne - the Black Mountains
The Black Mountains are situated above Carcassonne and here you will find some lovely rural villages like Villardonnel, Cuxac-Cabardes and Siran. But probably the pick of the villages north of Carcassonne is Caunes-Minervois. This is a small medieval town of 1500 people. There is a local Abbey that dates back to the 8th Century and many Roman artefacts have been discovered locally. Caunes-Minervois is today a haven for artists and the town holds many popular festivals such as Le Festival de Musiques at the end of August each year and the Parcours des Arts a summer programme of workshops, exhibitions and open houses.
West of Carcassonne - Cassoulet country and the Canal du Midi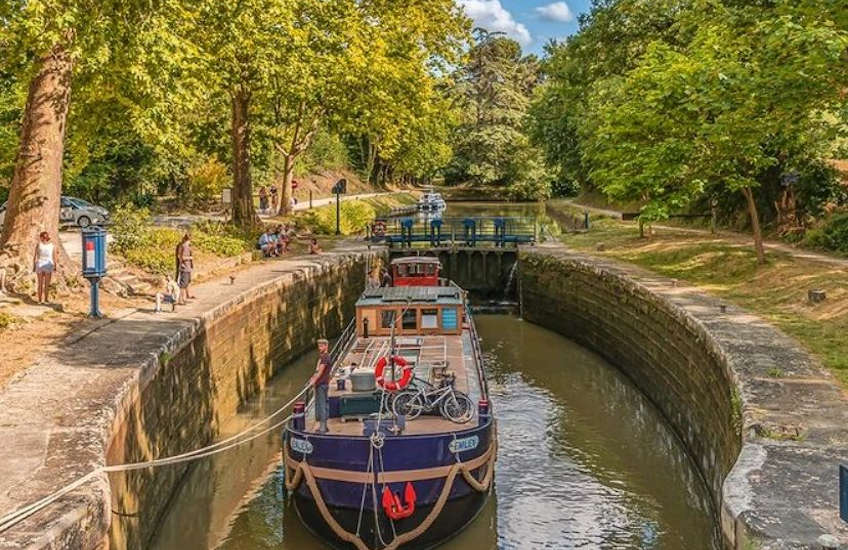 On the Western side of Carcassonne, in the direction of Toulouse, the vineyards give way to more arable crops, including acres of sunflower fields. Here you will find some nice rural market towns like Revel, Bram and Castelnaudary (home of the famous Cassoulet). This famous Southern French stew is made from white beans pork sausage and duck. It really is delicious, especially when washed down with a beefy Minervois red wine, but be warned, you will largely be rendered immobile for 2 or 3 hours after a good helping.
The Canal du Midi snakes its way across the South of France from Toulouse, through Carcassonne and on to Beziers and the Mediterranean coast. The Canal was the brainchild of Paul Riquet, a tax collector from Beziers. He persuaded King Louis XIV to endorse a bold project to build a canal network to link the Mediterranean to the Atlantic.
The Canal was the largest and most complex civil engineering project since the time of the Romans. The Canal du Midi is 240km long and has 99 locks, over 100 bridges and two long tunnel sections. The Canal du Midi gradually falls from 132m above sea level at the River Garonne in Toulouse to reach the Mediterranean sea at Sete. The Canal Company that Riquet set up, was the first employer in France (and probably in Europe) to provide his workers with paid holidays and sick pay, to provide schooling for the children of employees and to employ both Men and Women side by side on the project.
South of Carcassonne - Cathar Country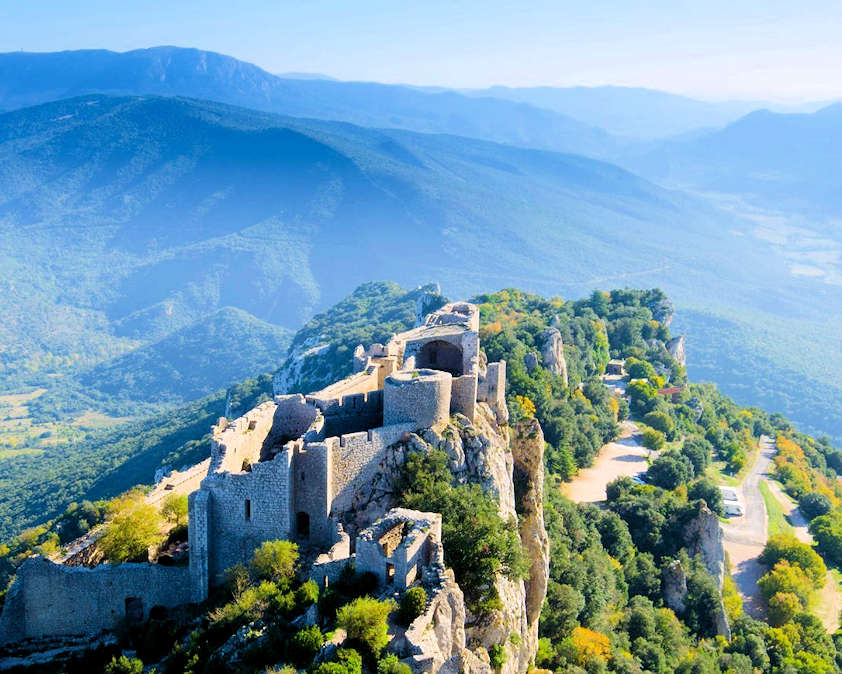 The area south of Carcassonne slowly rises up to meet the Pyrenees. Here you will find some local market towns like Limoux, Quillan and the gorgeous town of Mirepoix. But the main attractions here are the Cathar monuments and ruins that you can visit, such as the castles at Quéribus and Château de Peyrepertuse, Châteaux de Lastours and Château de Montségur.
The Cathars were an amazing religious group. They followed a simple life and they didn't have priests or build churches. They educated both boys and girls and they regarded men and women as equals, allowing women to own property as much as men. Through their faith, they also denounced the wealth and teachings of the Catholic Church as an institution of evil and it was for this that they were persecuted and totally wiped out across Southern France.
The one fascinating fact I find about the Cathars, were that they were the first Vegans/Pescatarians. They did not believe in eating cheese, eggs, meat, or milk because they claimed that these were all by-products of sexual intercourse by animals.
Read our article on the Cathars in Languedoc to get more information about this inspiring and ultimately, doomed religious group.
Also if you are a Da Vinci Code fan or if you have read the novels of Kate Mosse (her trilogy of historical novels Labyrinth, Sepulchre and Citadel, are all set around Carcassonne) - then you should definitely search out Rennes-le-Chateau. This hilltop village and small castle is actually quite unremarkable, but it does receive thousands of visitors each year. It all stems from an incident in the 1870's and 1880's when the local parish priest funded some extravagant repairs to the local church and tower. In today's money, these repairs cost €4.5 million euros and debate has raged about how this lowly priest was able to fund the work. Several rumours swirled around, including how the priest - allegedly - discovered some buried treasure at the church. Speculation has since expanded to include claims that it was buried Knights Templar treasure and even the Holy Grail.
Carcassonne Castle - largest walled fortress in Europe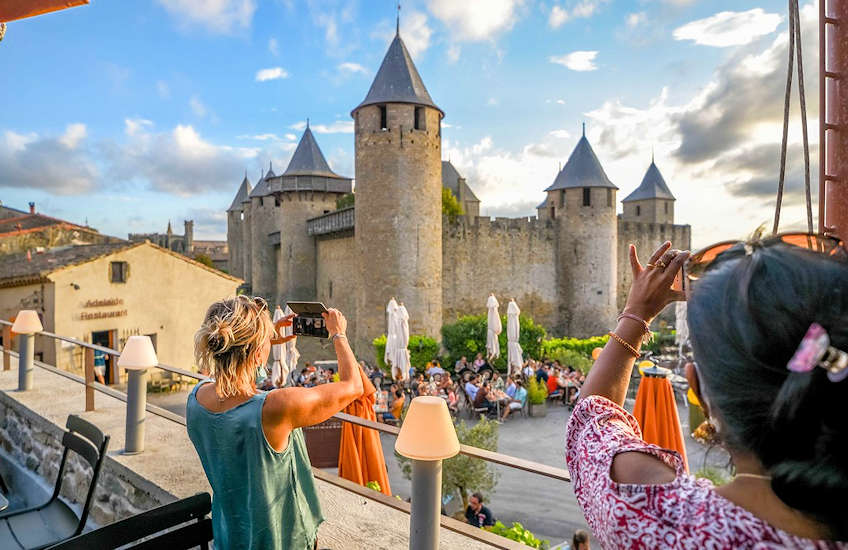 Carcassonne's wonderful castle is one of the best sites in Languedoc. It is only when you arrive that you can get a true feel for the enormous scale of Carcassonne castle.
The Castle is the largest walled fortress in Europe and it is also France's second most visited historical monument.
During the middle ages, the Languedoc noble family of the Trencavels, first established the castle at Carcassonne. The town was taken by Simon de Montfort in 1209 during his crusade against the Cathars. In 1299 it came under control of King Louis IX, who later laid out the plans for the building of the town underneath the Citadel.
The town ambled through the next few hundred years in relative prosperity and its markets were famous throughout France. The castle itself fell into some disrepair and the stones became quarried for building houses in the town. It was not until the mid 19th Century when the Castle was restored to its former glory. The prominent French architect, Viollet-le-Duc, began a 50-year restoration project to rebuild the Catsle. When I say 'restored to its former glory' this is a contentious point. It turns out there were very few drawings or historical records of Carcassonne Castle from which Viollet-le-Duc could work from. So he let his imagination run riot and created a much gander building than originally stood on this site.
But don't let that put you off. The Castle or Cite as it is referred to locally, is one of the most striking images in France and the French are immensely proud of it (even if it only just squeaked through in its application for UNESCO World Heritage site status).
The preserved and rebuilt town inside Carcassonne castle provides an insight into what medieval life was like, even if it has been somewhat spoilt by tacky souvenir shops. But if you can look beyond the plastic suits of armour and tea towels you will be in for a real treat. Carcassonne is a magical place. There can not be a more impressive castle in Europe and it is worthy of a trip from all visitors to Languedoc.
Go Languedoc's Carcassonne vacation villa rentals:
On Go Languedoc we have a number of excellent villas and vacation rentals in and around Carcassonne to rent. With the local airport in Carcassonne and the excellent road network, it is easy to reach Carcassonne and the surrounding towns. Even in the height of summer the roads are rarely full and you can reach the Mediterranean beaches in under 45 mins, as well as explore Toulouse and the Pyrenees.
Here is a selection of some of the most popular Carcassonne vacation villa rentals that are currently advertised on Go Languedoc:
1. Maison du Bijou - holiday home with private pool in South France (Ref: 1734)
This beautiful stone farmhouse is the perfect place for a relaxing family holiday in Southern France. The house provides total peace and quiet, a lovely swimming pool and plenty of space both inside and out.
This spacious holiday home in Southern France comes with 4 bedrooms and can comfortable accommodate 8 people. It has its own private pool, walled garden and private parking.
The holiday home is decorated in a traditional French boutique style, with original artwork adorning the walls. Located in the idyllic village of Gimois it offers a spectacular location for exploring the region and sampling the fabulous wines and French cuisine.
Maison du Bijou is located in the heart of the Minervois wine region, which consistently provides the best wines in South France. You can buy excellent local wines direct from the vineyards in the neighbouring villages.
The house is also well-located for exploring the local sites including Carcassonne castle, the Canal du Midi and the ancient Cathar village of Minerve.
2. Le Marandou - 5 bed farmhouse with private pool near Carcassonne South France (Ref: 2062)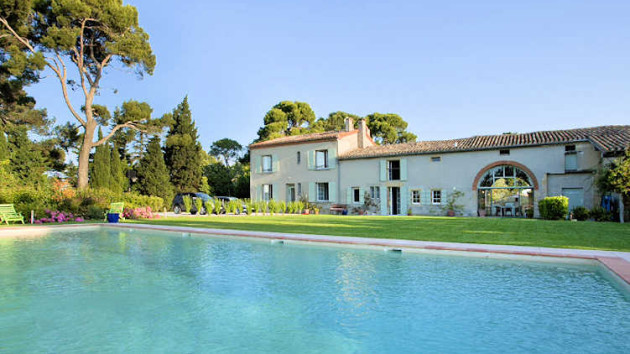 This French farmhouse with private pool to rent is a lovely rural property close to Carcassonne and Toulouse in Southern France. The farmhouse has 5 bedrooms, 5 bathrooms and can sleep up to 10 people
The farmhouse is situated in a very peaceful location, with lovely views over the Lauragais countryside. The farmhouse is set in a rural location with open fields surrounding the property. But it is close to the Canal du Midi, local restaurants and shops and a short drive to the market towns of Castelnaudary, Bram and Revel. There is a boulangerie 3kms away and a farm shop within 1km.
The farmhouse has 2 reception rooms as well as a large kitchen/diner. The games room is equipped with a pool table, sofas, a TV and books/games.
The kitchen leads out to a covered archway terrace, ideal for outdoor dining. Also outside there is a wonderful garden and large private pool (10m x 5m). The farmhouse can sleep 10 people in comfort.
You can rent this large farmhouse in France from €3150 per week during July and August 2023.
3. Secret Garden - French 2 bed holiday gite with pool (Ref: 1505)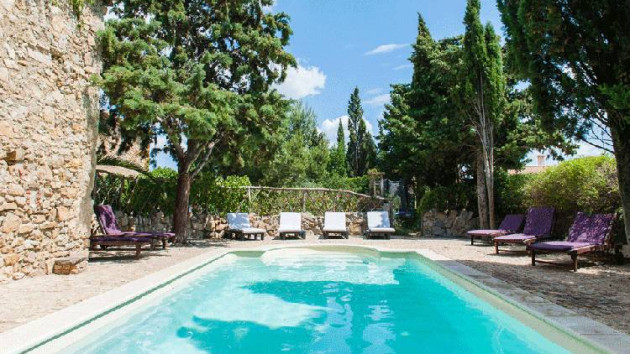 This Southern France holiday gite in Ferrals-les-Corbieres is the perfect place to enjoy a relaxing family holiday. With plenty of space to stretch out and relax, the gite also provides handy access to the boulangerie, restaurants and a wine bar.
The Secret Garden French gite with pool is located in the picturesque village of Ferrals-les-Corbieres, in between the mountains and the Mediterranean sea. The gite comes with a heated swimming pool and can sleep 4 in 2 bedrooms.
There is a secluded garden with BBQ and there are plenty of shade spots in the garden to enjoy a good book or a glass of wine. There is a huge trampoline, a swing, and of course boules for a real touch of authentic France! Baby equipment and toys can also be provided on request.
The Mediterranean beaches are just 25 mins away and nearby you will find Carcassonne Castle, the Cathar village of Minerve and the Canal du Midi - perfect for summer picnics.
4. Gites for rent near Carcassonne, Southern France (Ref: 876)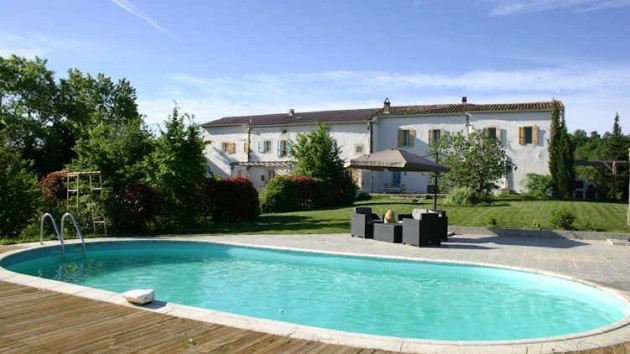 If you are looking for a relaxing holiday in the South of France, then these gites to rent just north of Mirepoix are perfect to enjoy this beautiful part of Southern France. There are 3 properties to choose from at this location, each of which comes with 2 bedrooms.
The gites are within easy driving distance of Carcassonne airport and are located just 15 mins from the A61 motorway - which provides access to the Mediterranean beaches and to Toulouse.
These gites share a swimming pool and grounds, but each gites has its own private terrace with lovely views over the open fields. The gites are very well equipped with fully-fitted kitchens and spacious lounges.
this is an ideal spot for a family holiday in the South of France. The gites are in a good location for exploring Carcassonne Castle, the Canal du Midi, the Cathar monuments and the Pyrenees.
5. Villa Alarelle large villa rental South France with private pool sleeps 12 (Ref: 88)
Set in the historical hillside village of Montouliers in Southern France, this large 6 bed villa comes with outstanding views over the surrounding vineyards.
Villa Alarelle is a fantastically well-equipped large villa rental in South of France with a private pool that is perfect for an extended family or a large group of friends to rent together.
This 6 bedroom villa can accommodate up to 12 people and comes with 4 Bathrooms (2 en suite), a 70m2 living area, a fully fitted kitchen, a solar heated 12.5 metre swimming pool, a new hard tennis court and landscaped gardens of approximately one acre.
If you are looking for a large villa to rent in the South of France, then Villa Alarelle is a perfect choice.
This large house to rent in France near Carcassonne is available to rent from between €1935 and €3867 per week.
6. Maison de la Roche gites in France with pool sleeps 4 (Ref: 1504)
Maison de la Roche gites in France with pool are situated in the quaint wine making village of Ferrals-les-Corbieres, in between the mountains and the coast. The beautiful city of Carcassonne is just down the road.
There are 3 gites for rent at Maison de la Roche. The gites come with a lovely heated swimming pool and plenty of shaded space to enjoy a good book or a glass of wine.
The layout of the gites ensure that you have your privacy, but it is also possible to rent an adjoining gite if you are two families holidaying together.
These gites in France are the ideal place for a family holiday. The village features an excellent wine bar run by a former French Rugby international. The village also has a restaurant, shop and boulangerie.
The local area is covered in vineyards and there are plenty of areas to explore, including Carcassonne Castle, the Cathar ruins dotted across the landscape and the beaches at Gruissan and Narbonne Plage.
7. Large 5 bed farmhouse South of France, private pool sleeps 14 (Ref: 1676)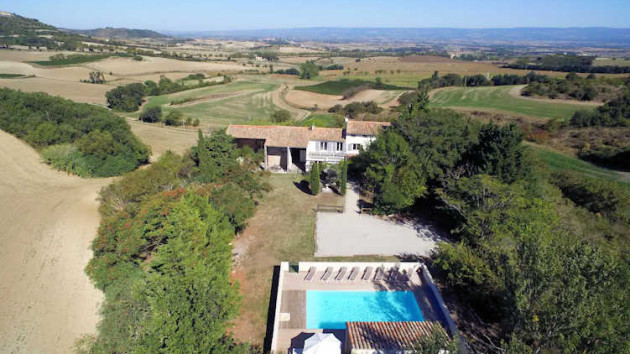 This large holiday rentals property near Carcassonne, South France, can sleep up to 14 people and comes with a private pool and stunning views. This renovated farmhouse comes with 5 bedrooms and is conveniently located on the outskirts of the medieval village of Fanjeaux in between Carcassonne and Mirepoix.
Inside, the Farmhouse is equipped to a high standard and is very bright and airy. Outside there is a wonderful enclosed swimming pool with summer kitchen, large terrace for outdoor dining and plenty of space for children to run about safely.
The Farmhouse provides total peace and quiet, yet is only a 2 minute drive to the village where you will find an excellent boulangerie/patisserie, cafe/tabac, restaurant and shop.
The farmhouse is located near the wonderful city of Carcassonne, with its famous castle; and provides easy access to both Carcassonne and Toulouse airports. The farmhouse is also conveniently located to explore the wonderful market town of Mirepoix, as well as the Pyrenees, the Canal du Midi, Cathar castles and the Mediterranean beaches.
You can rent this large farmhouse in France from €3080 per week during July and August 2023.
8. Domaine de la Flotte large group accommodation South France sleeps 21 (Ref: 589)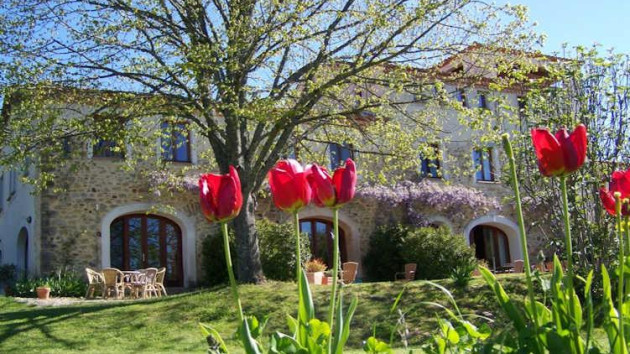 If you are looking for accommodation for a large group in South France, then these French holiday homes at Domaine de la Flotte are perfect. Domaine de La Flotte, is a country estate in Southern France situated on a wooded hillside where you can enjoy the unspoilt nature and the beautiful views of the Pyrenees mountains in the distance.
There are 4 holiday homes to rent at Domaine de la Flotte, each of which has been tastefully renovated to provide high quality holiday accommodation for groups.
The surrounding countryside offers you all the peace and quiet that you could need. There is a shared swimming pool where you can cool off and wind-down. Horse-riding, mountain-biking, walking and swimming in the nearby lakes are all available for the active. The views and sunsets will relax you as you sip a glass of wine on the terrace in the evening.
This really is an ideal spot for a group of friends or an extended family to enjoy the South of France.
The holiday homes can be rented individually from €980 per week during July and August 2023. Please contact us for the discounted group holiday price.
Holiday Home 1 Holiday Home 2 Holiday Home 3 Holiday Home 4
9. Belcaire Southern France holiday rental pool - Carcassonne (Ref: 877)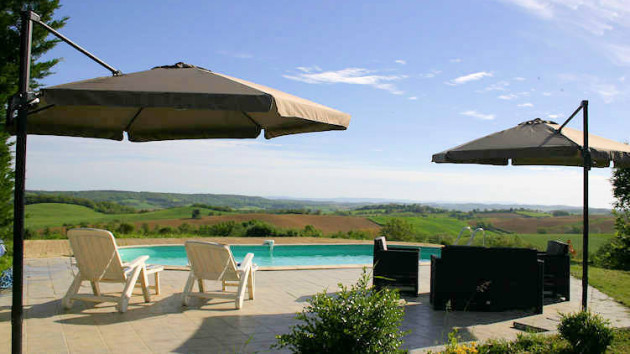 If you are looking for a relaxing holiday in South France, then these gites near Carcassonne in Southern France are perfect. The surrounding countryside offers you all the peace and quite that you could need. Nearby you will find beautiful towns and villages to visit like the medieval town of Mirepoix, the hilltop village of Fanjeaux, the market town of Revel and the ancient town of Foix.
You can also explore the local Cathar monuments at Chateau Montségur, Peyrepertuse and Quéribus.
There is a shared swimming pool where you can cool off and wind-down. The gites are located in between Carcassonne and Mirepoix and this is an ideal spot for a family holiday in the South of France.
There are 3 gites available to rent. Each gite sleeps up to 4 people in 2 bedrooms (1 double bedroom and 1 twin bedroom).
The gites are very well equipped with fully-fitted kitchens, spacious lounges and a private terrace with lovely views over the open fields.
Looking for a great holiday deal to Carcassonne France in 2023 . . . ?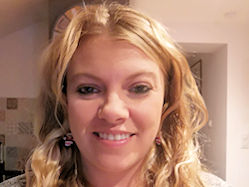 I am Tara Haacke and I manage all the holiday reservations on Go Languedoc. I live in the South of France all year around and I have worked in the vacation rentals sector in France for the last 9 years.
If you would like us to suggest some South France holiday villas or apartments to rent this summer in and around Carcassonne, then please contact us with your requirements. We are in touch with our property owners every day and we are the first to know of any discounted rates.
Just drop us a quick message and we will come straight back to you with a selection of properties offering the best late deals.
Alternatively, see our full selection of Carcassonne villas to rent France during 2023
Contact Tara by Email or by phone +33 7 89 44 15 14