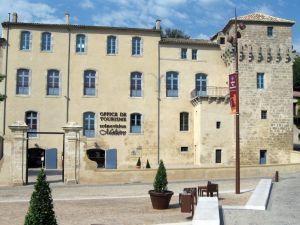 Pezenas, situated between Montpellier and Beziers, is without doubt the most beautiful town in Languedoc. I maybe biased because Pezenas is my local town, but it is without doubt a great little spot, especially in the height of summer on a Wednesday or Friday night when all the shops in Pezenas stay open late and the old town is buzzing with life.


Pezenas tourism information
Pezenas shot to fame when it was chosen as the seat of the languedoc parliament in 1456. In the late 17th century Pezenas became the summer home of the Prince de Conti, who brought with him his entourage of playwrights and artists - including the then undiscovered writer Moliere.
Pezenas and Moliere
Pezenas has since the late 19th century brilliantly exploited its brief relationship with Moliere, France's Shakespeare. Don't be taken in. As long as you realise that Moliere actually had very little to do with Pezenas - he crashed out here in the Prince de Conti's court for a couple of summers and wrote and produced a few less well known of his dramas - then you will be fine. I always joke that if you stand still for too long in Pezenas they will attach a Moliere plaque on you.
In fact Pezenas has been blessed by the fact that nothing has really happened here, ever. As a result, it is now totally unspoilt and extremely picturesque. It is quite amazing how the most picturesque towns are often those that have been left-alone by history, thus preserving their original ancient look. I think of my homeland in the East of England where similar towns where naff-all happened for centuries, are now some of the most beautiful - Saffron Walden, Bury St Edmunds, Lavenham and Clare - their orignal medieval architecture still intact and unspoilt by 20th century 'improvement'.
Pezenas tourist information - Old town
The best part of Pezenas is the old town. Once the refuge of Jews, the narrow streets have been brilliantly preserved. You will still find small artisans working away and bijou restaurants tucked away in courtyards and alleys. Pezenas' tourism office is situated in a barber's shop where Moliere is supposed to have spent his afternoons.
Pezenas tourism information - restaurants and cuisine
Pezenas has two culinary claims to fame. The first is the "petits pates". These are bite-sized mince-tarts are based on a recipe of the Indian chef attached to Lord Clive, the English Governor of india. Lord Clive took a summer vacation in Pezenas in 1768 and the small tarts have stayed with the town ever since. The second is the "Berlingot", a hard candy sweet that comes in a variety of flavours. the best place to pick these up is the small sweet shop next-door-but-one to the tourism office. Finally, Pezenas is home to one of the best restaurants in Languedoc. L'Entre Pots is a relaxed, chic restaurant with great service and fabulous food. I have tasted nothing better since I have been here (see L'Entre Pots for more details).
Pezenas, France tourism -
festivals
Pezenas is also a real festival town. There is always something going on - whether it be an antiques fair (the town is famous for its brocante shops) or a film festival or a theatre festival. the major event though is undoubtedly the "Le Poulain" festival, where a mock horse is paraded through the town's streets, followed by much noise and drinking (ses Le Poulain for more details).
Pezenas tourist information office
Further information about Pezenas can be obtained from the very helpful tourist information office (Pezenas tourist office).
If you want to stay in or near Pezenas, Go Languedoc has a large selection of Pezenas houses and apartments to rent (see Pezenas villas for more details).